"Living at risk is jumping off the cliff and building your wings on the way down." - Ray Bradbury
I've been doing my best to continue writing while touring the country presenting our research on predicting stock market corrections and volatility. I've been meeting with several financial advisors, introducing both our buy and rotate mutual funds and separate accounts, and invariably all discussions end with a conversation on the current state of markets.
One particular meeting was really quite enlightening. An advisor I was talking to about our equity sector ATAC Beta Rotation Fund (Ticker: BROTX) noted that many of his clients seem to be asking him "when do I sell my stock." While he shared my more bearish tilt during the discussion, he did note that in his 30+ years in the business, whenever clients ask him when to sell, stocks have more to run on the upside. From a contrarian perspective, then, equities may have more to run.
I thought about it for a moment and said "you're right - I can see some of that type of sentiment even expressed on my Twitter feed from some of the 80,000+ followers I have. But let me flip the question on you. How many of your clients are asking when should I sell my junk debt?"
The answer? None, zero, zip.
That is where the real risk is. To be contrarian doesn't mean to look at stocks now. To be contrarian means to look at junk debt, and acknowledge that the reach for yield has resulted in excessive risk taking. Take a look below at the price ratio of the iShares iBoxx High Yield Corporate Bond Fund ETF (NYSEARCA:HYG) relative to the Vanguard Total Bond Market ETF (NYSEARCA:BND), overlayed with its 4 week moving average. As a reminder, a rising price ratio means the numerator/HYG is outperforming (up more/down less) the denominator/BND. A falling ratio means the opposite.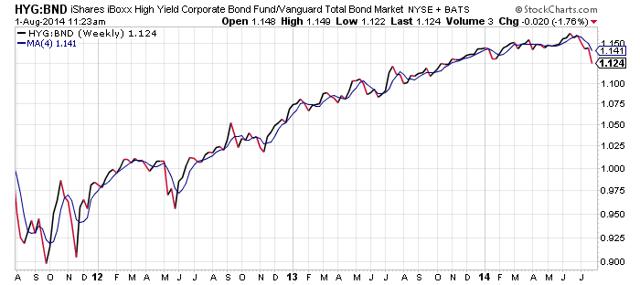 This is a way of tracking the market's perception of credit risk. Junk debt bonds tend to be considered riskier than AAA rated bonds. When junk debt bonds underperform AAA, that suggests a repricing of default risk is happening, which in turn is largely not a positive for equities. Now, clearly one could argue that this does not necessarily have to mean a stock correction will take place. However, the real risk to equities is that the above ratio break down substantially, credit risk comes back in with full force, and a potential panic then ensues given how crowded the space is from an investment standpoint.
So, whom among you is talking about selling their junk debt instead of selling your stocks?
This writing is for informational purposes only and does not constitute an offer to sell, a solicitation to buy, or a recommendation regarding any securities transaction, or as an offer to provide advisory or other services by Pension Partners, LLC in any jurisdiction in which such offer, solicitation, purchase or sale would be unlawful under the securities laws of such jurisdiction. The information contained in this writing should not be construed as financial or investment advice on any subject matter. Pension Partners, LLC expressly disclaims all liability in respect to actions taken based on any or all of the information on this writing.
The fund as of 08/01/2014 does not invest in any of the following investments: BND or HYG. Fund holdings are subject to change and are not recommendations to buy or sell any security. Current and future holdings are subject to risk.
The Fund's investment objectives, risks, charges, expenses and other information are described in the statutory prospectus, which must be read and considered carefully before investing. You may download the statutory or summary prospectus or obtain a hard copy by calling 855-ATACFUND or visiting atacfund.com. Please read the Prospectuses carefully before you invest.
Mutual fund investing involves risk. Principal loss is possible. Because the Funds invest primarily in ETFs, they may invest a greater percentage of its assets in the securities of a single issuer and therefore is considered non-diversified. If a Fund invests a greater percentage of its assets in the securities of a single issuer, its value may decline to a greater degree than if the fund held were a more diversified mutual fund. The Funds are expected to have a high portfolio turnover ratio which has the potential to result in the realization by the Fund and distribution to shareholders of a greater amount of capital gains. This means that investors will be likely to have a higher tax liability. Because the Funds invest in Underlying ETFs an investor will indirectly bear the principal risks of the Underlying ETFs, including but not limited to, risks associated with investments in ETFs, large and smaller companies, real estate investment trusts, foreign securities, non-diversification, high yield bonds, fixed income investments, derivatives, leverage, short sales and commodities. The Fund will bear its share of the fees and expenses of the underlying funds. Shareholders will pay higher expenses than would be the case if making direct investments in the underlying funds. The Beta Rotation Fund is new with no operating history and there can be no assurances that the fund will grow or maintain an economically viable size.
All investing involves risks. Investing in emerging markets has more risk such as increased volatility, relatively unstable governments; social and legal systems that do not protect shareholders, economies based on only a few industries and securities markets that are substantially smaller, less liquid and more volatile with less government oversight than more developed countries. Investing in small cap companies involve additional risks such as limited liquidity and greater volatility than large companies.
Beta is a measure of the volatility, or systematic risk, of a security or a portfolio in comparison to the market as a whole.
The S&P 500, or the Standard & Poor's 500, is a stock market index based on the market capitalizations of 500 large companies having common stock listed on the NYSE or NASDAQ. The S&P 500 index components and their weightings are determined by S&P Dow Jones Indices.
Below investment-grade fixed income securities (also known as "junk bonds") are considered speculative. Securities are rated AAA through C by Moody's Investors Service ("Moody's"), or AAA through D by Standard & Poor's Rating Group ("S&P") (or comparably rated by another nationally recognized statistical rating organization), or, if not rated by Moody's or S&P, are considered by the sub-advisors to be of similar quality.
MA(4) = 4 week moving average
References to other securities should not to be interpreted as an offer of these securities.
ATAC Beta Rotation Fund is distributed by Quasar Distributors, LLC. No other products mentioned are distributed by Quasar Distributors, LLC.
Disclosure: The author has no positions in any stocks mentioned, and no plans to initiate any positions within the next 72 hours. The author wrote this article themselves, and it expresses their own opinions. The author is not receiving compensation for it (other than from Seeking Alpha). The author has no business relationship with any company whose stock is mentioned in this article.