The SPDR S&P 500 (NYSE: SPY) recovered lost ground fast and furiously Friday on uplifting, if not hopeful, news from Russia. Reuters picked up an Interfax report out of Russia implying that it may seek to de-escalate the situation in Ukraine, or at least it was taken that way. Stocks were already rising off Thursday's dive, but on the news break, they shot even higher. My, how easily the greedy trust.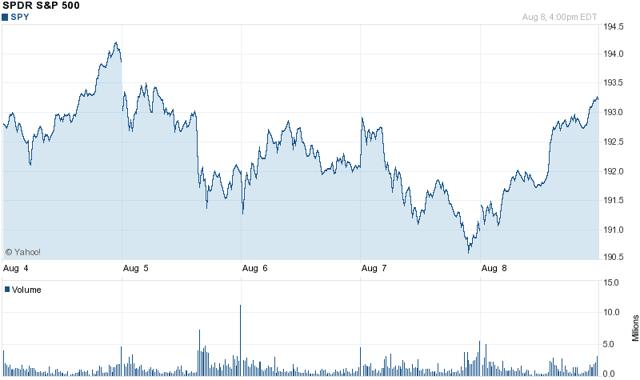 The SPDR S&P 500 ETF , which tracks the S&P 500 Index, gained 1.1% on the day and took back all of the week's lost ground. From Friday to Friday, the SPY was actually up 0.4%. The tape would have indicated otherwise if not for the late day nitro boost it received. So let's examine the catalyst.
The Reuters article referencing the Interfax report out of Russia said that week long war games had come to a conclusion and that Russian military hardware was returning to permanent bases. In the past, such action served to support stocks and it did the same Friday. Included in the military hardware were aircraft, anti-aircraft batteries and artillery batteries, the kind of stuff Russia would want to have around if it were going to invade Ukraine. So then, news of its departure was certainly reassuring.
Traders waived off concern about the pending weekend and what may come of it, and bought into word that all was well in the world, or at least in Eastern Ukraine. In my opinion, hungry money wants this issue to go away so that it can buy up bargains, but stocks hadn't fallen far at all. At the close Friday, the SPY was just 2.9% off its high. So I warn, greed drives perhaps premature positioning here. What bargains can we find down just 3%?
The last thing the West needs is for Russia to push back against sanctions and annex Eastern Ukraine. It would serve to escalate tensions between the East and West and foment further discord. That said, it seems clear to me that we are already engaged in Cold War II, and I believe it's a state of affairs that will continue no matter what develops in Ukraine from here to forward. Friday, Russia published a list of its countersanctions against the West, the result of Europe's action to sanction Russia. So, I think traders should tread lightly here.
And let's not forget what we already know about our eastern rival, a nation which has said something other than what has appeared to be true in Ukraine in the past. It's the country that broadcast into Crimea that neo-Nazis were running their new government, and led the region to supposedly accept annexation by its neighbor after a half-decade of being a part of Ukraine. This is the same Russia that told us well-equipped and trained Russian speaking paramilitary were local militia men. Now, that same nation is telling us that it was just playing games and taking some target practice this past week. I suppose we should also overlook the fact that Russian bombers keep breaching US airspace and nearing California. But my how quickly traders are to trust…
Ukraine will likely continue to pressure separatists in Donetsk. What will Russia do if the separatists keep up the fight and are starved of resources. Russia has already hinted of a growing humanitarian issue in Ukraine, and it now has the precedent of the U.S. action in Iraq to go in and strike down the oppressor force.
But within the good news this week was a report that the separatist leader, Alexander Borodai, would be stepping down and handing over his power to a native Ukrainian. You see, Borodai, was a Russian national, though U.S. representatives like John McCain have outright called him a Russian agent. It seems I've heard this song before though; another separatist resigned in mid-July, around the shoot-down of Malaysian Airlines Flight MH17. Interestingly enough, he lives in Russia now. So, then perhaps Russia is seriously backing out. This report is what enthused one public face of trading today as he reported it on CNBC.
Friends, we'll just have to stay attuned to the news this weekend, and pay particularly close attention to what happens as or if Ukrainian national forces smother Donetsk. The separatists have been offered amnesty in the past in order to come into accord with the new government in Kiev. If given another chance at peace, perhaps they might accept it now. If so, this situation completely dissolves and gets out of the way of stocks and the SPY ETF can run higher. However, if the separatists do not give way, and if Russian forces act by humanitarian means, but with tanks, to save Donetsk, well then the trusting will have their hearts broken and the SPY will collapse.
Disclosure: The author has no positions in any stocks mentioned, and no plans to initiate any positions within the next 72 hours. The author wrote this article themselves, and it expresses their own opinions. The author is not receiving compensation for it (other than from Seeking Alpha). The author has no business relationship with any company whose stock is mentioned in this article.