Aug. 8 was a great day to own shares of Monster Beverage (NASDAQ:MNST). Despite posting slightly lower revenue than expected, a clear earnings beat sent the energy maker's shares up nearly 7% to close at $69.45. Although this may seem like an impressive jump, the company's stock is still trading 8% below its 52-week high of $75.63, which could signal some nice upside potential for the business's shareholders who decide to jump in the fray now.
Mixed results still excites investors
For the quarter, Monster reported revenue of $687.2 million. Unfortunately, this is lower than the $698 million analysts anticipated, but the company's top line did come in 9% above the $630.9 million management reported the same quarter a year earlier. Domestic growth accounted for the largest monetary gain for Monster, but its fastest growth took place internationally, where sales shot up 12% from $160.4 million to $180.2 million.
| | | | |
| --- | --- | --- | --- |
| | Last Year's | Forecasted | Actual |
| Revenue (millions) | $630.9 | $698 | $687.2 |
| Earnings per Share | $0.62 | $0.75 | $0.81 |
While Monster failed to impress on the top line, management did report earnings that blew past estimates. For the quarter, the company saw earnings per share come in at $0.81, $0.06 higher than analysts predicted and 31% greater than the $0.62 management reported during the second quarter of its 2014 fiscal year. This was due, in part, to the company's increase in sales, but can also be attributed to a decline in costs, primarily in the company's cost of goods sold, which dropped from 46.7% of sales to 44.8%.
What does the future have in store for Monster?
Even though Monster fell short on revenue, the company's ability to grow suggests that its future is likely very bright. This continues the long-term growth posted by the company, with sales having grown by 96% from $1.14 billion in 2009 to $2.25 billion by the end of the company's 2013 fiscal year. Unfortunately, because of rising costs, profits haven't done as well but the 62% increase in net income from $208.7 million in 2009 to the $338.7 million management posted in 2013 is impressive no matter how you stack it.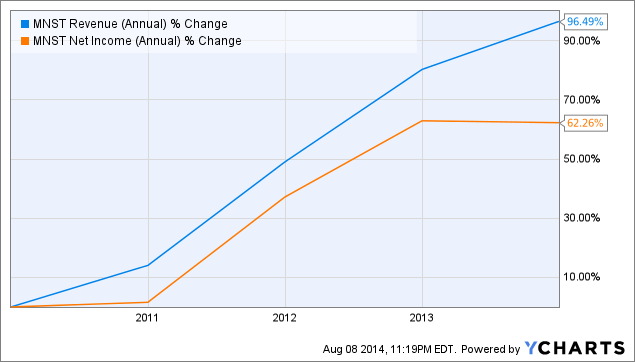 MNST Revenue (Annual) data by YCharts
If, however, management wants this kind of growth to persist, it will have to continue working closely with The Coca-Cola Company (NYSE:KO), as well as its bottlers like Coca-Cola Enterprises (NYSE:CCE) and Coca-Cola Bottling Company (NASDAQ:COKE) to act as its distributors for its energy drinks. Access to such a large distribution network likely helped the business to grow immensely, but the downside to this exposure is that it could leave the business vulnerable to Coca-Cola's terms in future years.
Takeaway
Right now, Monster is doing quite well, even in spite of the fact that management reported lackluster (but still impressive) revenue results for the quarter. Moving forward, it will be interesting to see what transpires with the company and if it can pick up its growth, but its long-term performance and improving profitability suggests that the business could make for an interesting prospect.
Disclosure: The author has no positions in any stocks mentioned, and no plans to initiate any positions within the next 72 hours. The author wrote this article themselves, and it expresses their own opinions. The author is not receiving compensation for it (other than from Seeking Alpha). The author has no business relationship with any company whose stock is mentioned in this article.