Barron's did a deep dive on the high yielding energy Master Limited Partnership (MLP) space this week. My regular readers know I have allocated a good portion of my income portfolio toward these types of income producing concerns.
I like energy partnerships, despite their tax complexities over traditional income sectors like Utilities. The country is still in their early innings in its march to energy independence. I have found these entities have better growth prospects, lower valuations and higher yield than what is currently available in the Utility sector.
This is a solid piece in Barron's for anyone that is interested in investing in this high yield space. The panel discusses the huge growth of the sector over the past five years, the tax and ownership structures of these entities and of course some attractive opportunities right now for yield investors. Here are two I like within the article that got shout outs.
I picked up some Tallgrass Energy Partners (NYSE:TEP) when it did a secondary late in July. Tallgrass currently provides natural gas transportation and storage services for customers in the Rocky Mountain and Midwest regions of the United States.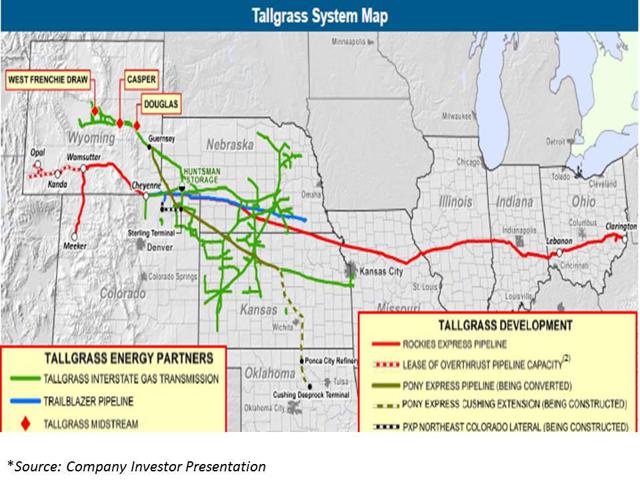 One of the nice things about this entity is 80% of its revenue is fee based. Its pipeline is 100% contracted out and its average contract has an average life of four years. This protects the entity's cash flow and distribution from the vagaries of natural gas prices.
The shares yield 3.3% and the entity has raised its quarterly distribution payouts by some 30% since it came public just 15 months ago. This cash flow trajectory should continue in the future as new pipeline assets come on-line. Tallgrass is tracking to better than 20% revenue growth this year and analysts believe it will deliver over 35% gains in FY2015. Earnings are increasing at a more accelerated rate. TEP has a five year projected PEG of under 1 (.96).
A much bigger midstream concern MarkWest Energy Partners (NYSE:MWE) gets called out as an attractive yield play in the space. MarkWest is engaged in the gathering, processing and transportation of natural gas; the transportation, fractionation, storage and marketing of NGLs (Natural Gas Liquids); and the gathering and transportation of crude oil. Barron's this week states the entity's lack of a general partner could make it a more desirable acquisition target for a larger player in the space.
The entity provides a solid 5.1% distribution yield. MarkWest has been a consistent deliverer of cash flow increases as distributions have tripled over the last decade in a consistent and incremental way. Wunderlich recently upgraded the shares and have a $83 a share price target on MarkWest, approximately 20% above the current price of MWE. MarkWest also was also recently added to Goldman Sachs' "Conviction Buy" list.
For investors looking to add some income with solid growth prospects while participating in the nation's energy boom, both of the above selections offer good ways to go.
Disclosure: The author is long TEP. The author wrote this article themselves, and it expresses their own opinions. The author is not receiving compensation for it (other than from Seeking Alpha). The author has no business relationship with any company whose stock is mentioned in this article.