If you predicted that Paramount's re-boot of the Teenage Mutant Ninja Turtles franchise was going to be a gigantic hit then you are in the minority. In fact, you may also be psychic, because going into Friday one thing was very clear; nobody had a lot faith in this movie. Yet that's the beauty of Hollywood and the box office, the industry doesn't control what's a hit and what's a miss; we do as a culture and just a few days removed from Ninja Turtles' opening, that's never been truer.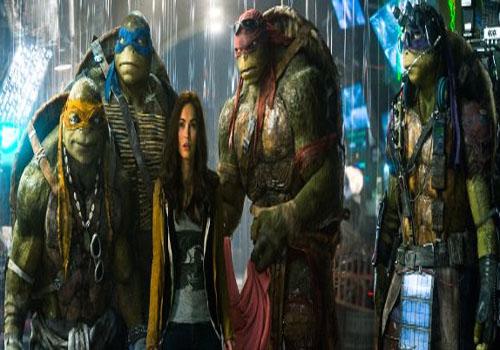 (Credit: Paramount)
Critical Shell-Shock
Leading into the return of the famed "heroes in a half-shell," critics were merciless about the film. Check out just a few of the barbs hurdled at Ninja Turtles and its cast and crew:
I had to draw on my own ninja training and reflect intensively on the transitory nature of all phenomena, just to fend off the profound yearning for death. - Salon.com

Turtles fans might have been looking for their own Avengers. They get Alvin and the Chipmunks on performance enhancers and mass-market pizza instead. In Hollywood, history repeats first as farce, then as marketing. - Grantland

Even youngsters may wonder why any hint of charm or fun has scurried away. Those new to the franchise may withdraw their head into their neck, turtle-like. - New York Daily News
And those reviews are some of the nicer ones…as many took shots at producer Michael Bay, star Megan Fox and of course the studio itself for green lighting the film in the first place. If you want see all of the literary gems you can scan Rotten Tomatoes where the film has a 19% fresh rating (at press time), which is down from the 28% it had on Thursday.
Audience Awareness
Yet respected audience gauging service Cinemascore has the movie at a "B" rating from moviegoers and the fan reviews on Rotten Tomatoes have the movie coming it at 64% liked (which means that percentage gave the film 3.5 stars or higher on a 5 star scale). It's because of that fan-love that the movie is going to end the weekend with $65 million and the top spot over presumed frontrunner Guardians of the Galaxy.
Disney's (NYSE: DIS) newest super-hero franchise was expected to wipe the floor with the Ninja Turtles reboot and be the one on top for a second straight week but now instead it's looking up from second place after taking a 56% week-to-week drop. That's not a huge fall (in fact, it's a solid hold) but the fact remains the industry under-estimated the appeal of Ninja Turtles.
The thing critics often overlook is that while they are looking at a film from a cinematic perspective, audiences are often looking at it from a nostalgic perspective. They want the familiar and as long as they get that for a part of the time they are watching, that's a win in their book. Now that may hurt repeat business or word-of-mouth awareness in subsequent weeks but by that point the studio already has an opening weekend to crow about and to steal a baseball term, a crooked number to hang in the win column. Expect many other studios to get on the re-boot bandwagon because of this weekend and begin to start listening again to the fans and not the critics.
Investor Analysis
From an investor's perspective though you have to be feeling good about Paramount and in turn about parent company Viacom (NASDAQ: VIA) as well. This is a cross-company win as a large part of the hope behind a Teenage Mutant Ninja Turtles movie was based on how well received the re-booted TV series did on Nickelodeon (another Viacom subsidiary).
Now not only can Paramount use this success to further structure its slate (a sequel was just announced on Sunday), but Nickelodeon can use it to help launch the show's new season which hits in September. It is a solid example of synergy as the success of the film and TV series will lead to a boon for both companies' consumer products divisions, which may come away the biggest winner of the group.
Paramount has long been preaching the appeal of franchise movies. If you look at the studio's slate for 2015 and beyond you'll notice they are peppered with films that either are sequels or designed to spawn sequels. That's the business model they are going with and so far it seems to be working.
In the case of the Ninja Turtles, the brand's success gives Paramount a new franchise that will continue to grow. Remember the film did not open day and date across the world, in fact it only opened in 19 countries with expansion to continue in the weeks and months ahead so "turtle-power" is only going to keep getting bigger.
Now between this and Transformers, Paramount will not only likely end summer 2014 as one of the season's biggest winners, but have two mega-sequels on track for the summer of 2016. This was a big win as experts had the film projected to open with just $35 million to $40 million and audiences decided to judge the film for themselves which wrecked all predictions. Never under-estimate the consumer market and Transformers and Ninja Turtles (two films based on extremely popular toy lines) are prime examples of why.
Going forward, stock holders will also want to keep an eye on Viacom's stock because Paramount has Interstellar on the books for November, which is Christopher Nolan's latest film and one expected to play big during award season. After what's been a slow start to the year for the studio, it's certainly looking like it will be an exciting finish.
Disclosure: The author has no positions in any stocks mentioned, and no plans to initiate any positions within the next 72 hours. The author wrote this article themselves, and it expresses their own opinions. The author is not receiving compensation for it (other than from Seeking Alpha). The author has no business relationship with any company whose stock is mentioned in this article.