Proppant, also known as frac sand, is receiving broader attention due to the increase of the Northern White sand utilized in the fracking process, and the limited supply available to the market. An August 4 article by the Wall Street Journal highlighted the boom in providing frac sand to the oil and gas drilling sector. Frac sand is a critical component of the fracking drilling process that has led to the current energy production growth in the U.S. The WSJ article noted that energy companies are forecast to use 95 billion pounds of sand in 2014, up 30% compared to 2013. Drillers are expected to order and use even more sand in the future as tests show that pumping more into a well increases the output. A year ago, about 5mm pounds of sand was used per well, and this year some Bakken wells are using 20MM pounds per well.
Wells can use different sand depending upon their depth, density and pressure. The below chart illustrates the use case for northern white silica as indicated by the SSS, which is in the sweet spot for fracking wells.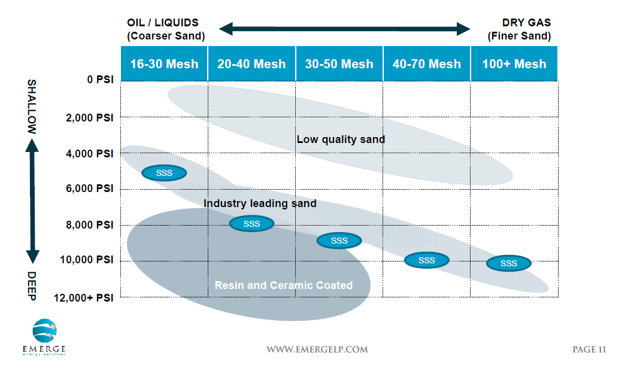 There are two Master Limited Partnership alternatives for investors to create exposure to frac sand, each of which have very different payout structures, but similar asset exposure and growth opportunities. Hi-Crush Partners LP (NYSE:HCLP) and Emerge Energy Services LP (NYSE:EMES) have produced the top returns in the MLP space both year-to-date and over the last 12 months. The returns have been outstanding, at 210% and 352% for the trailing twelve months (TTM) respectively, achieved by strong distribution growth and risk yield compression. This article will compare the two, covering production and growth capacities and what that could mean for unit investors.
Hi-Crush Partners
Hi-Crush Partners debuted with an August 2012 IPO and an average yield of 11%, along with GP Incentive Distribution Rights which can pay up to 50% of incremental distributions as outlined in the link above. The company operates mine and processing plants in Wisconsin to produce the desirable Northern White type of sand. Sand can be loaded direct from the company's processing facilities to unit trains. Hi-Crush also provides logistics services to transport, store and terminal sand order by customers.
2014 has been a year of capacity growth for Hi-Crush Partners. At the start of 2014 there was a single facility with a nameplate annual production capacity of 1.6 million tons per year to a 2014 year-end projection of three facilities that can put out up to 4.9 million tons in a year. Production cost in the 2014 second quarter was $14.20 per ton. The company's GP sponsor also owns an additional facility to drop down that could add 2.6 million tons of capacity. In the second quarter earnings report, Co-CEO Robert E. Rasmus stated that the company expects to increase annual capacity to 6.8 million tons by the end of 2014.
Here are the 2014 Q2 financial results compared to Q1 and a year earlier:
Revenue: $83 million, up 48% and 118% compared to the earlier periods, respectively.
EBITDA: $35.6 million, up 89% and 112%.
Distributable cash flow: $29.5 million, up 70% and 89%.
DCF coverage: 1.69 times for Q2, compared to 1.18x for Q1 and 1.39x over the last four quarters.
The below are the key metrics which indicate how distributions are being created and paid out.

Hi-Crush Partners manages its sales vs. growing production by contracting sales up to 75% of projected capacity, with the remaining 25% available for spot market sales. For 2014, the company has locked up 3.7 million tons on take-or-pay contracts. For 2015, 5.6 million tons is contracted take-or-pay. In the first half of 2014, the company signed 8 new contracts or amendments, with 5 coming in the second quarter.
Sales and EBITDA growth allowed Hi-Crush Partners to declare a Q2 distribution that was 9.5% higher than the Q1 per unit rate and 21% more than the distribution paid for Q2 2013. Second quarter DCF coverage was 1.54x times the distributions paid to LP unit holders. The partnership agreement requires the payment of incentive distribution rights to Hi-Crush's sponsor. The IDRs are currently in the 15% tier, and the distribution is about 2 cents below the 25% tier. Since their IPO, Hi-Crush has increased their distributions by 14.3% and the market has compressed their yield from 11% to 3.64% as they have developed long-term agreements and transparent opportunities for distribution growth.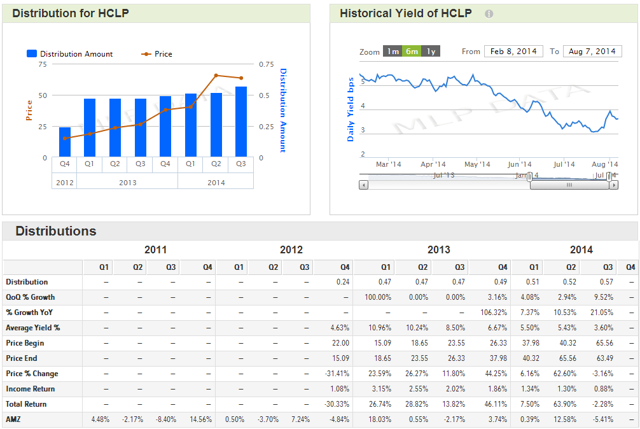 Emerge Energy Services
Emerge Energy Services was the second frac sand MLP with a May 2013 IPO, which came to market with an average yield of 9%, no IDRs and a variable quarterly cash payout policy. The company owns two sand production mines in Texas and one in Wisconsin, all producing Northern White. Emerge also owns a fuel processing and distribution business that chips in about 19% of operating income.
According to a recent presentation, current capacity is 4.2 million tons per year from three wet processing plants and 3.8 million tons from two dry processing plants. A 1.6 million ton wet process plant is under construction and a pair of 2.5 million ton dry plants are expected to come online in 2015. Additional assets include 11 rail transload sites for loading and unloading sand. Emerge owns 4,700 rail cars with plans to increase to 6,400 within the next year. Delivery logistics is a critical competitive factor for establishing long-term agreements.
For the first quarter of 2014, Emerge sold 882,000 tons of sand. Second-quarter sales were 1.045 million tons. In the Q2 earnings release, CEO Rick Shearer noted, "We are sold out at our existing facilities, and are pleased to announce the construction of our Arland plant is on schedule for startup in the fourth quarter of this year." During the quarter the company purchased the assets of Midwest Frac and Sand, which had been a supplier of wet feed to Emerge. In the weeks since the end of Q2, the company signed contracts for 1.9 million pounds of annual sales, bringing the contracted total to 7.4 million tons per year on long-term contracts.
Of the two lines of business, frac sand generates a high gross profit percentage, while fuels processing produces a large amount of revenue with low margins. As a result, revenue to EBITDA margins are not comparable with HCLP. Here are the relevant financials with the same comparisons to Q1 and a year earlier:
Revenue: $298 million, up 9% and 45%.
Adjusted EBITDA: $30.1 million, up 7.5% and 74%.
Sand segment EBITDA: $23.2 million, up and 65%.
Distributable cash flow: $26.6 million, up 4% over Q1.
DCF coverage of 1.04x times for Q2 and 1.11x for Q1

The announced second quarter distribution was 4% higher than the Q1 payment. The Q2 distribution is 36% higher than the company's first full quarterly payout for the third quarter of 2013. Emerge Energy Services does not pay IDRs to its sponsor, which owns 49% of the common LP units, which incents the GP to develop new assets. Since their IPO, Emerge has increased distributions by 36% and the market has compressed yield from 9% to the current 4.07% as the company has been able to convert to long term take or pay contracts and identify future assets for distribution growth.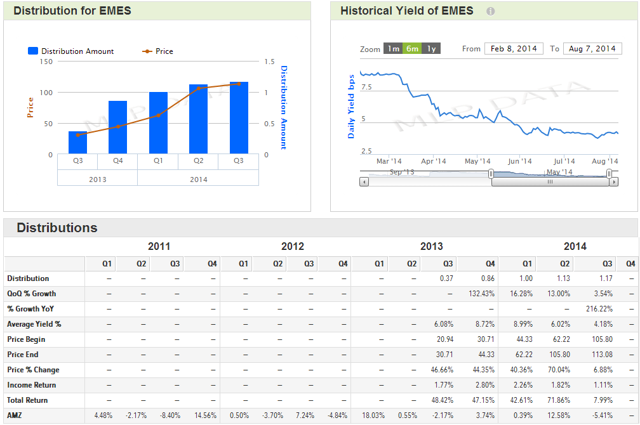 Potential for Future Gains
In spite of the 200% and 350% unit price gains over the last year, both HCLP and EMES have increased distributions enough to keep yields at competitive levels. HCLP currently yields 3.6% and EMES yields 4.07%. In contrast, the high-growth MLPs with more traditional midstream assets, yield in the 2%. Emerge maintains a lower coverage ratio of 1.2x TTM, while Hi-Crush covers at a 1.39x TTM. Their cost of capital is roughly equivalent (3.97% vs 4.07%) when considering the Hi-Crush IDR impact. Hi-Crush has had two secondary offerings, while Emerge has not yet needed to issue more units to finance growth.
Both frac sand MLPs have signed contracts that should result in 20% distribution growth through at least the end of 2015. Along with the growing sales tonnage, the companies will probably be able to increase prices on new contracts by 8% and further benefit from spot sales. MLP math suggests that yield + growth determines the holding period total return, which would generate 25% per annum returns, there is risk from yield decompression if the growth rate slows due to a precipitous fall in oil prices or the inability to deliver new capacity. Both of these issues trade with volatility on relatively healthy volume and wider spreads, providing opportunity for both traders and income investors. Emerge offers investors greater opportunity to realize increasing frac sand prices due to their lower coverage ratios where a higher percentage of cash flow is distributed to unit holders. However any macro changes to frac sand demand will punish Emerge units given this low coverage and variable payout policy. These macro changes are likely risks which apply to the majority of MLP assets. Given the volatility with both of these issues and what should be a risk premium associated with Emerge, there will be many opportunities to pair trade when valuations deviate.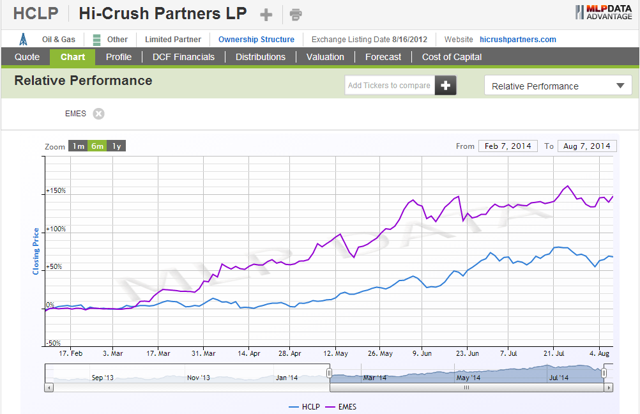 Final point, for those who invest in certain exchange traded funds and notes, it is worthwhile to note that neither of these units are present constituents of the Alerian Index, which is the benchmark index for AMJ or AMLJ.
Disclosure: The author is long HCLP, TEP, EMES, ENBL. The author wrote this article themselves, and it expresses their own opinions. The author is not receiving compensation for it (other than from Seeking Alpha). The author has no business relationship with any company whose stock is mentioned in this article.