I'm here to break it to you; if it wasn't clear when the Dow dropped 300 points, the market is in a short-term correction; however, that doesn't mean you should be heading for the window. Even with inflation and interest rates rising, earnings are still generally good and companies are growing. So, that means the long-term picture is still bullish.
With the long-term picture still bullish, it may be good to put your money to work during this pullback. However, I usually never recommend putting money to work until it's clear a pullback is over. Note I said usually. I know an investor is never supposed to break the rules they set, but I want to show compelling evidence as to why Netflix (NASDAQ:NFLX) is a buy even during a pullback.
I want to warn you before you keep reading that I will focus on technical analysis more, but I will highlight some of the fundamental factors that could impact Netflix's stock price also. Netflix faces some headwinds (like slower US subscriber growth & major competition from Amazon (NASDAQ:AMZN) and Hulu), but I believe the headwinds aren't as terrible as some think. Netflix still has oversea potential and US growth isn't dead in the water, because Netflix can also appeal to Prime/Hulu users. Why? Superior original content.
People are going crazy over some of the Netflix original series, like House of Cards. I think with great original content we could see video streaming become more like the social media scene. Many people incorporate multiple social media sites into their daily lives and since the price of Netflix isn't extremely high, people are more likely to use multiple video streaming companies as well.
Overall, at this point, the fundamentals look fine. Sales are growing around 20% over 3 years, debt is under 50% (a little rule of thumb for me), and annual EPS is estimated to be $3.86; which is far greater than the previous year. Netflix also has institutional support, which can be seen on the weekly chart. This support is pretty strong, making Netflix the number one stock in its industry.
The fundamentals alone aren't what make Netflix a buy. So, what really makes Netflix an excellent buy? Well the chart of course, and yes I mean good old technical analysis. A strategy I love to use involves going long stocks that cross the 50-week moving average on high volume on the weekly chart. Anyone who knows Netflix though knows that the stock has been riding the weekly 50-day line forever (since December 2012). Since the weekly chart doesn't offer much of a reason to buy, I had to look other places.
The next place I looked was the daily chart. I applied the 50-day moving average and looked at the average 10-day volume. It was then that I found a reason to buy Netflix. On August 8, 2014, Netflix broke above the 50-day moving average on high volume. That signals an opportunity to buy Netflix, but even better it gives me a reason to justify my want to buy it.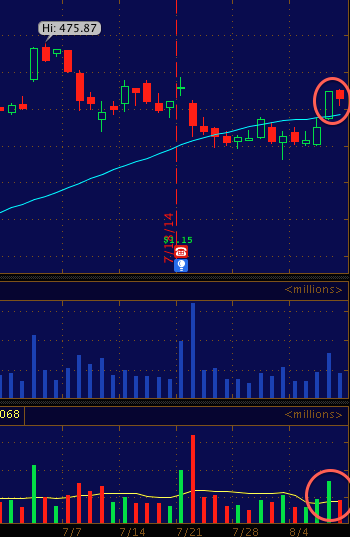 So, if you aren't worried about the market's condition, then here is how I'd play the trade. Typically, with a stock like Netflix, I'd love to use options, because the stock is so highly priced; however, the calls have a premium on them (I was looking into the September 20th expiration), which means I'll be having my gain eaten by the cost. I'm not saying to not use a long call if you were already thinking about it, I would just rather own the stock. It's really more about feeling comfortable with the risk. If the stock plays out, then options would be a great way to play it. But since the market isn't the happiest of markets, I'd rather not risk a lot on an option.
Now whether you choose the stock or the option, you need a stop. I'd love to set a 25% trailing stop on this baby and let it ride, but my gut says no. It's probably because I only set trailing stops that large when the weekly chart shows a buying opportunity. Also, Netflix has had a great run this year. So, I would treat this more as a trade and put a trailing stop of 5% to 10% on it. I personally would go with 5% because if the stock drops to $430 anyway, the 50-day moving average will be broken. If it breaks, then the trade breaks.
Now we don't really need to talk about taking a profit so much, as the trailing stop is supposed to help us with determining that; though, I do want to talk about how the trade could play out. So worst-case scenario is Netflix falling 5% from the purchase price and stopping us out. If you can deal with that, or losing money in general, then the worst is over. Best-case scenario is Netflix retries its high at $475 and breaks it. If you bought at $450 and the stock reaches that $475 level then drops like a rock, the 5% trailing stop would've secured a profit. Your break-even point with the trailing stop would be $472.50 (a 5% gain on $450).
Hopefully this article helped you think about the mindset you should take before entering a trade. If you have any questions, feel free to leave a comment and I'll try to help. Remember to analyze the trade like I did, and never jump in anxiously. Currently I'm still contemplating entering the trade myself. I'll comment if I decide to get in and give the price I bought at. I hope this trade works out nicely and thanks for reading!
Disclosure: The author has no positions in any stocks mentioned, but may initiate a long position in NFLX over the next 72 hours. The author wrote this article themselves, and it expresses their own opinions. The author is not receiving compensation for it (other than from Seeking Alpha). The author has no business relationship with any company whose stock is mentioned in this article.
Additional disclosure: May go in on a grand total of 5 Shares.