A lot of attention has been paid to the underwater drillers as of late. There have been upgrades (BMO), downgrades (Raymond James) and vehement downgrades (Deutsche Bank). There have been spin-offs of "good" assets (Transocean Partners (NYSE:RIGP)) and spin-offs of "bad" assets (Paragon Offshore (PGN)). There has been incredible price volatility as geo-political events and analysts have caused a high beta sector to be even more volatile than "usual". Frankly, the "micro" of this industry is hard to grasp, with various types of financing, insider deals, opaque impairment tests and the manipulation of maintenance schedules and activities. Fortunately, the "macro" is easier; supply and demand over the short, and long term.
New Information . . .
Last week, three events that shed light on the state of the drillers occurred. On August 5, Citigroup reaffirmed its "Buy" rating on Seadrill (NYSE:SDRL). On August 6, Transocean (NYSE:RIG) held their post-earnings conference call. On August 8, SDRL announced a significant, multi-year contract for one of its new rigs.
. . . And What it Means
Collectively, the SDRL news gives credence to the thesis that the Company is well positioned for the current, supply-driven challenges the industry is facing and its new rigs will be well-received, generate incremental cash flow and profits. Conversely, the RIG conference call highlighted the challenging state of the "current" industry, where increases in rig supply and lower producer demand are squeezing day rates, creating more competitive situations to the detriment of the drillers and potentially causing future asset impairments (write-downs) and cold stacking (or scrapping).
And the Winner Is . . .
While those who have read my previous articles know I am bullish on the long-term prospects of the sector (for geo-political and valuation reasons), I have, until now, held off declaring a "favorite" in the sector.
At this point in time, I believe SDRL is the best stock to own in the industry. I flesh out the below points within the article, but in summary SDRL has:
A modern fleet
New, state-of-the-art, rigs (jack-ups, drillships and semi-submersibles) receiving sizable contracts
Stable-to-improving operating cash flows, as its fleet is largely under attractive, long-term contracts (shielding the Company from short-term over supply issues) with more desirable new rigs coming on-line
A robust dividend
A forward-thinking and creative management
What Does the Data Say?
The following table illustrates some key metrics with respect to a subset of the underwater drillers.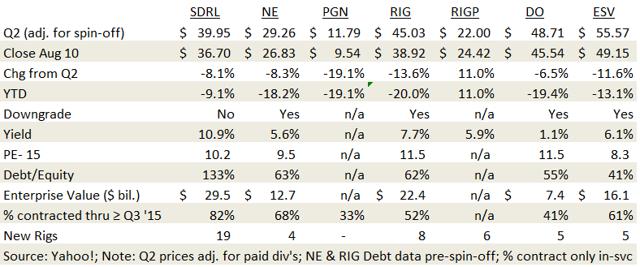 Compiling the table was an illuminating experience. To me, a good table is like looking at the forest instead of a bunch of individual trees. You get a more complete picture.
Everybody Loses (So Far) . . . But the Dividends Cushion the Blow
Not surprisingly, the stock prices of all the drillers (saving RIGP) have dropped dramatically since June 30 and the beginning of the year. Interestingly, the market respected the most levered underwater driller, SDRL, which fell the least.
Contracts and Short-Term "Challenges"
While all drillers provide fleet updates, they tend to be viewed (at least by me) in a vacuum- highlighting "what changed". In this analysis, I evaluated the fleets of the sub-group of drillers with respect to in-place contracts. As we are currently experiencing, as confirmed in the RIG Q2 conference call, a buyer's market, having contracts in place is especially valuable. For the analysis, contracts in place past Q2 2015, were considered as not being at short-term risk. Again SDRL had, by a significant margin, the highest percentage of rigs that were not idle or under short-term re-contracting pressure. Noble Corp (NYSE:NE) did a "great" job of dumping its older and vulnerable rigs on Paragon Offshore. It is not surprising PGN stock has been in free fall since trading started.
Debt and Potential Decisions
In this highly leveraged industry, debt service and dividends are always a sensitive topic. SDRL pays the highest, by far, dividend and has the highest, by far, debt-to-equity ratio. However, given SDRL's positive momentum with respect to the contracting of under-construction rigs and its clear success in raising capital (in July) and refinancing (despite the clumsy way it was handled) rigs, I feel more comfortable with SDRL's ability to manage its debt and pay its dividend than with some of the other companies. SDRL management has proven it is nimble, resourceful and willing to react, in real time, to the market. If, as expected, demand begins to increase, almost all of the drillers should be fine. If the slowdown is prolonged, some of the drillers may have challenges. During the Q2 conference call, RIG carefully stressed its commitment to the business, but not necessarily the dividend. Unspoken was the potential challenge if the slowdown continues, and the difficult choices the Company would have to make.
Valuation is Not Rich
None of the drillers sports what could be considered a "rich" valuation. In the absence of credible earnings growth numbers, it is difficult to ascertain relative valuation (e.g., PEG ratio). However, I used the contracts-in-place measure as a proxy for stability. RIG and Diamond Offshore (NYSE:DO) do relatively poorly when PE and contracts are taken together. Given SDRL's large number of new rigs coming on line and its demonstrated success in contracting new rigs, there is the very real potential for significant revenue, operating cash flow and profit growth (especially as the Company has the least amount of risk from the re-contracting of rigs in today's environment).
Dividends
The sector traditionally pays high dividends; the highest (10.9%) coming from SDRL. As mentioned previously, this analysis combined with recent events gives me strong confidence that SDRL can continue to pay its double digit dividends.
And the Winner Is . . .
Having already given away my answer, SDRL, there is no surprise here. However, in conducting this analysis, I was surprised by how favorable (in my opinion) SDRL compared to the other drillers in the group. With the exception of its high debt, it is a leader in (percentage of) rigs under contract, new rigs, dividend, and was the "smallest" loser in terms of price. I was pleasantly surprised by how well NE showed. Granted, its second place finish was due to creating the drilling equivalent of a "bad bank", PGN, but it should weather the storm reasonably well. I am also a little concerned about RIG, given the guarded tone during the conference call, its foregoing some upside in the Transocean Partners deal and the relatively small number (in a very large fleet) of new rigs coming on line.
In Conclusion
I think short-term issues for underwater drillers are real, but so are longer-term opportunities from producers who will increasingly turn away from dangerous places and unstable regimes to drill underwater where it is (relatively) more stable and more certain.
SDRL is my recommendation as "best of breed". NE is my runner-up. The stock prices will likely continue to be highly volatile and be driven by short-term concerns, but I believe the medium- and long-term prospects are very positive and the healthy dividend payments will cushion any short-term "irrationality". In summation, I think, especially with respect to SDRL, the risk/reward ratio is very favorable if you have an extended time horizon.
This article reflects the author's opinions and is not meant to be the basis of an investors' buy or sell decisions. All investors should conduct their own due diligence and make investment decisions solely on their research.
Disclosure: The author is long SDRL, RIG, NE. The author wrote this article themselves, and it expresses their own opinions. The author is not receiving compensation for it (other than from Seeking Alpha). The author has no business relationship with any company whose stock is mentioned in this article.