First things first. No one knows what the Internet of Things is going to be worth. Any estimate that you will read will be a shot in the dark. So the IDC's estimate of a market of $7.1 trillion by 2020 is to be taken with a pinch of salt. It had pegged it at $8.9 trillion for 2020 a year ago. This is not to discount the research of the wonderful folk over at the IDC, or be skeptical about the figure. It's just that the sheer amount of entropy involved here - the IoT includes everything, basically - is much more than when one is making a calculation for the market of, say, phablets.
But let us not squabble on that. The fact of the matter is that it is a huge market and cash flush companies are going for a piece of their pie.
Now before we get into the dynamics and product vision of the companies that are going to be gunning for the end consumers, let us give some thought to their suppliers. The Internet of Things is going to rely heavily on two things. One, broadly speaking, is connectivity. This includes both the connectivity hardware and also connectivity in the intangible sense of the word, the sort that can be provided by internet service providers and cellular companies. The second is going to be sensors and microcontrollers.
So expect companies like Qualcomm (NASDAQ:QCOM), Cisco (NASDAQ:CSCO), Ruckus Wireless (NYSE:RKUS) to do well. Other companies like Intel (INTC) and Samsung (OTC:SSNLF), which are attempting to break into the market themselves, will make money off the IoT even if their own efforts aren't fruitful.
Google's flight beyond its Nest
In general market perception, the race for dominance over the Internet of Things started in earnest with Google's (GOOG, GOOGL) acquisition of Nest. The smart thermostat, which can, amongst other things, check if no one's home and dial itself down, is the ideal "gateway drug" into the IoT. The deal cost Google a cool $3.2 billion.
The acquisition followed Google's own failed indigenous attempt to break into the market called the "PowerMeter."
In the road ahead for Google, one would be hard-pressed to find what projects fall in the IoT category. For instance, could the driverless car come in that category? What about the cool-yet creepy 'droids that it has acquired from Boston Dynamics? Or the potential to turn the aforementioned even more useful with its acquisition of DeepMind?
Google has no threats in search. Facebook, say, does have some in the relatively fickle world of social media. So there are no high-profile acquisitions to stabilize its core business. And almost everything else that it buys can be related to the IoT.
One thing we know for sure, the IoT devices are going to generate huge amounts of data. And that's something Google knows best.
Apple wants your home
Another foray into the IoT is Apple's (NASDAQ:AAPL) HomeKit. The iOS 8 platform driven setup is set to control everything from locks to lights to airconditioning.
For smart homes to work, devices need to be able to communicate with each other. And that presents a host of compatibility issues. Apple aims to provide a platform for third party developers, like Philips, which will make the Hue connected lightbulb.
Apple knows a thing or two about platforms, having two (iTunes and, more importantly in this case, App Store) under its belt. Just build your product within a set of specifications, and a garage-based lab could be on the same marketplace as Philips.
Darkhorse: finally, a fighting chance for BlackBerry?
Yes, platform compatibility Apple might be able to do a better job with. Yes, Google is on a buying spree and can handle data better. But the biggest problem with the IoT is going to be security.
The sort of nightmare scenarios being mapped out is going to sour things for even the most fearless of early adopters.
And which company has the edge in mobile security? With even states fighting with BlackBerry (BBRY) to release data, the platform became the go-to choice for anti-establishment activists in turbulent countries.
The mobile device security market is predicted to reach $3.4 billion by 2018. But, if the company leverages that reputation for security for the IoT, you can expect unheard-of growth. Which is good, because they certainly can't sell phones anymore.
An aside: BlackBerry is also making a direct hit at the IoT with the acquisition of health firm NantHealth.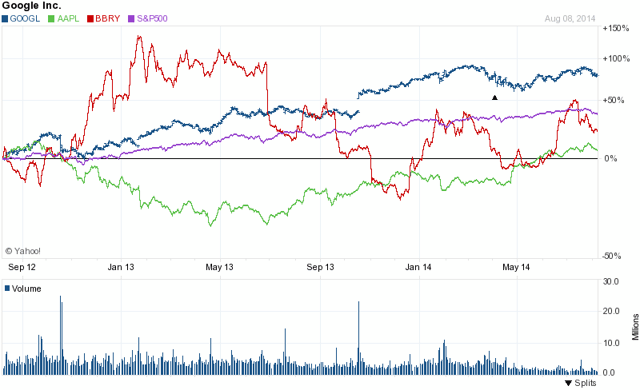 Disclosure: The author has no positions in any stocks mentioned, and no plans to initiate any positions within the next 72 hours. The author wrote this article themselves, and it expresses their own opinions. The author is not receiving compensation for it (other than from Seeking Alpha). The author has no business relationship with any company whose stock is mentioned in this article.