For those investors who are convinced that big bank stocks are still a good buy in the post Dodd-Frank regulatory world, it's nevertheless important to hedge a little in case the thesis doesn't hold.
David Einhorn recently said on CNBC "We don't hedge anything, if you need to reduce your exposure to something the best way to hedge it is to sell something." I'm going on the assumption that if you are still a buy and hold investor, it's neccesary to weather some of the downturns with a hedge rather than sell out and start the clock over on your long-term gain.
My idea is that if you are long in the big banks, a nice play would be to short a small percentage - 10-20%, based on how much protection you want - with the ETF UYG. This is a 2X long Proshares Financial ETF. The beauty of it is they seek daily investment results, before fees and expenses, that correspond to twice (200%) the daily performance of the Dow Jones U.S. Financials Index. Since they are seeking to obtain daily results, there is a rebalancing cost nightly to go along with these fees and expenses.
To show the long-term issues that come with a leveraged ETF, I have compared it to the 2X Short Financial ETF SKF over the past two years using a Yahoo Finance chart. As they are seeking the exact opposite goals, it would seem likely that they are mirror images of each other.
This, in fact, is the case; unfortunately, as you can see, they are mirroring each other in negative territory. If you had chosen to buy SKF as a hedge, the value would have mostly eroded away at this point. However, even after experiencing a once in a lifetime rally after hitting the bottom last year, UYG is still down over the past two years.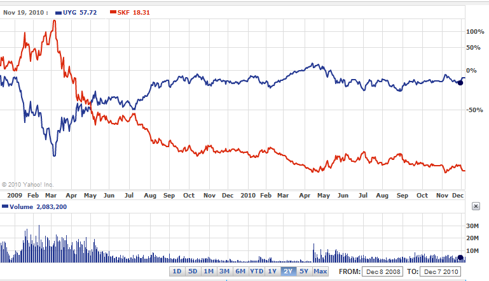 This strategy works much better if you are long a group of bank stocks. If you are just longC, BAC, JPM, or GS, for example, there will be instances where that individual company may take a hit while the whole industry is experiencing a nice rally. This could result in your long position declining as well as your hedge turning against you.
Below is a table showing an equal portfolio of financial stocks performance during the down period of 4/1 - 7/1 of this year, with and without a 20% short hedge using UYG.
| | | | | | |
| --- | --- | --- | --- | --- | --- |
| Symbol | 4/1 | 7/1 | Return | Hedged | Unhedged |
| GS | $171.72 | $130.52 | (23.99)% | | |
| C | $4.11 | $3.78 | (8.03)% | | |
| BAC | $18.02 | $14.00 | (22.31)% | | |
| JPM | $45.03 | $36.03 | (19.99)% | | |
| UYG | $69.00 | $49.23 | (28.65)% | | |
| Total | | | | (16.06)% | (18.58)% |
The other thing I like about this hedge is that since it is leveraged, you can get more bang for your buck on the short. A much lower percentage can be shorted to get that offsetting position, which will be enhanced by the rebalancing slippage and fees to manage the fund. The money taken in by the short can also be invested somewhere safely to compound as well, while waiting to close out the position.
Disclosure: I have no positions in any stocks mentioned, and no plans to initiate any positions within the next 72 hours.