The best investments are painfully obvious whilst being virtually risk free
Investments where I spend a significant amount of time deliberating on whether it will create a worthwhile return vs. the risks I incur, I pass. Fonar (NASDAQ:FONR) is such a company.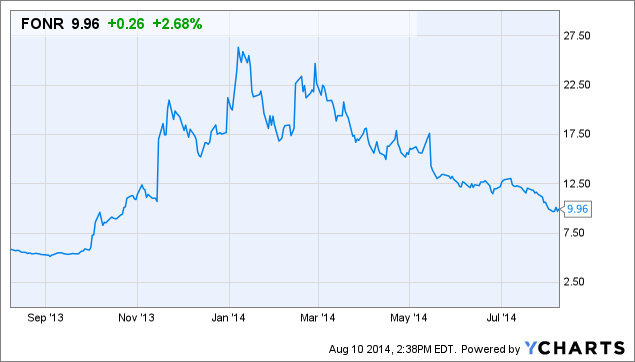 I came across Fonar a few months back. I had been waiting for the stock price to fall to a price where I felt it would be cheap enough to warrant my investment.
There is a lot to like in Fonar
Fonar is the company that made the discovery that is the basis for magnetic resonance (MR) scanning in 1970. Fonar built the first MR scanner and produced the first image of the human scan. Its flagship product is the Upright™ MRI and you can see a video here that explains the benefits of this open scanner, with the "unique ability to scan patients in weight-bearing postures" while the patient watches a movie. So far, I am pleased with the concept behind the company.
A summary of Fonar's financials:
As a value investor, the first place where I start my analysis on a company is its balance sheet.
| | | |
| --- | --- | --- |
| USD in millions | Mar-14 | Jun-12 |
| Cash | 10 | 12 |
| Receivables | 30 | 10 |
| Current assets | 43 | 26 |
| Total debt | 12 | 3 |
| Current liabilities | 22 | 21 |
From the above table I highlight the following:
Although annual revenues have increased 25% (June 2013 vs. June 2012), rather than earnings converting to cash they went to account receivables.
Debt has increased fourfold (due to the acquisition of a majority interest in Health Diagnostics Management LLC (HDM).
In June 2012 they had a current ratio of 1.2

- suggesting that Fonar was running into some liquidity issues and possibly why they chose to take on debt.

The majority interest in HDM provided Fonar with an increase in revenues but offered it no increase in intrinsic value.
Receivables:
Ideally, revenues should convert to cash and then excess cash should be returned to shareholders. With Fonar, this is clearly not happening.
Fonar states that its account receivables are "limited due to the customer advances received prior to the commencement of work performed and the billing of amounts to customers as sub-assemblies are completed. Service and repair fees are billed on a monthly or quarterly basis and the Company does not continue providing these services if accounts receivable become past due." My first thoughts are: great! But in the words of Jerry Maguire - "Show me the money!" Why do account receivables not decrease and get converted to cash? They have in fact remained stubbornly high. This suggests that Fonar's management is not candid and is failing to accomplish its objectives.
Competition:
I prefer companies with a competitive advantage, however, at the right price I can forgo this. Unfortunately, Fonar has a competitive disadvantage. As the table below shows, Fonar struggles to sell its flagship Upright scanner (6.5% of total revenues in 2013 vs. 16.1% in 2012):
Revenues Recognized
Model
Fiscal 2013
Fiscal 2012
Upright Scanner
$3.2M
$6.3M
Fonar's scan offers a higher quality image, but as the Upright MRI scanner is not of "high field strength" (1.0 Tesla) means that its scans take longer than that of its competitors. This gives Fonar an additional disadvantage (as physicians are so time constrained anyway, hospitals opt for a scanner that offers speed over quality and chose to purchase equipment from Fonar's competitors).
Management:
Normally, I do not give any weight to the quality of management when making an investment in a company. The reason being that if management are actually any good, I stand little chance of knowing this trait. (In fact I can be very forgiving to management as I have reported before.) However, when management is noticeably unproductive, I do give this a negative consideration in my analysis.
Fonar started the field of MRI scanning (1970s) and I would expect it to be its leaders. But as things stand now, it is nowhere near leading its industry.
Fonar has scanning centers in NY and Florida, begging the question as to why management have been so inactive in pursuing a geographical expansion. Fonar could have expanded across any big city in the US, not to mention Europe, Japan, etc., but with revenues from foreign sales in June 2013 totaling 2.1%, geographical expansion appears to be a highly unlikely avenue to be pursued anytime soon.
Medicare payments:
According to Fonar's annual report the company states "our management fees are dependent on collection by our clients of fees from reimbursements from Medicare." Fonar then states that it has "experienced reimbursement reductions for radiology services provided to Medicare beneficiaries." Therefore, it is worth pondering how policies affecting Medicare payments could develop in the future. Although critics could argue that revenues from Medicare only account for 7.6% of revenues (June 2013), it is still another source of revenue being constricted.
Valuing Fonar against its competitors:
The table below compares the metrics of Fonar with its competitors:
| | | | | |
| --- | --- | --- | --- | --- |
| | Market Cap USD bil | P/E | P/B | Dividend Yield % |
| "General Electric Company (NYSE:GE)" | 256 | 17.5 | 1.9 | 3.3 |
| "Philips N.V. (NYSE:PHG)" | 28 | 19.6 | 1.9 | 3.1 |
| "Toshiba Corporation (OTCPK:TOSBF)" | 19 | 30.6 | 1.6 | Nil |
| "Hitachi Corporation (OTCPK:HTHIY)" | 35 | 36.8 | 1.5 | 0.6 |
| "Siemens A.G (OTCPK:SIEGY)" | 101 | 16.6 | 2.7 | 2.5 |
| Fonar | 0.06 | 5.9 | 3.1 | Nil |
From the above table, one can clearly see that Fonar is cheap. But is it cheap and of high quality? So far, nothing about my analysis of Fonar suggests high quality.
Allow me to briefly remind you of Fonar's statement: "most [of our] competitors have marketing and financial resources more substantial than those available to us. They have in the past, and may in the future, heavily discount the sales price of their scanners." This does not inspire a lot of confidence.
Furthermore, Fonar also explains in its annual report how its original scanner design was imitated by its competitors. I think one could suppose that it could happen again. Although, in the short term, I do not see this causing a problem - as hopefully their patents would hold up - I would still prefer to avoid this risk.
Dividend:
Nil. Unless you happen to own Class C stock where you get a third of earnings (doubtful as Dr. Damadian owns 98.98% of Class C stock).
Growth:
On an accrual basis Fonar had shown a lot of promise recently:
| | | | |
| --- | --- | --- | --- |
| | 2013-06 | 2012-06 | 2011-06 |
| Revenue Mil | $49 | $39 | $33 |
| % change | 26% | 18% | 3% |
| EPS | $1.34* | $0.91 | $0.55 |
| % change | 47% | 65% | 0% |
* EPS includes a partial reversal of the deferred tax valuation allowance of $0.41.
From what we have seen so far this year, I find it reasonable to forecast that 2014 FY EPS could be around $1.30.
Fonar has high fixed costs (according to its income statement), so it needs growth - that actually converts to cash

- otherwise it will be difficult to see this stock price correcting significantly (higher) to make it a worthwhile investment.

The investment community has discounted heavily this stock. It is the general consensus that Fonar's growth is stagnating or even declining. On the one hand it is true that sequentially Q-o-Q this appears to be the case (Q1 EPS $0.37; Q2 2014 EPS $0.33; Q3 2014 EPS $0.26), on the other hand, this has already been more than accounted for in the current stock price. However, with growth recently stagnating and an unreliable management, it forces the question: is this stock worth the risk?
Potential areas for a price correction up:
Increasing its P/E. On the basis that the general stock market is a touch overvalued (P/E: 18) as value investors search for bargains, they could look to Fonar, as its slightly undervalued. I have no doubts that Fonar can have a P/E of 10 valuing the stock at $13-14 (offering a 40% upside from here). But I do not feel I can rely on this for my investment in Fonar.
Alternatively, Fonar's accounts receivables could convert to cash and management could use excess its excess cash to buy back its shares, causing shorts to cover. Although I realistically do not see this management as capable of doing this.
In conclusion:
Fonar is doing a good job of paying back its debt (post acquisition). Still, as Fonar is unable to find growth in this highly competitive industry, the current levels of debt are simply too high to allow for an investment with a margin of safety.
Overall, this stock is cheap and could work out. It could even go up by around 40% - if it was deemed worthy of a P/E of 10 making its stock priced at $13-$14 - but with no margin of safety, it means no investment for me.
Disclosure: The author has no positions in any stocks mentioned, and no plans to initiate any positions within the next 72 hours. The author wrote this article themselves, and it expresses their own opinions. The author is not receiving compensation for it (other than from Seeking Alpha). The author has no business relationship with any company whose stock is mentioned in this article.
Editor's Note: This article covers one or more stocks trading at less than $1 per share and/or with less than a $100 million market cap. Please be aware of the risks associated with these stocks.