Church & Dwight (NYSE: CHD) is a consumer and specialty products company that recently declared its 454th regularly quarterly dividend. This streak is definitely an achievement but investors might be slightly misled by the company's salesmanship.
Instead, investors should be focused on Church & Dwight's growth through acquisitions.
Church & Dwight is no longer only buoyed by its Arm & Hammer brand and has expanded its product line more than you might realize. In fact it has eight other major brands-all acquired since 2001.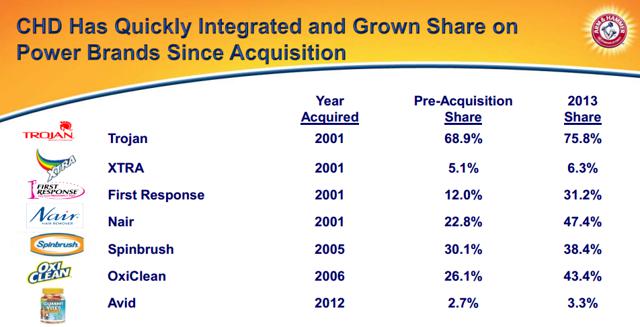 Source: CHD Investor Relations Presentation (Orajel not listed)
These immediately recognizable brands are now in the capable hands of Church & Dwight-a company that has been around since 1846. And Church & Dwight has not been slow to grow market share for these newly acquired brands.
Most notably, its recently acquired OxiClean brand has grown from a share of 26.1% in 2006 to an impressive 43.4% in 2013. Church & Dwight is now expanding the OxiClean brand beyond laundry additives into laundry detergents, bleach alternatives and auto dishwashing.
The expansion of the OxiClean brand into laundry detergent means Church & Dwight will hit key price points in the competitive laundry detergent marketplace through its three brands: Arm & Hammer, OxiClean and XTRA. Church & Dwight is also using OxiClean as an additive in its Arm & Hammer and XTRA laundry detergents. With these product additions, Church & Dwight is aggressively pursuing market share from Procter & Gamble (NYSE: PG), the company that makes Tide laundry detergent.
Church & Dwight also has plans for growth of its most recently acquired brands from Avid in 2012-vitafusion and L'ilCritters.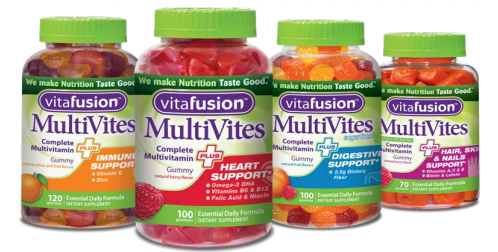 Church & Dwight is looking to expand its current 3.3% market share for these gummy vitamins. The company specifically sees a shift from traditional vitamins to gummy vitamins by adults and has expanded its gummy vitamin capacity by 75%.
Potential for Future Acquisitions
Church & Dwight is now built on its recent acquisitions and investors should expect this trend to continue. It even somewhat humorously touted in a recent investor presentation that it had $2.6 billion in "dry powder" in February.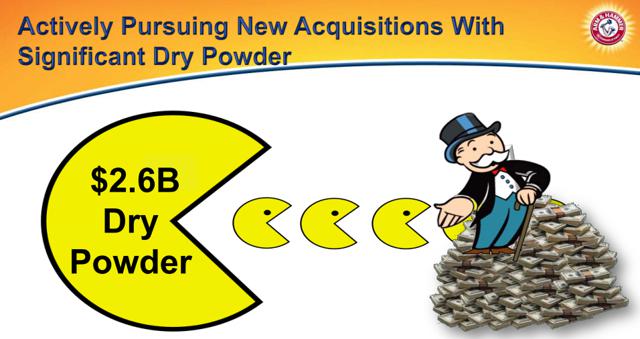 Currently, its cash and cash equivalents-that accounted for $496.9 million of the $2.6 billion in February-are now at $196.9 million. This leaves Church & Dwight with slightly less "powder" for acquisitions with around $2.3 billion, including a leverage capacity of $2.1 billion.
Investors, however, should be encouraged by the positive outlook of Church & Dwight's CEO James R. Craigie in a recent quarterly report:
We expect the second half of the year to drive the majority of our earnings growth, as the first half included a significant increase in slotting, couponing, trade promotions, and incremental marketing support for our new product launches. Specifically, we expect the fourth quarter will be a significant contributor to full year earnings growth behind SG&A leverage and strong organic growth. This earnings outlook does not include the benefit from any potential acquisitions, which we continue to aggressively pursue.
Church & Dwight's Growth Potential
There is definitely reason to follow the company's trajectory and focus your investment thesis on Church & Dwight's growth potential through acquisitions. Especially since the company itself is not making its dividend a priority.
Church & Dwight actually lists return of cash to shareholders as a fourth priority for uses of free cash flow. Sure enough, topping that list were acquisitions and new product development.
Investors looking for more immediate income from yield should look toward Church & Dwight's competitors in the consumer products category. For example, Procter & Gamble has a current dividend yield of 3.18%. Johnson & Johnson (NYSE: JNJ) also beats them out with a dividend yield of 2.79%. In the near-term, these dividend yields would certainly have more impact on your portfolio than Church & Dwight's 1.89%.
But for the long-term, I see impressive dividend growth and stock price appreciation with Church & Dwight at the right entry price.
Final Thoughts
Church & Dwight is now only slightly off its 52-week highs-an entry at these levels is definitely tough to execute. I am placing Church & Dwight on my watch list and would consider an attractive entry point at $62 per share when its current quarterly dividend would yield 2%.
Disclosure: The author has no positions in any stocks mentioned, and no plans to initiate any positions within the next 72 hours. The author wrote this article themselves, and it expresses their own opinions. The author is not receiving compensation for it (other than from Seeking Alpha). The author has no business relationship with any company whose stock is mentioned in this article.