The next two months are going to be very interesting for Novo Nordisk (NYSE:NVO) - a large cap pharma company with a strong position in the insulin segment.
Novo Nordisk is one of those companies that just keeps doing incredibly well. Founded in 1925 it was a pioneer in the insulin treatment of diabetes and has since then built itself to a global company.
It has had an incredible CAGR of 20.83% over the last 20 years and proved to be a resilient stock to own during the financial crisis. Especially since early 2012, the stock has had an incredible run, increasing over 150% in a 30-month span, though partly due to an aggressive stock buyback program amounting to around half of net income.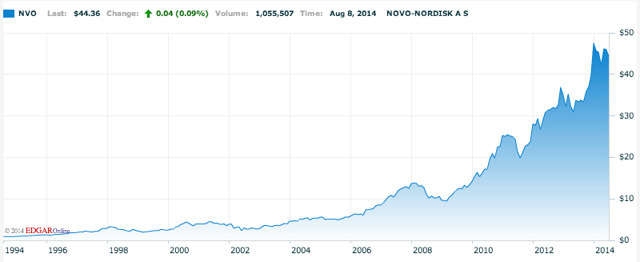 The underlying business is fine too with good vitals and a stable growth:
Revenues are increasing, even in years with no new drug introductions (up 35% in the last 3 years)
Profit margin increasing steadily.
The company has zero debt.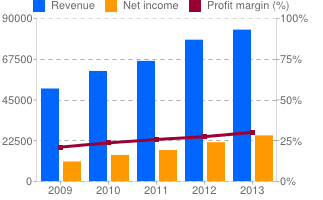 Income is distributed roughly with 58% to buy back stock, 35% to dividends and 19% to capital expenditures (avg. 2010-2013 - total cash higher than 100% due to depreciation as a non-cash expense) with CapEx being nominally steady and the other two rising as income rises.
The only problem is that the stock isn't cheap
At a P/E of almost 26 Novo Nordisk is somewhere around the middle compared to its peers - Teva Pharmaceuticals (NYSE:TEVA) is trading at a P/E of 31 and Sanofi SA (NYSE:SNY) at 25 while GlaxoSmithKline (NYSE:GSK) is trading at a P/E of around 14. The S&P 500 is trading at 19.15.
So while not seemingly overpriced the stock doesn't seem dirt cheap either - although clearly management thinks so given the heavy cash expenditures on the stock buyback program.
So what if you've come to the conclusion that Novo Nordisk is a good long term bet and that you want to take a long position in the stock, but simply aren't pulling the trigger because the price point is too high?
Well, look out for big swings in the next two months:
Expected roller coaster ride prior to FDA Victoza hearing
On 11 September from 8am to 5pm, an expert panel appointed by the FDA in Maryland will review the use of high doses of the Novo Nordisk drug Victoza (with the active ingredient liraglutide) as an obesity treatment.
Victoza is already approved as a diabetes drug for the US market but Novo Nordisk is now trying to get the drug approved as an anti-obesity treatment as well. Dosage for diabetes treatment is 1.2-1.8mg but the dosage being reviewed by the FDA for obesity treatment is 3.0mg.
FDA approval of drugs are big catalysts for pharma companies as they are both highly valuable and very binary - either you can sell the drug or you can't. The good thing for value investors is that the market might overreact to FDA approvals (or rejections) beyond the actual business value of the drug or treatment being reviewed. This can be good times to enter an otherwise healthy pharma business.
In the case of Novo Nordisk and Victoza, Søren Løntoft Hansen, an analyst out of the Danish bank Sydbank, who follows the stock was quoted last week for predicting the fluctuations to be "larger than the potential of Victoza for obesity treatment can actually provide." (link to Danish article here).
FDA stock price fluctuations
If the two latest FDA hearings on Novo Nordisk in 2009 (Victoza as a diabetes drug) and 2012 (the insulin drug Tresiba) are any guidance, this is roughly what is going to happen:
The market grows increasingly rumor sensitive and fluctuations will become bigger as the hearing date nears. The months prior to previous big FDA hearings saw 15-20% of the total stock volume in trading.
2 days before the hearing, on September 9th, the deadline for submitting hearing questions closes. The material can - and often is - filed before this deadline, though. The material is public and often discloses previously unknown concerns and/or problems with the drug. In 2009 prior to the initial Victoza hearings, this sent the stock down more than 25% in a 14-day window.
During the hearing, which is usually webcast, shrewd analysts will try to gauge the direction of the panel vote and act accordingly. In the case of Tresiba in 2012, this happened 25 minutes before the final vote was cast. This September 11th hearing is not webcast so live attendance is necessary.
I'm not qualified to predict the FDA panel's verdict on Victoza as an obesity treatment, but if you like Novo Nordisk as a company and believe in its long term success, there might be a bargain price at some point during the next two months.
Disclosure: The author has no positions in any stocks mentioned, and no plans to initiate any positions within the next 72 hours. The author wrote this article themselves, and it expresses their own opinions. The author is not receiving compensation for it (other than from Seeking Alpha). The author has no business relationship with any company whose stock is mentioned in this article.