By J.R. Rieger
As the young gas station attendant says at the end of the movie Terminator "there is a storm coming." While Detroit and Puerto Rico's financial struggles continue to rattle the municipal bond market, the over $87 billion state issued tobacco settlement bond market is another potential dark cloud worthy of watching.
A recent article in the Huffington Post 'How Wall Street Tobacco Deals Left States With Billions of Toxic Debt' initiates an important discussion on the future of the future of this large sector of bonds. The S&P Municipal Bond Tobacco Index has returned over 10.6% year to date as it leads all other municipal bond sectors in performance. These impressive short term gains mask the risk associated with these bonds. Two of the largest risks are that the average credit quality of bonds in this sector is well below investment grade and the heavy issuance of zero coupon bonds creates a sector that has one of the longest durations in the municipal bond market.
Why worry now? The hazardous combination of credit and interest rate risk. Repayment of these bonds is heavily dependent upon sales of tobacco products in the U.S. at a time when U.S. tobacco consumption is declining. The long duration of bonds in this sector make it highly vulnerable to when interest rates begin to rise - the prices of these bonds will fall more quickly and by a larger amount when interest rates begin to rise.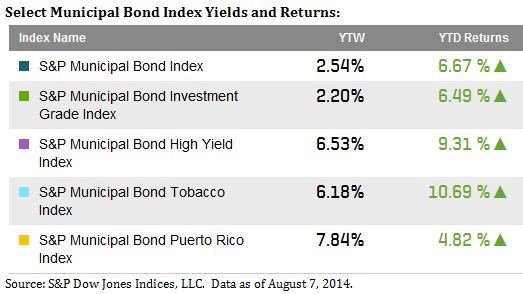 Disclosure: © S&P Dow Jones Indices LLC 2013. Indexology® is a trademark of S&P Dow Jones Indices LLC (SPDJI). S&P® is a trademark of Standard & Poor's Financial Services LLC and Dow Jones® is a trademark of Dow Jones Trademark Holdings LLC, and those marks have been licensed to S&P DJI. This material is reproduced with the prior written consent of S&P DJI. For more information on S&P DJI and to see our full disclaimer, visit www.spdji.com/terms-of-use.