Indian equities are the place to be in 2014, with the Mumbai Sensex Index and CNX Nifty Index up approximately 24% year-to-date. It is my belief that Indian equities might face downside pressure in the coming months. According to my analysis, various fundamentals, sentiment and technical indicators are starting to flash warning signs that the best may be behind us in the short term. In the following paragraphs, I will explain in detail why I believe this to be the case.
After the recent rally, fundamentals seem stretched for Indian equities
As stated in the introduction, India has been a boon for global fund managers; in dollar terms, India has significantly outperformed the broad MSCI Emerging Market Index and the MSCI BRIC Index (see Figure 1). In the long term, this might be justified, as India has very attractive fundamentals. These include, among other things, powerful long-term trends in urbanization, improved Central Bank policy which targets inflation, and major expected improvements in the current account and public deficits. However, the largest catalyst for the recent surge has been the appointment of the reform-minded Narendra Modi as Prime Minister of India. Narendra Modi made a name for himself during his office tenure of the Gujarat province. He has been credited for creating an environment in Gujarat that was necessary for the province's high economic rate of growth. Therefore, Modi's recent victory has been heralded as a major turning point for the national Indian economy, although it still needs to be seen if the new Prime Minister can make true on his promises of sweeping reforms.
Figure 1: Dollar % Performance of MSCI India, MSCI EM and MSCI BRIC (Source: HSBC)

The market euphoria surrounding Modi's recent appointment has stretched fundamentals for Indian equities in the short term. Valuations for India are now starting to become expensive, both on an absolute historic basis and relative to their peer countries (Figure 2). India currently trades at a 12-month forward P/E ratio above 16. This P/E multiple is the highest in over four years. Also concerning this valuation metric, India now trades at a vast 49% premium versus the MSCI EM Index. Historically comparable absolute and relative valuations have coincided with significant downside corrections (Figure 3).
Figure 2: 12-month forward P/E ratios and relative premium of the MSCI India vs. the MSCI EM. (Source: HSBC)

Figure 3: Historical chart of the Mumbai Sensex Index, with notations showing periods when valuation was roughly comparable.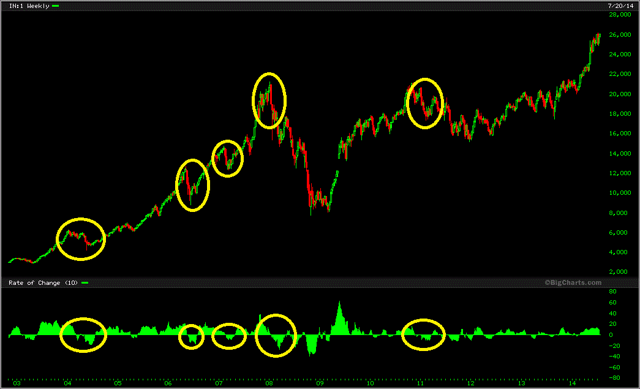 Based on this historical data, one can argue that the best is behind us, at least in the short term. Further compounding this valuation concern is that the recent P/E multiple expansion is based largely on the appointment of Modi as the new Prime Minister. Historical episodes of election-induced market rallies in other countries paint a worrisome picture for Indian equities.
Election-induced market euphoria tends to fade quickly
Making grand promises is relatively easy, fulfilling these promises is another story. Nowhere is this more the case than in politics. Therefore, this recent rally in India, which is based largely on the promise of sweeping economic reforms, comes with significant risks. Although quantifying these risks in this specific situation is challenging, we can use historical examples in other countries as a possible guide. An analysis of election-induced market euphoria in China, Mexico and Japan shows cause for concern (Figure 4).
Figure 4: P/E multiple expansion in China, Mexico and Japan during elections. (Source: Credit Suisse).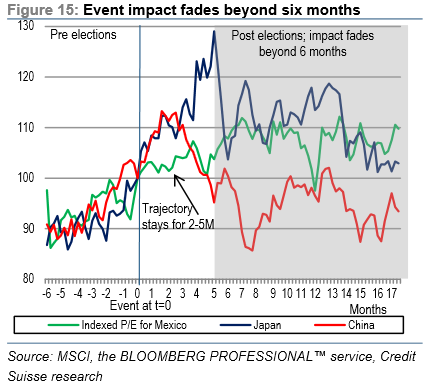 Firstly, in China and Mexico, P/E multiple expansion topped out after 2 to 4 months post-election. India's new Prime Minister, Narendra Modi assumed office on May 26th, 2014. Thus, based on this data, it seems that P/E multiple expansion in India is nearing a top.
The exception to this reasoning was the episode in Japan. Yet, this episode is quite different from the current situation in India. Firstly, Japan's Abe-led government quickly announced a ¥10 trillion fiscal stimulus package. More importantly, the Japanese episode was accompanied by the Bank of Japan's astounding quantitative easing measures. This significantly weakened the Japanese Yen, thus providing Japanese companies with a direct boost in profits. Not to mention the positive effect that this freshly created liquidity had on Japanese equities. In stark contrast to the Japanese episode, India is embarking on fiscal consolidation, while its Central Bank (the Reserve Bank of India) is currently focused on lowering long-term inflation, instead of trying to increase it, as was the case in Japan. Therefore, the comparison of India with China and Mexico seems more accurate. It is worth mentioning that the data in Figure 4 also shows that in all three examples, election-induced P/E multiple expansion tended to fade six months post-elections.
Further exacerbating this issue is the fact that India has already experienced a significant pre-election P/E multiple expansion (Figure 5). Therefore, it is unreasonable to believe that P/E multiples will expand further solely on the promise of economic reforms, even if government policy is implanted successfully. The odds of these boosting Indian corporate earnings in the short term are quite unlikely, as reforms tend to affect earnings with a significant lag. Lastly, one must not forget that implementing sweeping reforms can be challenging, even if politicians are genuinely well-intentioned. As is generally the case, powerful vested interests will most probably try to resist change as much as they can. Thus, there is a significant chance that reforms will either be implemented slower than is expected, or that reforms have to be watered down in order to reach consensus.
Figure 5: P/E multiple expansion and % market performance for China, India, Japan and Mexico during the 6 months pre-election. (Source: Credit Suisse)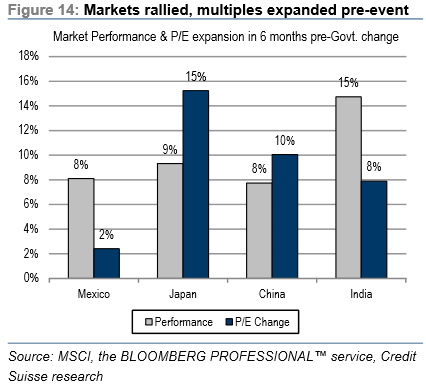 Lastly, based on historical comparison of the MSCI India P/E ratio with earnings momentum (Figure 6), one comes to the conclusion that earnings momentum is currently too low to justify these valuations, as it is unlikely that economic reforms will increase corporate earnings materially in the short term. The only way Indian equity indices can sustain their current valuations is if we see an increase in earnings expectations in the coming months. Admittedly, Wall Street analysts have upgraded their earnings expectations for India in the past month. However, this trend needs to accelerate further in order to justify current valuations. Although acceleration in earnings momentum is possible, it is far from certain that this will be the case. Therefore, it is my view that the fundamental backdrop to justify current valuations is filled with risks.
Figure 6: Historical P/E ratio and earnings momentum for the MSCI India Index (Source: JPMorgan).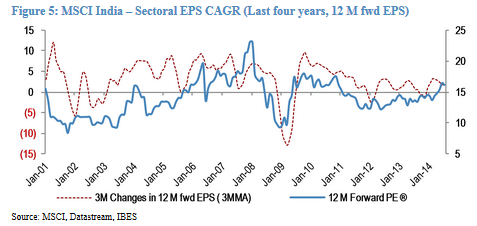 Expensive valuations and the recent run-up in share prices come with other less obvious risks for current shareholders. This is especially true when one considers that Indian corporations are highly indebted, on average.
The recent surge in share prices raises the specter of capital raising through equity sales
An analysis of Asian balance sheets shows that Indian companies in aggregation are highly leveraged (Figure 7). Compared to peer countries, India has the highest Debt/Equity ratio (at 1.02). Furthermore, India boasts the highest Debt/Asset ratio (at 0.37) and the lowest Interest Rate Coverage ratio (at 4.73). Surprisingly, short-term Default Risk for Indian corporations is relatively low, as India has an Altman Z-score of 5.7. Thus, investors do not need to worry about Indian companies defaulting on their short-term obligations.
Figure 7: Comparative analysis of Asian balance sheets (Source: JPMorgan)

Even though Indian companies are relatively safe with regards to short-term default risk, the state of Indian balance sheets does pose a cause for concern when assessing the current rally. Especially because highly leveraged Indian companies have led the market rally up till now (Figure 8).
Figure 8: Decomposition of Indian market rally by theme (Source: Credit Suisse)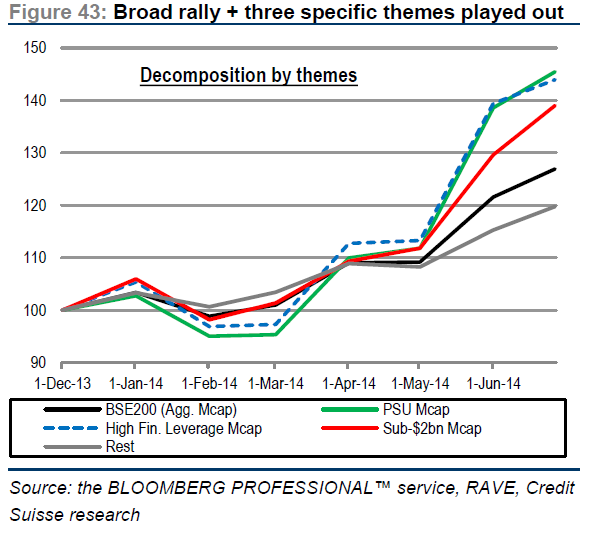 The astounding run-up of share prices of highly leveraged Indian companies is a double-edged sword. Executives from these companies will probably be tempted to use the relatively favorable market conditions to repair their tattered balance sheets. As Indian bond rates are still relatively elevated, balance sheet repair through bond issuance seems somewhat unattractive. This makes balance sheet repair through secondary equity issuance comparatively attractive. It goes without saying that secondary equity issuance will dilute current shareholders. Although this might improve long-term fundamentals, equity dilution is unfavorable in the short term for investors who have to absorb the blow. In some cases, necessary equity dilution to restructure balance sheets to more acceptable levels can be extreme. An analysis of 500 BSE-listed Indian companies shows that 60 non-financial companies are at high risk and in need of balance sheet repair. These 60 companies have an EBITDA/Interest Expense ratio <2.5, which is quite unfavorable. Of these 60 companies, over 38 require equity dilution of more than 10% in order to bring debt to more acceptable levels (Figure 9). Evidently, the specter of equity dilution through equity issuance in order to repair balance sheets is an unfavorable market dynamic in the short term. In my opinion, this fundamental dynamic poses another serious downside risk for the current market rally in the short term.
Figure 9: Equity dilution required for 15% decrease in debt of 60 BSE 500-listed Indian companies (Source: Credit Suisse).

All in all, the fundamentals and valuations for Indian equities seem somewhat unattractive in the short term. These unattractive market dynamics are further potentiated by the euphoric sentiment and positions of global fund managers and investment banking analysts.
Sentiment towards India is euphoric
Currently, investment banking analyst sentiment and global fund manager position towards India can be described as nothing short of euphoric. The latest EPFR data shows that over 96% of global equity managed funds are overweight India versus the MSCI benchmark. A further analysis of available global EPFR data shows that India is currently the largest overweight position that global fund managers have in comparison to all other major countries (Figure 10).
Figure 10: Latest available global EPFR data showing global fund positioning per country.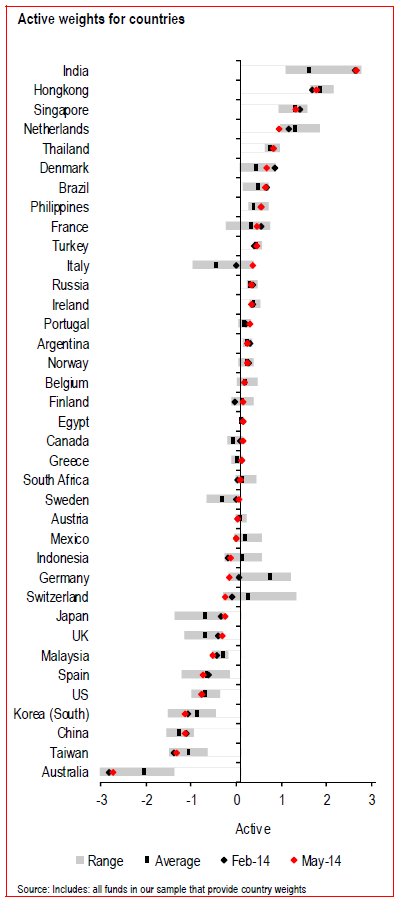 Furthermore, investment banking analyst recommendations also seem far-fetched. India is currently the third-most highly recommended emerging market country by sell-side analysts (Figure 11).
Figure 11: Sell-side analyst aggregate recommendations for emerging market countries. (Source: Credit Suisse)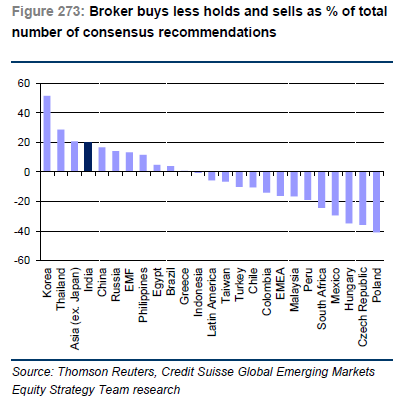 Such euphoric positioning and sentiment poses serious risks for the rally in Indian stocks in the short term. For one, it means that investors and banks have already priced in the most optimistic long-term scenarios. This means that even if everything goes well with regards to valuations, fundamentals and planned economic reforms, near-term upside potential is limited, as investor positioning is over-stretched already and is unlikely to be ramped up even further in the event these market dynamics pan out as currently expected. More importantly, current euphoric positioning and sentiment possess serious downside risk, if market dynamics were to disappoint. Any large disappointments would leave fund managers in a problematic situation. In such a scenario, they would most probably be forced to reduce their massive position in Indian equity indices. In my opinion, given the current unattractive short-term valuations, the specter of equity dilution to repair balance sheets and the challenges surrounding economic reforms, the odds of fund managers being disappointed in the short run are high.
Fund manager positioning and analyst sentiment seems quite vulnerable to the downside, especially if the current market rally were to stall. In this respect, technical indicators are starting to show the first warnings signs that the best may be behind us in the short term.
Technical indicators are starting to raise red flags
As we know, the Indian stock market has been on a tear since early May of this year, rising more than 17% as of this writing. Yet, a technical analysis of the Mumbai Sensex Index shows that the uptrend has been weakening as of late (Figure 12). Firstly, the uptrend seems to be losing momentum, as the RSI and MACD indicators are showing clear negative divergences (light blue circles). Secondly, the Sensex Index seems to be forming a rising wedge formation (purple lines). A rising wedge formation is usually considered to be a bearish pattern. Admittedly, the index is currently in a strong uptrend, as all the moving averages are rising and are in a bullish alignment, thus pinpointing a precise top can be somewhat challenging. However, the overall technical dynamics seem somewhat unhealthy, and in my view, this warrants caution in the short term. Speculators who made handsome profits in the past few months would do well to reduce their holdings in Indian equities in the short term. Although it might be somewhat premature, aggressive speculators willing to take some risk could already start to increase their short exposure towards India.
Figure 12: Technical Analysis of the Mumbai Sensex Index (08/08/2014)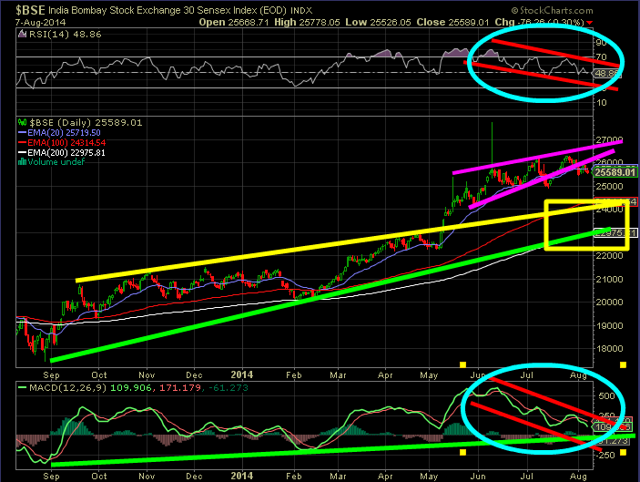 In the event of a short-term correction, which I believe is likely, the Sensex Index can expect strong support between 24.000-23.000 (yellow square). Comparable support zones for the S&P CNX Nifty Index lie between 7.200-7.000 (technical analysis not shown due to practical purposes). These respective support zones for the Mumbai Sensex Index and the S&P CNX Nifty Index will, therefore, be my short-term targets for short positions.
Conclusion
India is an inspirational growth story, with strong fundamentals in the long term. However, in my view, the massive run-up in Indian stocks seems somewhat overstretched and at risk of a significant downside correction in the near term. Medium-term valuations seem somewhat expensive, and overall near-term fundamental market dynamics are unfavorable. Downside risk is exacerbated by the current euphoric fund positioning and analyst sentiment. Finally, short-term technical dynamics are starting to show the first warning signs of a weakening trend.
All in all, I expect Indian equities to correct to the downside in the short term. In my opinion, short positions in Indian stock indices are warranted. US-based investors can play the short side by shorting "India-proxy" ETFs, such as iShares MSCI India Index ETF (BATS:INDA), iShares S&P India Nifty Fifty Index ETF (NASDAQ:INDY) or the WisdomTree India Earnings ETF (NYSEARCA:EPI).
This trade is somewhat riskier than my previous euro and oil trades, due to the confounding long-term fundamentals and negative short-term market dynamics. However, I believe the risk/reward ratio to be clearly tilted on the downside at this stage. Therefore, I expect that Indian stock indices will experience a downside correction before the end of this year.
We currently have a tactical target of 24.000 for the Mumbai Sensex Index and 7.200 for the S&P CNX Nifty Index over a 6-month time horizon.
(Note: In writing this research report, I compiled data from various HSBC, Credit Suisse and JPMorgan reports. Institutional investors or interested parties can visit the respective research portals for more information: HSBC, JPMorgan, Credit Suisse)
Disclosure: The author has no positions in any stocks mentioned, but may initiate a short position in INDA, EPI, INDY over the next 72 hours. The author wrote this article themselves, and it expresses their own opinions. The author is not receiving compensation for it. The author has no business relationship with any company whose stock is mentioned in this article.