Headquartered in the regional hotbed of Texas high school football, Basic Energy Services' (NYSE:
BAS
) performance with customers has earned it a championship title in an important category in EnergyPoint Research's independent customer satisfaction surveys. Specifically, the company ranked number one in the category of Workovers & Well Servicing when we announced our winners back in early 2010.
In other areas, the company has produced more workman-like ratings, with marks that tend to place it more toward the middle of the pack. We do note that while scores for its completion-related services, which include hydraulic fracturing, have lagged somewhat, it enjoyed higher-than-average marks for the provision of services in certain special applications such as tight sands and shales, directional and horizontal wells, etc. This is no small point given the changing nature of domestic drilling programs these days ().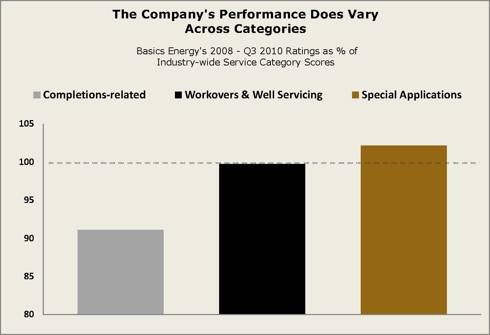 While the company operates throughout the Central U.S., its focus on the Permian Basin consumes a substantial share of the company's equipment and resources. In fact, the region currently generates 40% of the company's revenue.
Basic has made several acquisitions over the past several years, helping expand revenues and its overall footprint, but likely at some detriment to customer satisfaction. In this regard, one respondent at a large independent producer comments that, "Basic has grown fast and struggled with bringing the new businesses into their own culture. Often, the new business simply continues to run without corporate influence...not usually a good thing."
We think it's important to point out that Basic is not the only oil services company to have to deal with these kinds of customer objections when it comes to growth via acquisition. Other companies such as National Oilwell Varco (NYSE:
NOV
) and Weatherford International (NYSE:
WFT
) have garnered similar types of comments from customers in our surveys.
One positive aspect of Basic's ratings is the marks it receives in the area of pricing. True, the company does suffer somewhat from the complaint among survey respondents that its prices, at least in a general/absolute sense, are too high. But that's not surprising. Most suppliers' ratings are low when it comes to general/absolute pricing.
The good news is that customer satisfaction in today's oilfield is in fact driven less by absolute pricing and much more by pricing relative to its peers and performance. In this regard, Basic's ratings indicate the company is doing some important things right in the eyes of customers. While its ratings for its pricing in general are modestly below the industry-wide index, its pricing-vs.-peers ratings are modestly above the industry average. More importantly, its ratings are materially above the industry average when it comes to pricing given the quality/value customers believe they receive.
Thus, as long as customers continue to view the company as a provider of this kind of value, it will likely remain a contender in its markets ().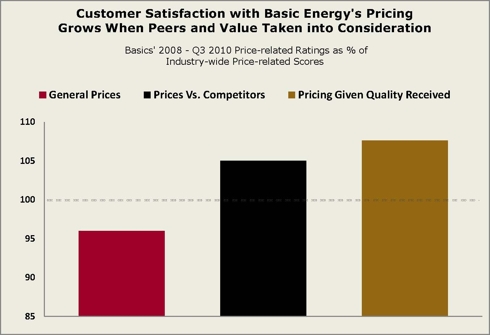 Disclosure: I have no positions in any stocks mentioned, and no plans to initiate any positions within the next 72 hours.