The Financials (NYSE: XLF) sure have had a nice run, but the S&P 500 ETF (NYSE: SPY) seems to have hit a short term top, and the Financials 3X Bear (NYSE: FAZ) seems to be an easy winner going forward. Word is going around that China may finally decide to hike interest rates in order to battle the high inflation which is hitting its economy, hampering production capabilities and their once renowned exporting of goods and services. Couple that with the latest news that the Wikileaks hacker fan club has recently hacked such major websites as Visa.com (NYSE:V) and Mastercard.com (NYSE:MA), along with the ever increasingly fragile state of the markets due to the now 31st consecutive outflows from domestic mutual funds and you have yourself a cocktail brewed for doom.
So much for the rotation out of bonds. Last week equity domestic funds saw outflows of $1,801MM, which is the 31st consecutive outflow and yet more confirmation that retail is done with stocks. Oddly enough, (or not really as everyone by now knows who the only remaining buyers--ahem, taxpayer money--are), as the overlay shows, despite $93 billion of outflows, the stock market is at 2010 highs, courtesy of the Federal Reserve. And contrary to the myth, after a brief respite, the inflows in credit have resumed ().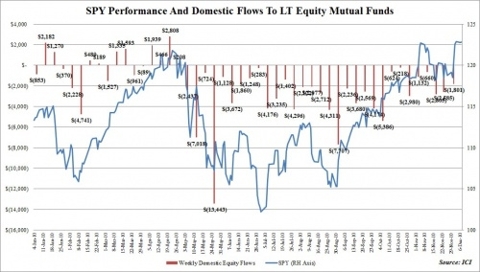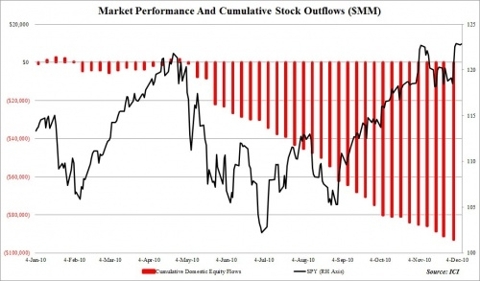 When taking a look at the S&P 500 ETF we can clearly notice that a major gap was left at the $118.49 level, which is quite a significant drop from current levels given that it is filled. Gap fills usually happen when options traders wish to exit their positions while minimizing their losses, typically a routine followed by hedge funds, mutual funds and large banking institutions with millions of dollars invested. This phenomenon takes place because options generally carry with them much heavier returns and volatilities than equities, thus it becomes worthwhile to manipulate equity prices in order to achieve your desired outcome for your options.
Below you will find a set of charts (click on each to enlarge) which paint a rather dark picture for the economy. Using a 3-day relative strength index (RSI) indicator we can clearly see that from a swing trade perspective, we are due for a correction. Other metrics such as the Slow Stochastics, and MACD divergence confirm a bearish move going forward. Both the S&P 500 ETF and Financials sector ETF have pierced the upper bollinger band, signalling a correction may be in the cards. It is important to note that this Friday is options expiration thus you can expect violent swings throughout the board in equities.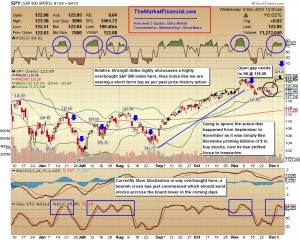 Within the major stock sectors, it seems that the Financials ETF (NYSE: XLF) is the most overbought and has nowhere to go but dip as profit taking will begin taking place for year-end tax purposes.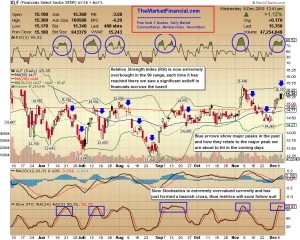 Direxion 3X Bear Financials ETF (NYSE: FAZ) is a safe hedge against any negative market price swings, especially if a correction seems to be forthcoming, of which a lot of analysts seem to be predicting lately. This stock can easily gain 10% from current levels, and any investment below the $11 level seems to be a safe bet in the short term. The lower bollinger band was pierced rather heavily, thus upwards action is the most likely effect for the next few days.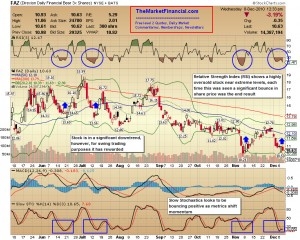 Disclosure: I am Long FAZ.