I reiterate my bullish stance on Colgate-Palmolive (NYSE:CL). Although matured developed markets and currency headwinds continue to weigh on top-line growth, I believe the company has the potential to experience decent growth in the future. The company's significant international market exposure and strong market share across its product portfolio are likely to portend well for the company's future financial performance. Also, CL's growing oral care market share will benefit its organic sales growth in coming quarters. Furthermore, the company's efforts to get a leaner cost structure through restructuring will support its bottom-line results. Moreover, the company has been sharing its success with its shareholders through dividends and share repurchases, which makes it an attractive investment option for dividend investors.
Slow Sales Growth + Innovations = Promising Future Waits Ahead
In the past few quarters, macroeconomic headwinds have been adversely affecting top and bottom line growths of consumer companies, including CL. In 2Q14, the company experienced organic sales growth of 4%, driven by 2.5% sales volume growth and 1.5% price increases. With constant innovations in product portfolio, CL's organic sales growth of 4% outpaced Procter & Gamble's (NYSE:PG) organic sales growth of only 2% in 2Q14.However, due to its significant international exposure, the company's top-line was adversely affected by 4% currency headwinds.
The company expects consumption rates in emerging markets to keep increasing in the future, which will positively affect its financial performance. Also, the company is focusing on increasing its presence in emerging markets and focus on innovation to cater to available growth opportunities. Already CL with its rich product portfolio in oral care leads the global toothpaste market, with a market share of 44.4%. In addition, its market share of 33.5% and 17.2% in toothbrush and mouthwash categories, respectively, reflects the company's strong presence around the world.
The company plans to maintain and increase its market share across its product offering through consistent innovations and new product launches. Consistent with its innovation efforts, in the 2Q14 earnings conference call, the company announced to launch Colgate Total Professional Breath Health toothpaste and Luminous White Instant toothpaste in Latin America, in 3Q14. Also, CL will be introducing Colgate Plax Active Salt mouthwash in India in 4Q14. It also plans to launch Colgate tea Health toothpaste in China to cater to competition in the country. I believe the innovations will help the company penetrate emerging markets at a faster pace, which will grow its top-line in the long run.
Cost Savings
The company has been making efforts to lower costs and support its bottom-line growth through its 'funding the growth' program. The company seems to be making good progress with its cost control efforts, as its gross margin increased by 30 basis points to 58.6% in 2Q14. Also, SG&A expenses for 2Q14 were down 34.5% as compared to 35.1% in the same quarter the previous year. CL's operating profit increased by 170 basis points to 22.5%. I believe that as the cost saving program remains on track, the company will successfully expand its margins and grow its EPS.
CL's reported an EPS of $0.73 for 2Q14, up 4% year-over-year, in line with analyst estimates. Going forward, owing to the strong growth potentials driven by international expansion, innovation and cost savings, analysts are anticipating a healthy growth rate for CL, as shown in the chart below.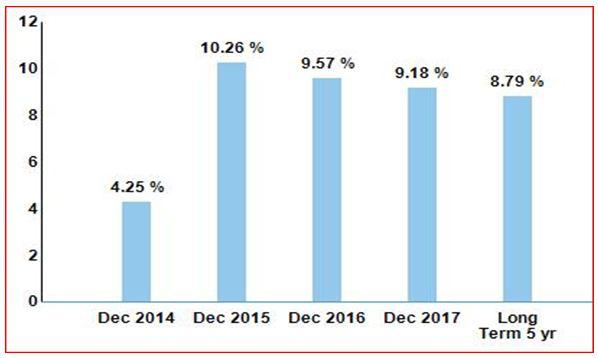 Source: Nasdaq.com
Shareholder Value
CL is one of the promising dividend paying stocks among dominant consumer companies in the U.S. The company's strong dividend payments have been backed by its strong cash flow base. In 2Q14, as the company's cash flow generation remains strong, the company declared another quarterly dividend of $0.36, up 6% year-over-year. Currently, the company offers a dividend yield of 2.1%. The following chart shows dividends and free cash flow comparison for CL.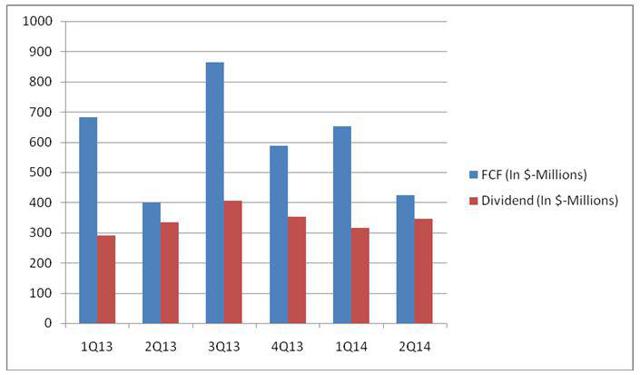 Source: Company's Quarterly Earnings Report
Despite competitive headwinds and along with a safe dividend yield of 2.1%, the company remains committed to repurchasing shares. The company's CFO in the 2Q14 earnings conference call said:
"Of course, we buy back shares, as we have done, and I would say our target is still in that $1.5 billion gross range for this year."
Conclusion
Despite the current macroeconomic challenges, the company has been doing well by expanding its emerging market presence and focusing on innovation to fuel its top and bottom lines growth. Also, the company's cost saving initiatives will portend well for its margins and EPS growth. Moreover, the company has been sharing its success through dividends and share repurchases, which makes it a good investment for dividend investors. Due to the aforementioned factors, I am bullish on the stock.
Disclosure: The author has no positions in any stocks mentioned, and no plans to initiate any positions within the next 72 hours. The author wrote this article themselves, and it expresses their own opinions. The author is not receiving compensation for it (other than from Seeking Alpha). The author has no business relationship with any company whose stock is mentioned in this article.