Company Profile
Lululemon Athletica Inc. (NASDAQ:LULU) designs and manufactures specialty fitness apparel and accessories distributed in corporate retail stores, e-commerce websites and network channels in the United States and internationally.
Industry Conditions
Improvements in economic growth and consumer spending have buoyed the industry. U.S. apparel imports for the first 6 months of 2014 were 2.3% higher than the same period in 2013 and 8.41% more in June 2014 alone (Leonie Barrie). These figures indicate optimism in back to school shopping and in anticipation of the holiday season. The Apparel Stores industry has outperformed the S&P 500 as seen in Exhibit 1 but has experienced consolidation over the recent period
Exhibit 1 -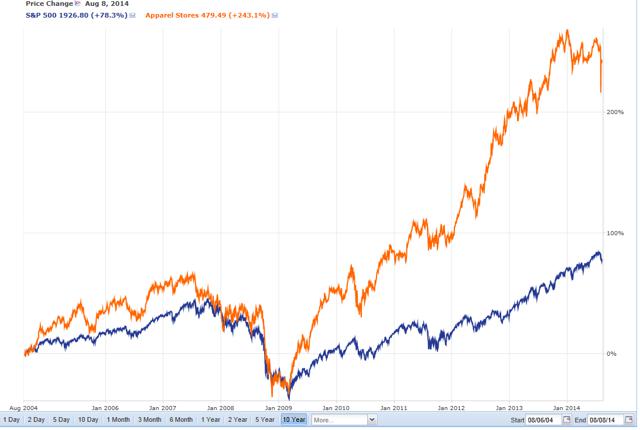 Source: Stock Rover
LULU
LULU has experienced dramatic volatility over the past few years (Exhibit 2), mostly outperforming the S&P 500 and its industry. However, shares recently have taken a significant turn for the worst. Slowing sales, 5% over last year, significant recall expenses and low profit growth have contributed to its decline.
Exhibit 2 -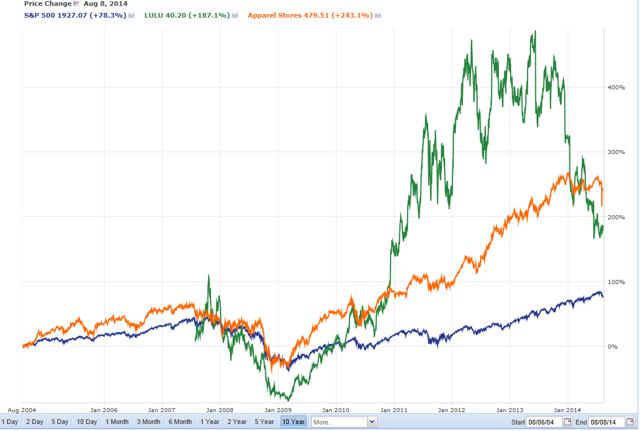 Source: Stock Rover
However, operating margins continue to be in line with historical figures (Exhibit 3) as well as free cash flow (Exhibit 4). Cost of sales are highly correlated with sales at .997 and ROIC is lower but still within the historical growth range (Exhibit 5).
Exhibit 3 -

Source: Stock Rover
Exhibit 4 -

Source: Stock Rover
Exhibit 5 -

Source: Stock Rover
LULU Valuation
Price to Earnings have steadily declined and is lower than its industry by only 7%, offering an uninteresting value proposition (Exhibit 6). However, in regards to Enterprise Value, LULU is undervalued by 24% and significantly overvalued at a price to sales of 3.6. Using a discounted cash flow analysis with comparable multiple support puts the estimated equity value at $37.57 per share.
Exhibit 6 -

Source: Stock Rover
Industry Analysts are mixed in their opinions of the stock with only 2 upward revisions for this year and one lower revision for next year. Analysts have an average target price of $43.00 per share (Thompson Reuters).
Challenges and Opportunities
Lululemon has many challenges ahead, the most important is determining how to improve sales. In addition to this, increased competition from the likes of Under Armor (NYSE:UA) and Nike (NYSE:NKE) continue to squeeze profit margins and threaten market share. However, the company currently operates in the U.S., Canada, Australia and New Zealand, leaving additional markets in which to expand. Additionally, the Physical Activity Council reported the percentage of the U.S. population that remains inactive decreased to 27.6% confirming the trend towards active lifestyles, therefore potentially increasing the demand for fitness apparel.
Conclusion
Lululemon has recently experienced a tremendous decline in market value, cutting its equity value in half since its highs in June of 2013. In addition there are concerns of over-saturation in the niche fitness apparel market. However, the luxury retailer maintains sales growth and now that the Chip Wilson debacle is on its way to becoming a fading memory, LULU now has the opportunity to focus on producing quality products consumers desire. An investment in LULU at this point does not seem to be an attractive decision. I would like to see sales and profitability improve before putting my money at stake.
Disclaimer: Michael Lee is an investment strategist at Long Street Capital Management, LLC ("LSCM"). This article is prepared by Mr. Lee as an outside business activity. As such, LSCM does not review or approve materials presented herein. The opinions and any recommendations expressed in this article are those of the author and do not reflect the opinions or recommendations of LSCM
None of the information or opinions expressed in this article constitutes a solicitation for the purchase or sale of any security or other instrument. Nothing in this article constitutes investment advice and any recommendations that may be contained herein have not been based upon a consideration of the investment objectives, financial situation or particular needs of any specific recipient. Any purchase or sale activity in any securities or other instrument should be based upon your own analysis and conclusions. Past performance is not indicative of future results. Either LSCM or Mr. Lee may hold or control long or short positions in the securities or instruments mentioned.
Disclosure: The author has no positions in any stocks mentioned, but may initiate a long position in LULU over the next 72 hours. The author wrote this article themselves, and it expresses their own opinions. The author is not receiving compensation for it (other than from Seeking Alpha). The author has no business relationship with any company whose stock is mentioned in this article.