Ahhh, today I decided to finally go ahead after hesitating. I've been talking about my temptation to trade Twitter, and after being a doubter following its IPO, I did finally declare that I was looking for an entry point. Unfortunately, I did not move quickly enough, as Twitter announced very solid earnings which caused its stock to jump in a big way. I'm unsure of how I'll trade it as a longer-term speculative pick, but for now, I'm ready to trade it as a long and short trade. This morning, as you might have seen, I closed out a successful trade on Facebook and Adobe, so today's trade will set me back to 7 live trades, which is currently my maximum. Things continue to go well, and the portfolio's return remains above 30%+ so far this year.
Today, I'm trading 2 of the higher-priced (in terms of P/E ratios) stocks in my portfolio. I feel like one has much more upside than the other, so while there is risk involved trading these 2, I do feel like the risk vs. reward ratio is very good. Let's start off by looking at the numbers:
| Ticker | Name | Price | PE Ratio | PE Next Year | Return YTD | Sales Growth | Analyst rating | Book Value | Beta | Revenue/Share |
| --- | --- | --- | --- | --- | --- | --- | --- | --- | --- | --- |
| TWTR | Twitter Inc. | 42.8195 | N/A | 119.11 | -32.44 | 109.79 | 3.54 | 5.14 | N/A | 3.51 |
| DMD | Demand Media Inc. | 10.27 | N/A | 149.58 | -9.69 | 3.68 | 3.11 | 26.88 | 0.74 | 22.29 |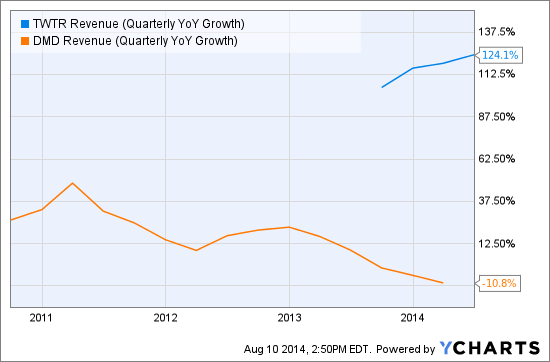 TWTR Revenue (Quarterly YoY Growth) data by YCharts
Long Twitter
Twitter is a challenging company to analyze, but what's clear to me is that it has a very unique product that is well-suited to this new mobile, ecosystem world, and despite attempts by the best of the best (Facebook, Google and others), no one has come close to delivering a comparable product. That does seem to indicate that Twitter is well-positioned to thrive in this new ecosystem-driven world. It will hurt Twitter's attempts to branch out through things like Vine, setting up an ad network, etc., but even those attempts make a lot of sense, and I think Twitter should continue to push forward. How much can Twitter grow from here? I think there's little doubt that it can generate a lot more money, and its increased focus on monetization has already started to pay off. I'm not 100% convinced that Twitter will ever become a product used by the mainstream in the same way that Facebook is, but it certainly has a shot, and I do feel like those are a few of the reasons that make it possible to justify its sky-high valuation.
Next earnings release: November 14th, 2014
Short Demand Media
Demand Media is a typical Internet 1.0 internet that has helped the company create solid properties such as eHow.com. Unfortunately, most of those properties are losing ground in a world run by ecosystems, and DMD has not been evolving quickly enough. I do expect the decline at DMD to continue if nothing special happens. Can profits return? In the short term, yes, but that would most likely be about cutting costs and other shorter-term actions like spinning off undervalued divisions. I can't think of one reason that would justify DMD's current valuation. One question for you. In a world where most users access the web through mobile, through apps, how many apps of this company do you use and how much time do you spend on them?...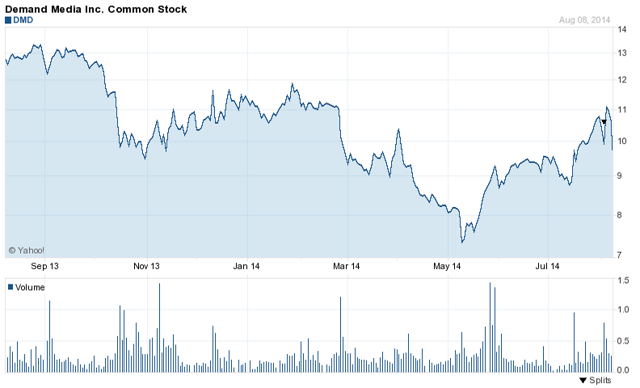 Next earnings release: November 7th, 2014
Disclaimer: No positions on Twitter (NYSE:TWTR) or Demand Media (DMD)