In recent weeks, my ETF Pullback model (see Appendix below for explanation and performance data) has taken something of a global tour, touching down in parts of Asia, South America, Africa, Turkey and Poland. This week there's still some Asia exposure, but otherwise this is a pretty solid play on potential strength in the U.S. economy. Here's the current ETF list:
This is last week's list:
We have an airline ETF in the current list. The cyclicality there should be obvious, given the degree to which carriers' bottom lines react to even small fluctuations in traffic and pricing. Fuel costs would likely rise, too, but when times are good, top-line vigor is generally more than ample to accommodate higher oil prices.
There are also three precious-metals ETFs, two for silver and one for palladium. There's no gold (there's only so much we can fit into a five-ETF list) but that's okay. Silver and palladium will be helped by the same factors that might help gold, and I'm not so much of a precious-metals bug as to chart and wax poetic about ratios between prices of gold and other precious metals. But if I do want to force myself to differentiate among precious metals, I've always had a soft spot for those characterized by more meaningful industrial usage, as is the case with those we're seeing right now.
Besides actual industrial use, an important reason why I'm associating precious metals with economic progress is the inevitable impact on inflation. When economic activity strengthens, it's normal to expect some upward pressure on pricing. In the past generation, such inflationary pressures have been very mild by historic standards. Looking ahead, I expect price hikes to remain reasonable and non-threatening, but be at levels that will be higher than the spectacularly low tallies to which we've recently become habituated.
This could easily play havoc with Wall Street sentiment and cause the precious-metals crowd to get especially hyper, especially if, as I suspect, the class of freshman Republicans in Congress dials up the hysteria (as it probably will) and if, as I know, news organizations jump for joy at the opportunities they'll get to play, replay, and play again the fabulous video footage they'll be getting. Remember, when it comes to precious metals, emotion typically trumps logic -- and I think the emotion is going to be dialed up big-time in the months ahead. Adding spice, of course, is periodic global tension, such as we're now seeing with the Koreas.
I like this sort of play on the economy because it can be vigorous, and it spares me the need to handicap the different sectors, to guess which ones will lead the way. In past articles I had mentioned that this weekly model could also serve a function analogous to a movie trailer: A quick preview of something I may want to dig into another time. I felt a bit disappointed a couple of weeks ago when a rebalancing caused me to sell a group of silver ETFs. So regardless of what next week's list looks like, I'll consider keeping some precious-metal ETF exposure in another part of my overall portfolio.
The counter-argument here is potentially higher interest rates. These usually depress prices of commodities -- including, of course, precious metals because, all else being equal, carrying costs rise. But all else would not likely be equal this time around. I think inflation fears will trump carrying costs.
For the record, Figure 1 is a screen shot from my account showing my real-world performance with this strategy at FolioInvesting.com.
Figure 1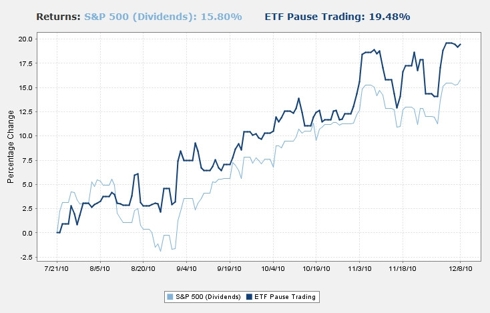 [Click all to enlarge.]

APPENDIX
To create this model, I started with a very broad-based ETF screen I created in StockScreen123.com.
Eliminate ETFs for which volume averaged less than 10,000 shares over the past five trading days.

Eliminate HOLDRs (I don't want to be bothered with the need to trade in multiples of 100 shares).

Eliminate leveraged and short ETFs (I think of these as hedging tools rather than standard ETF investments of even trading vehicles).
Then I sorted the results and selected the top five ETFs based on the StockScreen123 ETF Rotation - Basic ranking system, which is based on the following factors:
120-day share price percent change -- higher is better (15%).

1-Year Sharpe Ratio -- higher is better (15%).

5-day share price percent change -- lower is better (70%).
The idea of using weakness as a bullish indicator is certainly not new. But often it's an add-on to other factors that, on the whole, emphasize strength. Here the weakness factor is dominant, with a 70% weighting.
This model is designed to be re-run every week with the list being refreshed accordingly. I trade through FolioInvesting.com, where I pay a flat annual fee rather than a per-trade commission, so I don't care about the fact that turnover from week to week is often 80%-100%. If you want to follow an approach like this but do have to worry about commissions, the strategy tests reasonably well with three ETFs, or even with one. (Cutting the number of ETFs is far preferable to extending the holding period.)
Figure 2 shows the result of a StockScreen123 backtest of the strategy from 3/31/01 through 10/7/10.
Figure 2
Figure 3 covers the past five years, a very challenging market environment that witnessed the fizzling of many strategies that had succeeded for a long time.
Figure 3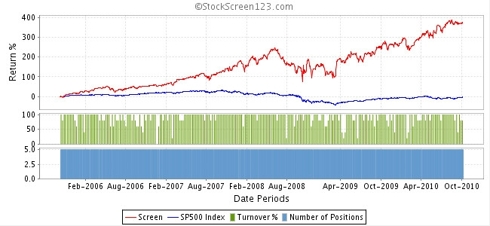 Disclosure: I am Long FAA, PALL, SIVR, EWH, SLV.