Why the need for a paradigm shift in heart failure treatment
Heart failure is so serious, this government-sponsored article, "More 'malignant' than cancer? Five-year survival following a first admission for heart failure" concludes:
"With the notable exception of lung cancer, heart failure is as "malignant" as many common types of cancer and is associated with a comparable number of expected life-years lost.
Another article (here and supported here) advises:
"Regardless of treatment, one-fifth of those diagnosed with CHF will die within one year and one-half will be dead within five years. Only about 20 percent survive much longer than 8 to 12 years -- a prognosis worse than most cancers. For those that do survive, quality of life is often severely compromised."
Congestive heart failure (CHF) is a progressive disease. Current FDA approved treatment for earlier stage CHF is only effective in slowing the worsening of heart failure.
A paradigm shift in treatment of heart failure is in progress
Currently approved heart failure treatments with drugs mainly attempt to fix the consequential issues/symptoms flowing from a tired, exhausted, damaged and failing heart.
A presentation by Dr. Mandeep R. Mehra, MD entitled, "Acute Decompensated Heart Failure Today: Patient Characteristics and Practice Patterns (Slides with transcript)" concludes that,
"We also know that there is ongoing silent and insidious cardiac injury,..."
And
"My feeling is that it is this cardiac injury that, in fact, begets progression of heart failure, that sets up a vicious cycle and a vicious loop that we have failed with our current treatment constructs to address appropriately."
See further on this subject here.
The new paradigm we are moving towards will be more to do with restoring the tired, exhausted, damaged and failing heart to a measure of reasonable good health, essentially mending the heart, so consequential issues/symptoms are ameliorated.
In my article, "Novartis, NeoStem And Sunshine Heart: Complementary, Not Competing Therapies", I expressed the view that "Novartis' (NYSE:NVS) drug Serelaxin, NeoStem's (NBS) AMR-001, and Sunshine Heart's (SSH) C-Pulse system have very different but complementary roles to play in treating Congestive Heart Failure (CHF), also referred to as heart failure."
The question is now being asked if Celladon's (CLDN) gene therapy, Mydicar, has the potential to make Sunshine Heart's C-Pulse system obsolete.
Again, the simple answer is an emphatic No!
Sunshine Heart's C-Pulse system and Celladon's Mydicar have different but complementary roles to play in mending an injured and failing heart.
I believe these 3 therapies -
Sunshine Heart's C-Pulse
NeoStem's AMR-001 and
Celladon's Mydicar
are all therapies that potentially will be part of this new paradigm where hearts are mended rather than treating the symptoms of HF, often with additional detrimental effect on the heart (Serelaxin is not included. Importantly, it has been shown to increase survival rates in cases of acute de-compensated heart failure but has not been shown to reduce re-hospitalization rates or otherwise benefit heart health).
As per my article, Sunshine Heart's C-Pulse: The 'Platinum' Standard, I believe that C-Pulse will continue to be the cornerstone therapy in this new treatment paradigm.
Why C-Pulse will be the cornerstone therapy in this new paradigm
Out of the trials for the three therapies, C-Pulse is the only therapy that, by itself, has shown the ability to actually reverse heart failure as well as significantly reduce re-hospitalization rates.
Some will say the feasibility trial of 20 patients was too small for the results to be reliable.
But 5 patients or 25% of the 20 patient cohort becoming "super responders" asymptomatic for HF, and the fact this is a mechanical device, and not a drug with the potential for unforeseen side effects, makes the results of this trial far more compelling than the trial results for AMR-001 and Mydicar.
In this video, Dr William Abraham explains how "super responders" are a very strong indication of efficacy in a trial even where trial numbers are small.
Sunshine Heart's C-Pulse - assists the mending and recovery of the tired and exhausted and damaged heart muscle (see here, here and here)-
C-Pulse counter-pulsation lessens the pumping workload and strain on the heart, allowing a measure of rest;
C-Pulse increases blood flow to the body;
C-Pulse increases blood perfusion of the heart muscle; and
This provides a powerful combination of therapies, which, together, assist a failing heart to mend and recover.
The "Lance Armstrong Effect"
I believe that increased blood perfusion of the heart muscle with oxygen rich blood is likely the single most efficacious aspect of C-Pulse therapy.
I have referred to it here as the "Lance Armstrong Effect", after the widely reported practice of his having oxygen rich blood transfusions to keep his muscles performing for 7 Tour de France wins. The heart is a muscle that must keep on performing even if tired, exhausted and damaged.
NeoStem's AMR-001
NeoStem's stem cell therapy has been successful in the development and formation of new blood vessels in a damaged heart, but has otherwise failed to show measures of efficacy. If the damaged heart cannot adequately perfuse existing coronary blood vessels then additional vessels without C-Pulse to provide additional perfusion (up to 67% additional perfusion) are possibly of little use.
Celladon's Mydicar
Celladon's Mydicar - using gene therapy to correct an abnormality in the heart's pumping process (see Celladon website overview).
In advanced heart failure, SERCA2a enzyme levels are abnormally low, so patients cannot effectively modulate SERCA2a activity
In human heart failure cells, correction of the SERCA2a deficiency is able to restore normal contractility, relaxation, and calcium cycling
Celladon Mydicar aims to rescue the failing heart by targeted gene transfer to correct this SERCA2a deficiency
The primary measure of efficacy for Mydicar plus optimal medical therapy (OMT) was reduced re-hospitalizations versus a control group on placebo plus OMT.
It was recognized that the control group was a much sicker cohort than the patients on maximum dose Mydicar. Comprehensive efforts were made to counter for this, including running comparisons with the sickest patients excluded from the control group.
On this basis, the high dose Mydicar group showed clearly better statistics for re-hospitalizations than the control group, who are stated to have continued to show worsening of HF to a higher degree.
It is little wonder that Mydicar has garnered a great deal of interest and support as it has shown, in conjunction with OMT, greater efficacy in reducing re-hospitalizations than OMT alone.
But I do not see Mydicar as any threat to C-Pulse.
Based on the CUPID trial published results, Mydicar plus OMT therapy has not produced "super responders" becoming asymptomatic for HF as has occurred in the C-Pulse Feasibility trial.
In fact, as per table below showing both 6 month and 12-month results from the study referred to above, the worsening of HF appears to have continued with Mydicar plus OMT, albeit possibly at a slower rate than with OMT alone.
Based on the CUPID trial results, Mydicar does not appear to have the potential to reverse heart failure, either alone or in conjunction with OMT.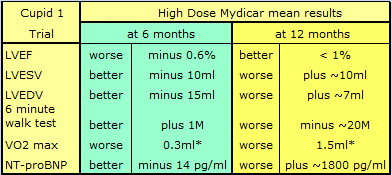 However, I hypothesize that Mydicar plus OMT together with a mechanical assist device to allow the heart to rest and recuperate might prove a valuable therapy.
A trial is already underway for Mydicar in patients with an existing LVAD to determine if correcting SERCA2a deficiency might allow weaning.
No doubt there will be a trial at some future date to test whether Mydicar added to C-Pulse therapy has the effect of hastening weaning due to early correction of SERCA2a deficiency.
I believe the additional coronary perfusion, the lack of bleeding and stroke risks, and the less invasive nature of C-Pulse will make it a preferred alternative to the LVADs from Thoratec (NASDAQ:THOR) and HeartWare (NASDAQ:HTWR) in the new paradigm of mending broken hearts.
Comparative Statistics -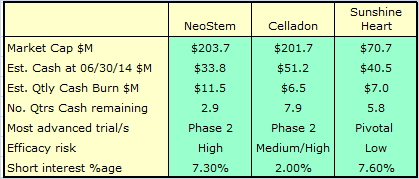 Based on the various statistics above it is not immediately apparent why Sunshine Heart's market cap is lowest of the three enterprises.
The likely reasons include -
The level of shorting (also applies to NeoStem)
Sunshine Heart's "go it alone" policy, together with "poison pill" provisions makes it possibly the most susceptible to being squeezed in a capital raise
But most importantly, the slow start to enrollments has caused doubt as to how long it will take to complete its Pivotal trial.
We will know better on Tuesday whether announced actions have resulted in a meaningful increase in the rate of Pivotal trial enrollments.
Conclusions
Sunshine Heart will need to raise additional funds in the next 12 months.
It needs to raise additional funds at a time where it is perceived not to need those funds.
It will possibly need to raise funds by not later than 4th quarter while it still has 12 months of cash in order to be perceived not to need those funds.
Unless Pivotal trial enrollments are meaningfully accelerated by the 3rd quarter conference call, taking place in the 4th quarter, the share price is likely to remain low and possibly lead to a dilutive capital raising.
Another possibility to avoid such dilution would be to raise funds by sale of the European rights to C-Pulse. But negotiation of such a deal would be better done in a scenario of a meaningful increase in Pivotal trial enrollments.
For long-term investors in Sunshine Heart, there is still another quarter to go before lack of enrollments might lead to a dilutive capital raising. Given the hire of Kimberly Oleson and other initiatives are fairly recent, it might be that we have to wait for 3rd quarter to see results.
On the other hand, if a meaningful increase in enrollments plus any other good news is announced at the conference call taking place on Tuesday August 12, that could be the "shorts'" worst nightmare.
Caution: The information above is not intended to replace the advice of a doctor. I disclaim any liability for any decisions you might make based on this information.
Additional caution: As always, please do your own research before any buy or sell decisions. Use of information and research in the article above is at your own risk.
Investing in micro cap companies is not suitable for all investors and can be risky. It's important that investors thoroughly perform their own due diligence and analyze the potential risks. Due to illiquidity, share prices can fall despite strong fundamentals and possible inability to raise sufficient additional cash to continue to fund ongoing operations is always a serious concern. Fuller details of risks associated with Sunshine Heart as identified by the company may be found with their form 10-12B/A registration filing with the SEC and their other SEC filings.
Editor's Note: This article covers a stock trading at less than $1 per share and/or with less than a $100 million market cap. Please be aware of the risks associated with these stocks.
Disclosure: The author is long SSH. The author wrote this article themselves, and it expresses their own opinions. The author is not receiving compensation for it. The author has no business relationship with any company whose stock is mentioned in this article.
Editor's Note: This article covers one or more stocks trading at less than $1 per share and/or with less than a $100 million market cap. Please be aware of the risks associated with these stocks.