The much-coveted news of a MannKind (NASDAQ:MNKD) partnership hath finally hit the markets this morning, with the company announcing a licensing agreement with Sanofi, a company that many following the story had pinned MannKind to ahead of the company's official announcement.
The report this morning was that Sanofi and MannKind had entered into a worldwide licensing agreement for Afrezza:
Sanofi (EURONEXT: SAN and NYSE: SNY) and MannKind Corporation announced today that they have entered into a worldwide exclusive licensing agreement for development and commercialization of Afrezza® (insulin human) Inhalation Powder, a new rapid-acting inhaled insulin therapy for adults with type 1 and type 2 diabetes. The companies plan to launch Afrezza in the United States in the first quarter of 2015.

Under the collaboration and license agreement, Sanofi will be responsible for global commercial, regulatory and development activities. Under a separate supply agreement, MannKind will manufacture Afrezza at its manufacturing facility in Danbury, Connecticut. In addition, the companies are planning to collaborate to expand manufacturing capacity to meet global demand as necessary.

Under the terms of the agreement, MannKind Corporation will receive an upfront payment of $150 million and potential milestone payments of up to $775 million. The milestone payments are dependent upon specific regulatory and development targets, as well as sales thresholds. Sanofi and MannKind will share profits and losses on a global basis, with Sanofi retaining 65% and MannKind receiving 35%. Sanofi has agreed to advance to MannKind its share of the collaboration's expenses up to a limit of $175 million.
The good news for longs is that MannKind is getting a nice chunk of change up-front, and has secured that Afrezza is going to be a player in the diabetes industry for years to come. However, after a gap open this morning to the tune of nearly 20%, reality seems to be setting in.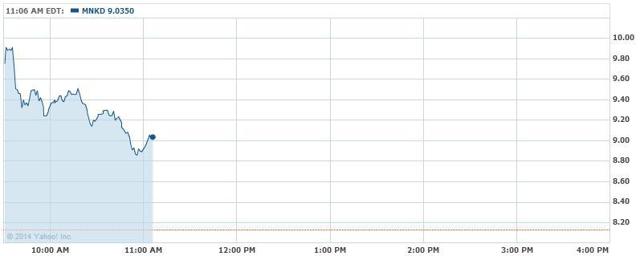 For those that don't know about Sanofi, it's already a player in the diabetes market worldwide. It ponied up the $150 million mentioned above (with potential to shell out another $775 million), but it's also going to be entitled to what seems like a rather sizable 65% of profits from Afrezza. Worth reiterating again is the fact that this is good news for MannKind as a company going forward, but may not be the best news for stockholders - some of whom were buying as high as $11/share weeks ago when Afrezza was approved.
After the stock gapped up this morning, the details of the announcement seemed to weigh the stock down - MNKD is now at $9.26 in early market trading.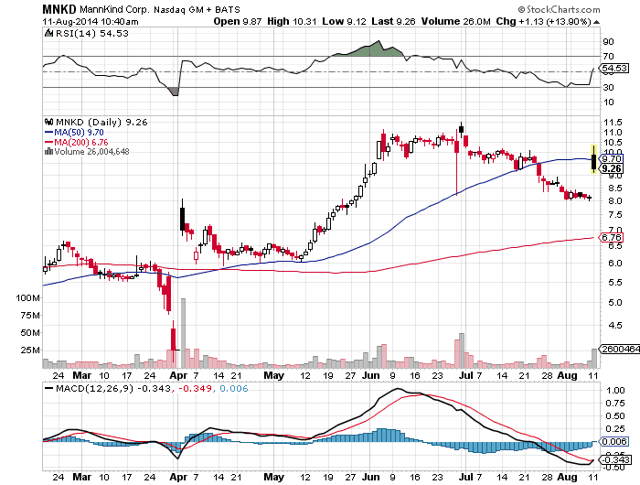 Often, the company that's ponying up the dough and securing the two companies from potential capex going forward is entitled to the bigger portion of the revenues. Sanofi is the bigger company of the two, in this case. But surely, the market is starting to realize that 35% of the profits from the company's extremely heralded Afrezza may not have been what bulls were looking for.
Nonetheless, it's a partnership, and it is a step in the right direction for MannKind - who should be able to make a go of it as a company for years to come from this point. For those rooting for MannKind as a company and Afrezza as a product that's going to help many, this is great news.
From a profile of MannKind as a security, this news isn't the most promising. While it does well to bolster the company's cash position and add confidence to future prospects for Afrezza, it is in no way a "grand slam" for shareholders that's been expected since long before Afrezza was ever granted FDA approval.
With a $3.4 billion market cap as of 11:00 AM EST this morning, it's going to be tough to value MNKD at much of a higher multiple - especially until Afrezza revenue numbers begin to come in. While I'm bullish on the product and MannKind as a company, I continue to contend that this might not be the spot to throw your money into MannKind stock. The company, although taking steps in the right direction, has a lot to prove to jusitfy its valuation.
Disclosure: The author has no positions in any stocks mentioned, and no plans to initiate any positions within the next 72 hours. The author wrote this article themselves, and it expresses their own opinions. The author is not receiving compensation for it (other than from Seeking Alpha). The author has no business relationship with any company whose stock is mentioned in this article.