I don't always like the decisions my editors at Seeking Alpha make. And I'm sure they don't care. John Thero doesn't like the decision to postpone ANCHOR approval that the FDA made. And I'm sure they don't care. Because FDA representatives, like Seeking Alpha editors, have a responsibility to produce the very best products they can possibly put forth. And sometimes, in the process of doing that, products are going to be rejected and feelings are going to be hurt. It's happened to me. It's happened to John. The difference is, I get to go back to the drawing board and John doesn't. He has to keep trying to convince those in authority that his product, Vascepa, is worthy of approval in the mixed dyslipidemia population right now.
And when you're trying to convince someone in authority that they've made a mistake, that can prove to be a very problematic thing to do, not because they haven't committed it, but because they don't have to admit that they have. Unless...
The Authority Figure In Question Is Under Enormous Political Pressure
After two lower level rejections, Amarin Corporation (NASDAQ:AMRN) has taken its appeal of the ANCHOR SPA revocation and delay of marketing approval to upper level FDA management represented by John Jenkins, director of the Office of New Drugs at the Center for Drug Evaluation and Research. In parallel, they've changed the language used to reference both the agency and their lead commercial competitor who may have acted behind the scenes to derail ANCHOR approval.
It should be noted that Thero is clearly pessimistic of an agency turn around in disposition toward the company. Consequently, here are three changes Amarin has recently made that indicate a legal mindset moving forward.
John Thero never fails to mention the possibility of a truthful label, 1st Amendment appeal of Amarin's right to market Vascepa to the mixed dyslipidemia population at every public speaking opportunity afforded him.
Though he never speaks, Joseph Kennedy is introduced by name as "General Counsel" at Amarin's Quarterly Earnings Calls, of which this past call was an example.
GlaxoSmithKline's (NYSE:GSK) Lovaza wasn't referred to by name in this press release detailing Q2 operations, but rather as "the first launched prescription omega-3" which indicates a recognition of a possible link to the political influence suggested in my past articles on the subject.
The FDA has changed its language too. Here's the most recent addition to the agency's official response to citizen petitions filed on behalf of Amarin.
Please know that the FDA is aware of the significant Congressional and stakeholder interest in the Agency's decision on this matter. FDA is making every effort to resolve the matter as expeditiously as possible, while also ensuring that the Agency's decision reflects a full consideration of the issues brought to our attention in light of all the available scientific evidence.
Now, before I continue, I want to make something perfectly clear. In my last article, I was critical of both the FDA and Amarin executive leadership for the culmination of a process that has led to the unjust delay of Vascepa's marketing approval in the high triglyceride, mixed dyslipidemia population of patients. I neglected, however, to mention that Amarin executive leadership must have known full well that the FDA was going to place emphasis on those peripheral studies of dubious import because they dumped their holdings in the company on a regular basis from MARINE approval up until the ANCHOR adcom. As a result, no one, including myself, should demonize the FDA as operating in a vacuum. And in point of fact, my article distributes responsibility to all parties albeit unequally.
Having said that, the FDA's actions to date have been as confounding as they've been injurious to people susceptible to cardiovascular disease event risk. Consequently, there's a growing number of people questioning if the agency's agenda is more politically driven than science based. Amarin's case is singularly unique in that it seems to evidence this criticism in profound ways.
Lawmakers are questioning the FDA's revocation of the ANCHOR SPA agreement and pharmaceutical companies are joining in. There seems to be an absence of consistency in the application of a known methodology.
Citizens and physicians are questioning a change in agency policy that no longer recognizes a relationship between high triglycerides and cardiovascular disease event risk.
News organizations are questioning the involvement of non-profits whose endorsements of policy changes made to benefit the commercial interests of powerful, established pharmaceutical companies seem to contradict the findings of their own research.
This article, however, is not being written to rehash this deeply troubling and ongoing debate, but rather to demonstrate to you why I believe the FDA may make concessions by mid-September and why this may translate into the biggest investment opportunity outside of Nektar Therapeutics (NASDAQ:NKTR) during this period of time.
Justice Delayed Is Justice Denied - Unless It's Not
As many of you already know, I see the agency's actions towards Amarin to date as deliberately designed to undermine the company's fortunes. ANCHOR delay, SPA rejection and refusal to grant 5-year marketing exclusivity under the bestowment of New Chemical Entity status are all hallmarks of this.
Therefore, when I first heard that Jenkins had delayed his decision on Amarin's appeal, my feelings transitioned quickly from skeptical to jaded. I then read what it is Mr. Jenkins may have actually stated as conveyed by Mr. Thero and noticed a tangible sign of hope.
While I'm painfully aware of Mr. Jenkins' involvement in the totality of this process, and fully cognizant that this may be only a smoke screen to provide the appearance of fairness, I'm also politically aware enough to detect fresh air from a newly opened window of opportunity. If Mr. Jenkins was looking for a way out, the best way to do that would be to reference the new information available to us regarding the relationship between elevated triglycerides and cardiovascular event risk. And if Mr. Jenkins were to do that, this is what he would say to Mr. Thero regarding the delay till mid-September.
Dr. Jenkins informed us that before reaching a determination on our appeal, he has asked to seek advice from a CDER Medical Policy Council. As you may know CEDR is an acronym for the FDA's Center for Drug Evaluation and Research. The CDER Medical Policy Council which includes Dr. Janet Woodcock and Robert Temple and other senior FDA officials provides a senior level forum to establish medical policy to ensure it's implemented in a consistent manner throughout the center.
Taken literally, we would have to conclude that to date, policy has not been applied consistently where Vascepa approval in the ANCHOR indication has been concerned. Fenofibrate and niacin were sanctioned as adjunct therapies to statins without cardiovascular outcome trials being required in advance. But in the case of niacin that may have been a mistake as HPS2-THRIVE has demonstrated not only lack of efficacy but alarming side-effects. And this would have been the agency's most reasonable argument for a change in policy had there been even a trace of safety signals put off by Vascepa.
Jenkins' words, however, should not be taken literally, but rather as giving himself the room necessary to cite new evidence of benefit that might justify a corrective course of action. And while this may not lead to a result satisfactory to Amarin, or its investors, it may lead to some form of meaningful conciliation.
What would be most meaningful is some form of limited expansion into the high triglyceride market pending REDUCE-IT trial results. REDUCE-IT is Amarin's large, expensive cardiovascular outcomes trial involving Vascepa in the high triglyceride, mixed dyslipidemia population. Though the FDA has criticized the trial as has having "soft events" outcomes such as hospital visits as opposed to the strictly "hard events" of stroke and heart attack, and may disqualify the results based on the use of a non-inert placebo, there was in fact a tie between implicit funding of REDUCE-IT and ANCHOR approval in the SPA agreement. Concession here would be substantial and end the argument of institutional bias perhaps forever against this company, especially if both parties agreed to accepting the REDUCE-IT results whatever they may be.
From an investment perspective, even if the agency offers only the symbolic gesture of SPA restoration without marketing approval, the stock would likely rise in value in the moments, days and weeks following such disclosure.
What's New That The CDER Could Confer That Might Provoke An Olive Branch From Jenkins
Take a look at this graphic which details the results of two studies published in the New England Journal of Medicine in June which suggest a profound correlation between triglycerides and cardiovascular disease event risk. Believe it, or not, there are persons who are genetically predisposed to low triglyceride levels no matter how much sugar and fat they consume in a lifetime. The plots below compare their CVD events history to that of people without that genetic anomaly. Note the very strong presumption against the null hypothesis.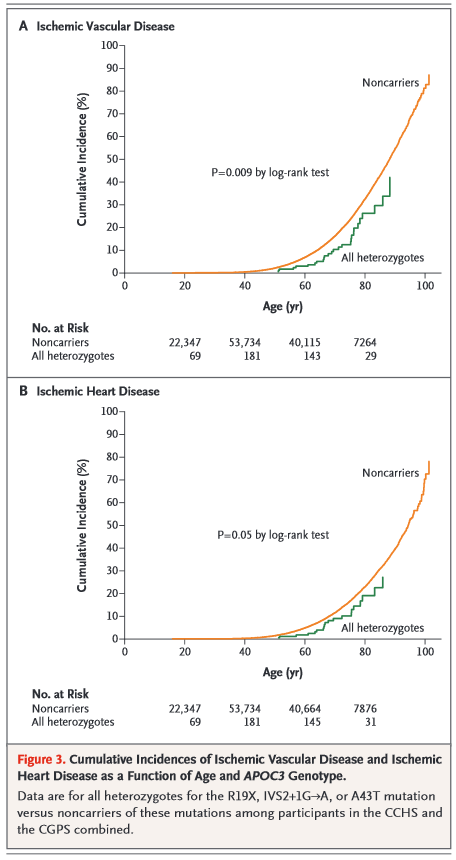 From this graphic we can clearly see that lipid panels revealing triglyceride levels should be mandatory for all adults age 50 and above and Vascepa should be prescribed accordingly, because it's the one therapeutic treatment that simultaneously lowers triglycerides without raising bad cholesterol or any of the other biomarkers associated with cardiovascular disease.
If the FDA is seeking out an opportunity to make amends and move forward without legal consequences while diffusing concomitant political pressures, this is it. This new information allows the agency space to reconsider their position and start a process of reconciliation that might arrest the growing discontent.
A Good Investment Regardless
Many financial bloggers are now rethinking the possibilities that Amarin affords strictly as an investment opportunity without the possibility of ANCHOR approval. Here's a recent example given by IAEResearch.
Certainly, no one should make bank on any change of course the FDA might make in the near future. But many investors are speculating on the same possibilities I am and initiating positions accordingly.
I leave you now with another snapshot of the only relevant study, other than Amarin's own, showing a relationship between pure EPA prescription grade fish oil and reduced CVD event risk in the mixed dyslipidemia patient population.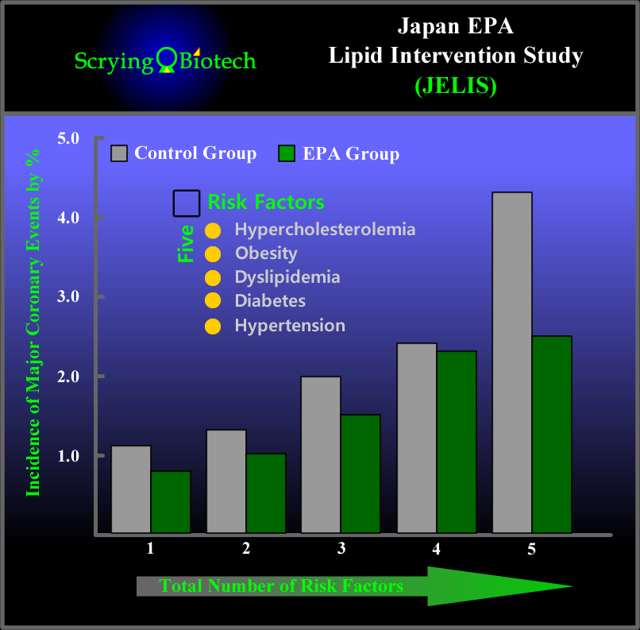 Always be well...
Disclosure: The author is long AMRN, NKTR. The author wrote this article themselves, and it expresses their own opinions. The author is not receiving compensation for it (other than from Seeking Alpha). The author has no business relationship with any company whose stock is mentioned in this article.
Additional disclosure: Any information or opinion expressed herein may not be true, accurate or correct and it does not constitute any suggestion to buy, sell, hold or adopt any investment strategy for this stock or any stock that may be mentioned. Reliance upon information in this article is at the sole discretion of the reader. The sole purpose of my article is to entertain by providing information, the accuracy of which is as good as the public sources it was derived from. Do not act on anything I have written. Rather, do your own due diligence and consult an investment professional before making any investment decision. Acting on what any one writer, including me has imparted to you is foolish at best. I have no better access to resources or gift of opinion formulation than you do. I sometimes make mistakes. There are a myriad of things, which can happen in lieu of any forward-looking statement I have made. Any stock featured or mentioned in an article I compose is subject to all manner of influences, which can change its value in dramatic fashion upwards or downwards. These events can be of a wide variety not limited to news-related occurrences, managerial decisions, trial failures, stock manipulations and so on. I make every effort to declare positions I have in stocks I cover or mention in an article but reserve the right to move in and out of said investments at my own discretion based upon the wisdom of doing so. I implore you to do your own due diligence, invest at your own considerable risk attaining the just reward your efforts have wrought.