Introduction
CECO Environmental (NASDAQ:CECE) is a small-cap industrial company. A more detailed Company Overview is available here.
Investors can also consider reading my prior articles on any company, even if published months ago, since my theses are always long-term and my first few articles on a company include much more detail. This update is to supplement my full-thesis articles about CECE. All of my previous articles are listed here, and my other articles specifically about CECE are here and here.
Readers should know that the opinions I offer are most suitable for investors who, like me, build long-term positions over time and previously opened CECE positions at lower prices. I opened my CECE position at $12, and add to all of my positions periodically. As I wrote in a recent article focused on my general market outlook (2014 Mid-Year Call Performance And Updates), my opinion is:
"When all small-caps are randomly sold at lows, as has been happening for months, the good ones that are already undervalued are sold off with the rest. This is an opportunity that was already brewing and, with a little help from our Fed, is near-ripe for picking by long-term investors."
I said "near"-ripe because I obviously don't know when the current small-caps rout will end. Similarly, only in retrospect did I realize that, when I mentioned that same point in my February 5 article Corrections Come, Corrections Go, I happened to be doing so at exactly what turned out as one of the two bottoms for the Russell 2000 small-cap index so far this year, down to the day:
"It's important to know that all small-cap growth stocks tend to get hit in "risk-off" scenarios. That does not mean that a stock is broken so, if you "know what you own, and why you own it," don't get spooked too easily and sell at bottoms, instead of buy at bottoms."
I mention those things to help me make the point that I consider CECE one of "the good ones that are already undervalued." Even so, some stock-specific weakness is coinciding with not only a period of market-wide weakness, but also an especially weak period for all small caps. I believe all three factors are temporary, so my opinion of CECE as a long-term investment is still positive, though it may take a while for small caps to recover and price on valuations.
Quarterly Earnings
This is not really an earnings article, per se, so I'll touch on headline numbers and focus the remainder of the article on the conclusions I've drawn from the details. CECE reported 2014 Q2 earnings [pdf] on August 7 before the market open and held a corresponding conference call later that morning [transcript].
CECE reported 2014 Q2 earnings per share [EPS] of $0.25, which was in-line with the consensus estimate, but declined $0.05 from the prior-year quarter. As, Jeff Lang, Chief Executive Officer of CECO Environmental, explained during the conference call, the prior-year quarter included very significant tax credits, so the appearance of a decrease in EPS is indeed a superficial appearance:
"We had a higher effective tax rate in Q2 of roughly 29%, compared to roughly 0% in the same period last year. Tax credits in the prior year period benefited net income by roughly $0.05 per diluted share."
CECE reported 2014 Q2 revenue of $66.6 million, which missed the consensus estimate by a slight $1.5 million, but increased 16% over the previous quarter and increased 50% over the prior-year quarter (2013 Q2). The recent Met-Pro acquisition, which was not included in the prior-year quarter, contributed $23 million to 2014 Q2 revenue. Chief Executive Officer Jeff Lang commented:
"Since the beginning of July, we have seen a significant increase in organic bookings flow with over $30 million of new bookings in the month, which we expect will drive more organic revenue growth in the second half of 2014."
I think the important takeaways here are that the Met-Pro acquisition is doing well at adding to the top and bottom lines, the integration is progressing well and allowing management to focus on organic growth again, and results from the renewed focus on organic growth are likely to show over the next couple of quarters. That leads me to believe the second half of this year will be good, especially when combined with the fact that performance from CECE already tends to improve sequentially quarter-over-quarter as each year progresses.
Two factors contribute to that pattern, both resulting from the customer types that CECE serves. First, much of big industry tends to squeeze its large capital expenditures into the latter part of each calendar year, due to use-it-or-lose-it internal budgeting. Second, industrial operations often use the downtime from the year-end holiday season to perform large-scale facilities maintenance that involves CECE products and services, thereby increasing order flow in the third and fourth quarters, and making the first quarter light. More on earnings later.
Opinion Updates (Upside Potential, Timeline, Downside Risk)
I'm slightly reducing my price target for CECE back to $19 with a 9-12 month timeline, though I also expect to have to increase my target again within that time frame. My $19 target is 35% above the $14 buy price from my previous CECE articles, and 42% above the $13.41 current price.
The fact that I'm reducing my price target for CECE does not mean that my opinion of the company has turned negative. As you will see below, I actually believe CECE is extremely undervalued at this time, so the reduction only serves to incorporate the possibility that all small caps may have trouble reconciling valuation discrepancies until the negative sentiment subsides.
The fact that CECE has already hit my original $19 target twice since my initial call implies that the market is aware of the true value. However, it is also rare for a stock to be priced solely on its own merits. In other words, a rally that is retraced is sometimes confirmation of true value that's temporarily overridden by other issues like market, sector or other group rotations. My perspective is that of a long-term investor who builds positions over time so I see the price decline since May as opportunities to add to my position at my buy price.
Price-To-Earnings [P/E] Ratio Valuations
The last four quarters of earnings per share [EPS] for CECE were $0.24, $0.26 $0.19 and $0.25 ($0.94 total). With $0.94 trailing-twelve EPS, and the $13.41 current share price, the trailing P/E ratio for CECE is 14.27x (not the 40x that Yahoo Finance lists). I couldn't find how Yahoo Finance got such an extremely divergent P/E ratio, but I checked other sources to confirm that I am not the one with bad numbers. For example, Zacks shows CECE with a 14.44x trailing P/E. Since Zacks has the same $0.94 EPS figure that I calculated, perhaps the slight difference is due to the day their report used the closing price from. In any case, I'm more interested in the future value anyway (i.e., forward P/E).
With the $1.12 next-year earnings estimate, 11.97x is the forward P/E ratio for CECE. For industrials, and especially those with earnings growth rates as high as CECE, P/E ratios in the low 20s are common. However, according to S&P Capital IQ historical data, the P/E ratio for CECE has hovered in a 10-16x range over the last few years (when two most extreme outliers are removed). I only went back a few years because CECE is a serial acquirer, which means that the makeup of the company was too different any further back than that.
In any case, the forward P/E multiple for CECE seems unreasonably low right now. Furthermore, based on factors that I'll touch on throughout the article, such as sales and margins trends, my calculations lead me to believe that the $1.12 next-year EPS estimate is also too low. I'll include several different examples based on the aforementioned data in order to clarify my points.
Since it is slightly below the 14.27x multiple that the market currently values CECE with, and also very near the midpoint of the historical range for CECE, I consider 14x a reasonable starting point. With a $1.12 next-year EPS estimate and a 14x multiple, the resulting share price is only $15.68. If the EPS trends up to $1.20 over the next few quarters, as I believe it will, a 14x ratio takes the share price to $16.80. If CECE returns to the 16x higher end of its historic P/E range, which I also consider well within reach, the share prices with the same two EPS estimates would become $17.92 and $19.20, respectively.
It's important to note that none of those estimates represent fair value today, since my focus is the 9-12 month timeline of my price target. Even so, CECE seems undervalued in current terms as well. By my calculations, CECE should be at least $15-16 right now, before even getting to my 9-12 month timeline.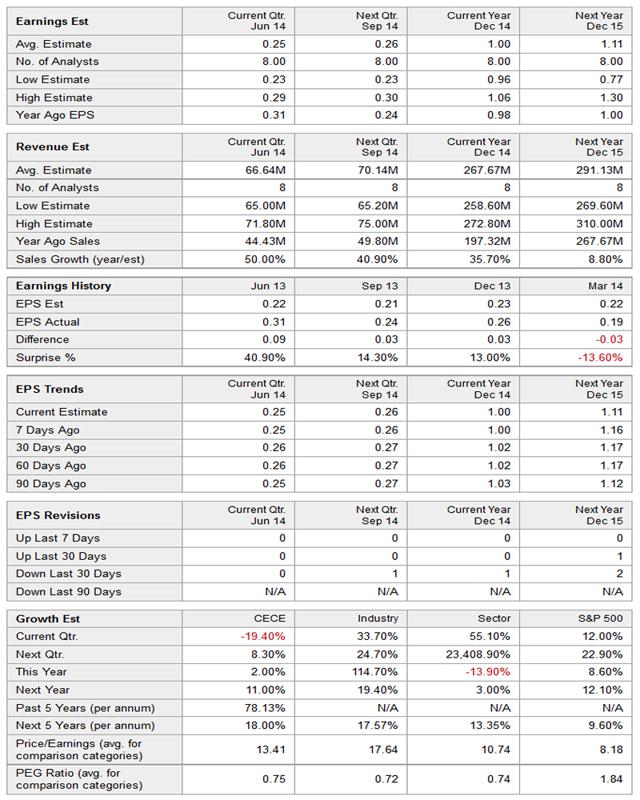 Source: Yahoo Finance
Discounted-Cash-Flow [DCF] Valuations
As the chart above shows, the average annual earnings growth rate for CECE over the last five years was 78.13%. The growth rate over the next five years is projected at 18%, as the extreme lows of the economic downturn fade into the past and earnings growth starts to normalize.
I ran multiple Discounted Cash Flow [DCF] calculations to estimate how CECE might fare in various earnings scenarios and, frankly, I had trouble getting an outcome as low as the current share price with any combination of inputs. For example, to even approach a mid-$13 range, I had to use a Discount Rate of 15% (versus the more common 10%, or even the 12% that I usually use) and also lower the EPS growth rate to 15% (versus the 18% projection).
With more normal inputs, my DCF calculations all returned CECE share prices in a $19-23 range, with $19 resulting from the very conservative assumptions and $23 resulting from moderately optimistic assumptions. These calculations are another reason that I'm comfortable with my 9-12 month $19 price target.
Price-To-Earnings-Growth Valuations
My other valuation conclusions are supported by the fact that the PEG ratio for CECE is also very low. PEG ratios below 1.00x indicate undervaluation and the PEG for the vast majority of companies in the Pollution & Treatment Controls industry are well above 1.00x, with many above 2.00x and approaching 3.00x.
Using the CECE 14.27x trailing P/E ratio, 18% projected earnings growth rate and 1.79% dividend yield, my calculations show the current PEG ratio of CECE to be only 0.72x. Even when I test with extreme inputs, such as an earnings growth rate lowered to 15% and a trailing P/E ratio increased to 16x, the PEG ratio of CECE would still only be 0.95x.
Downside-Risk Estimation
I prefer the 200-day simple moving average [SMA] to estimate downside risk because it is an updateable guide, rather than a static price that only applies for a short time. The Yahoo Finance link under the stock chart above always leads to an updated chart with a green line to represent the 200-day SMA.
For CECE, I estimate downside risk at about 10-15% below the 200-SMA. The current 200-SMA is $15.76 and the $13.41 current share price is exactly 15% from that 200-SMA level, but that doesn't mean the stock can't go any lower.
For the first time in nearly three years, CECE is trading below its 200-SMA and has been there since May. In addition to my valuation calculations, this is yet another reason that I don't see much more downside left. However, anything is possible if the current market-wide and small-cap weakness turns into a full correction, and goes deeper than the 10% that I consider sensible to plan for right now. I believe in planning for the worst and hoping for the best so, as I often recommend to other investors, I split the amount I want to add into two pieces in order to minimize risk until the downward momentum seems to be running out of steam. At 15% below the 200-SMA, $13.40 is a good price so I plan to add to my position Monday morning and will only add the second half if CECE continues down to a $12.20-12.60 range, which I don't expect to see.
Performance Drivers
Rather than repeat my full investment thesis from prior articles, I have listed some of the components, included a recap of the high-level thesis, and drilled down on select factors. It is important to note that none of the performance drivers are short-term and all of them are inherently long-term. The primary components of my CECE investment thesis are:
[1] Industrialization And Pollution Control Global, Long-Term, Secular Trends
As I touched on in my recent article about Manitowoc Company (NYSE:MTW), as well as others about companies such as Trinity Industries (NYSE:TRN) and Mueller Water Products (NYSE:MWA); industrial growth is among my favorite investment themes coming out of an extreme economic downturn. I contend that, in addition to its cyclical attributes, increasing industrial activity is also a long-term secular trend that is highly correlated with another secular trend -- increasingly stringent environmental regulations that lead to growing demand for pollution control products, services and expertise.
One of the secular catalysts is the re-industrialization that is underway here in the U.S., which affects all of the industries that CECE serves. For example, the resurgence in industrial manufacturing is driven by an abundance of relatively low-cost energy that results from the oil and gas boom, which is accompanied by a renewed focus on clean/green initiatives that affect the power industry.
Global demand also increases as regions with large and growing populations become more industrialized and take new steps to reign in their out-of-control pollution. Perhaps the best example of that trend is China, as can be gleaned from the recent government actions discussed here, here, here, and here.
CECE has had a significant presence in China for a decade, but my focus is the future growth potential. For example, in March, CECE announced a formalized Sales Cooperation Agreement with Jiangsu Renhe Environmental Equipments to bring expanded air pollution control technology to China by leveraging each company's extensive product portfolio, fabrication base and sales channels. Jeff Lang, Chief Executive Officer of CECO Environmental, commented:
"We continue to see the Chinese government and its EPA Ministry expand and tighten air pollution regulations. This has created a strong market opportunity for CECO's expansive range of technologies and products and China is a critical part of our growth strategy. Developing relationships with companies like Renhe Environmental is a great example of our strategic initiative in the region and we are glad to work with such quality partners. We will continue to look for ways to further penetrate the domestic market in China as part of our multifaceted growth strategy."
As a long-term investor who is focused on years, rather than quarters, I want some degree of access to the huge long-term growth opportunity that China represents. At the same time, I much prefer to get access through American companies, rather than deal with risk of potential fraud via reverse takeovers.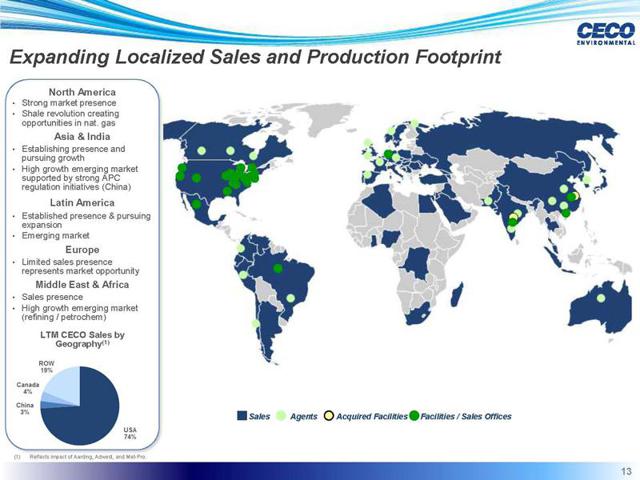 Source: company presentation
[2] Acquisitions Continually Drive Growth And More International Expansion
As what some refer to as a "serial acquirer," CECE closed three acquisitions in 2013 (Met-Pro, Aarding and Adwest), one of which was of equal size to CECE prior to the acquisition (Met-Pro). I think this is important for several reasons.
First, fully integrating two companies of equal size and aligning the respective operations, strategies and sales channels takes years, not months. This might be part of the reason CECE is so undervalued right now. Perhaps investors are expecting too much too soon. CECE is only recently operating with, and being revalued with, these accretive new assets, so perhaps more time is needed to get past integration risk and accurately evaluate the long-term prospects.
Second, in addition to immediate contributions to earnings, acquisitions add significant cross-selling opportunities for CECE. With Met-Pro especially, the acquisition added multiple business lines that are complementary, rather than duplicative. As culmination of the Met-Pro deal, CECE initiated its "OneCECO" sales initiative, which is to focus on "increasing customer penetration by leveraging a combined portfolio and comprehensive suite of technologies."
In other words, CECE is moving even more toward being a one-stop shop with sales channels to offer customers integrated solutions for all of their pollution control needs, rather than individual products and services through separate subsidiaries. Not only does that mean closer customer relationships, but it also ties directly to the third reason acquisitions are very important for CECE, as well as the third aspect of my thesis in the next section. William Blair & Co. analyst Brian Drab seems to agree, as he recently stated in a research note:
"CECO Environmental can provide an end-to-end solution for even the most-complex process-driven air pollution issues. We view the company's capability to provide complete solutions as its chief competitive advantage over other industry participants, many of which provide a narrower scope of products or services to only one or two specific end-markets."
Third, CECE is very well positioned to remain a consolidator in a traditionally fragmented industry. Having a well-established global presence and a great deal of experience with bolt-on acquisitions over the years, CECE seems very likely to be one of a few to remain an acquirer, rather than an acquiree, and maintain a leadership role as the industry continues to gradually consolidate to only a few large players. Chief Executive Officer Jeff Lang commented:
"And last, but not least, the acquisitions in total. Although we did not close on any acquisitions in the quarter, our team remained very active in developing our pipeline of smart, fit opportunities. By the way, several modest-sized acquisitions have made it into our strict due diligence stage, evaluation stage and potential bolt-ons to enlarge our domestic air pollution control business and our China air pollution control business. Overall, we're finding the acquisition environment to be quite good."
[3] Margins Expansion Through Less-Cyclical Services-Based Revenue Streams
Investors who read my articles on a regular basis may recognize this aspect of my thesis from my discussions of companies such as Halliburton (NYSE:HAL), InterContinental Hotels Group (NYSE:IHG) and Mueller Water Products. In two interrelated ways, that isn't coincidence. First, traditionally-cyclical companies that are taking steps to somewhat level their revenues is an attribute that I actually look for, since it indicates leadership that is forward-looking. Second, that seems to be a trend that has accelerated in recent years, which I believe results from the hard-earned lessons of a severe economic downturn. In other words, many companies approached the brink of not surviving at all in 2009, so I believe that experience inspired the particularly smart leaders to look for new ways to further insulate their companies from future potential disasters.
CECE currently has an installed base of products exceeding $3 billion, and the company is working to leverage the significant opportunities that presents in terms of more post-sale services and aftermarket products. The benefits here are twofold. First, both services and aftermarket products are more constant customer needs that can lead to reoccurring revenues that help the company become less dependent on the ebb and tide of economic cycles. Second, both aftermarket product revenues and service-based revenues are higher margin.
Well, it seems to be working as, in 2014 Q2, CECE achieved record operating margins. Operating margin was 10.8% for the quarter, up significantly from 7.4% in 2013 Q2. When adjusted for non-recurring items such acquisition and integration expenses, operating margin was 14.9%, which is up from 13.9% in 2013 Q2 and very close to the goal of 15% for 2014, with two quarters left.
Although gross margin in 2014 Q2 decreased to 32.2% on a sequential basis from 34.8% in 2014 Q1, on a six-month basis, CECE gross margin was up 90 basis points year-over-year to 33.3%. For 2013 FY, gross margins were 32% and, 2014 FY year-to-date, they are 33%. Again, that's with two quarters left.
So, the company is meeting the targets it has stated for the past few years of growing gross margin and operating margin by 100-150 basis points. In fact, CECE has expanded its margins for all of the past five years. Chief Executive Officer Jeff Lang commented during the recent conference call:
"Roughly one third of our business is in the reoccurring revenue aftermarket margins at a higher margin, and that is our goal is to keep growing that segment to make it a larger part of CECO ... All businesses across CECO are fully engaged in growing reoccurring revenues and aftermarket items are integral to their operating plans."
[4] Strong Global-Operations Customer Base Aligns With Growth Initiatives
This one is not a performance driver, per se, but considering that it relates to the previous factors such as offering customers more integrated solutions, it is worth noting that CECE has a very strong customer base. The CECE customer list includes many Fortune 500 companies and other major corporations such as Anheuser-Busch (NYSE:BUD), Boeing (NYSE:BA), Chevron (NYSE:CVX), Corning (NYSE:GLW), DuPont (DD), Ford (NYSE:F), General Electric (NYSE:GE), General Mills (NYSE:GIS), Intel (NASDAQ:INTC), Kimberly-Clark (NYSE:KMB), Procter & Gamble (NYSE:PG), Samsung (OTC:SSNLF), Siemens and Valero Energy (NYSE:VLO).
It is also important to note that this does not mean customer concentration is an issue at CECE. No one customer comprised 10% or more of CECE revenues in fiscal 2013, so CECE is not dependent on any one customer and the loss of any customer is very unlikely to have a material effect on the company.
Opinion Performance
My first posted opinion on CECE was in an article I submitted October 1, 2013, which was published on 10/3/2013. In that article, I opined:
"I see upside potential in the 35% range, yet the downside potential seems limited in the 14% range."
CECE was $14 at the time and, following that call, the stock peaked at $18.83 for a 35% return. However, it later dropped back to a $15-16 range, before spiking back up to a $17-18 range. While it was in that $17-18 range, I wrote another article, which was publish 1/13/2014, stating the following:
"As I commented on November 7, after CECE rallied to $19 and retraced, "I still believe CECE will at least return to my $19 target within the next eleven months, and likely sooner. In fact, I still consider that price target somewhat conservative. I don't believe the shares will get anywhere near my $12 downside risk range." I never expect a straight path to my price target, and CECE may take a rockier road since some investors were probably spooked by the retracement and may see a rally as reason to sell. I believe CECE will not only sustain the $19 range the next time it's there, but also continue higher. I'm raising my target to $21, and may raise it again within the shorter end of my new 9-12 month timeline."
CECE subsequently dropped back to $14-15 again, before returning to $18-19 again in March, then trailing down to the current level. So, I was right that it would get back to $19, but wrong that it would sustain that level yet. In fact, that was a comment I never should've made since it's too short-term oriented.
The performance of my CECE opinion has been:
[-4% to-date from published call / +35% at peak from published call]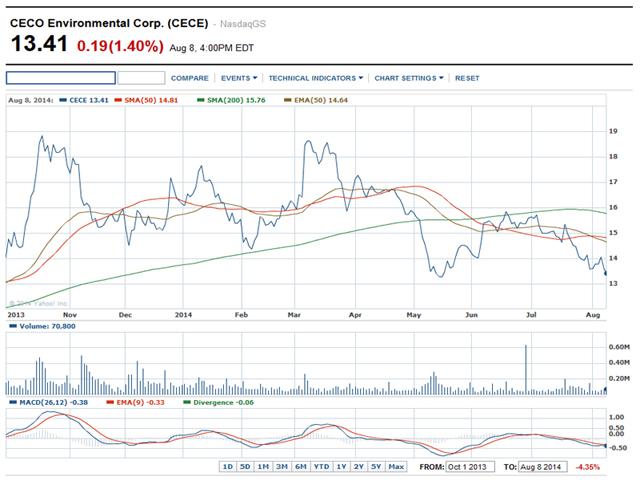 Source: Yahoo Finance
Since those were among my earliest articles, I had not yet refined my method of writing about my investments publicly, and fell into the trap of updating my theses and valuations too frequently in attempt to be responsive to readers who wanted constant opinions on the same stocks. That was my mistake.
It has only been ten months since my first article on CECE and, to be frank, I don't think about months and quarters -- I think about years and decades. My point is to emphasize the fact that I'm discussing CECE as an investment, not a trade. I've offered the range at which I consider CECE a buyable investment and, if a stock I like hits my buy range several times, that really only means one thing to me -- there were opportunities to average into the position with some downside protection and without raising the cost basis. As an investor, that's exactly what I want in the short-term (I define short-term as less than three years). So, I now only write about the stocks I like 2-3 times a year and not always after an earnings report, since I never make final judgments based on less than three earnings periods (unless bankruptcy is announced in one).
I've written about my investment approach in several Instablogs and articles, so every reader has opportunities to know the perspective of my opinions. In short, I'm a long-term investor so my opinions are not suitable for trading.
Final Thoughts
The current stock market environment is far less stable than during either of my prior CECE articles. I'm far from among those who have been predicting a market-wide correction every day since 2009, but for only the second time in two years, I've been saying for six weeks that I think a correction is likely. It may have started on July 31, but that may be just a dip. In either case, I also believe a correction would be fairly mild (10%) and in the context of a secular bull market that I believe will continue at least a few more years, if not many.
Similarly, the first week of July was the worst week in more than two years for the Russell 2000 small-cap index, and as mentioned earlier, that index is now very close to the 1,095 level that turned out to be the same level for both of the two bottoms so far this year. Thus, all small caps remain under pressure right now, regardless of individual stock valuations, but that could turn soon.
Considering my valuations and thesis opinions, I obviously like CECE, despite the current weakness. At the same time, especially in light of current market conditions and the negative sentiment towards all small caps, that weakness may continue until a catalyst reverses it. By definition, secular trends take years to play out so, unless another acquisition is announced in the interim, there may not be a specific catalyst to significantly move the CECE price until the next earnings report. I expect small caps to start recovering before then, so CECE could still rally to at least $15-16 in short order. Beyond that, I don't expect the full upside potential in CECE to be realized quickly or all at once.
If you might be interested in any of my other calls, their performance, or my outlook for the market as a whole; those subjects are covered in my recent overview article 2014 Mid-Year Call Performance And Updates.
Thank you for reading. Consider the "Follow" button at the top of the page to see my new articles on your SA home page, since most are only free for thirty days. I apologize in advance that I can no longer dedicate time to comments beyond the opinions that I offer in my articles. As always, every reader is free to dismiss any or all of my opinions. Or, as SA puts it, "Read. Decide. Invest." Best of luck with the rest of your due diligence. I wrote this article 8/3-8/10.
Disclosure: The author is long CECE, HAL, MTW, TRN, GE, IHG, MWA, CVX. The author wrote this article themselves, and it expresses their own opinions. The author is not receiving compensation for it (other than from Seeking Alpha). The author has no business relationship with any company whose stock is mentioned in this article.
Additional disclosure: I am long CECE, and may buy or sell shares at any time, though I currently have no immediate plans to sell.