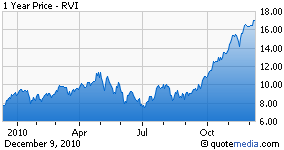 Columbus, Ohio-based Retail Ventures Inc.'s (NYSE:RVI-OLD) third quarter 2010 earnings of 11 cents per share missed the Zacks Consensus Estimate of 44 cents, but were higher than the loss of 28 cents posted in the prior-year quarter. The results improved on a year-over- year basis due to upside in revenues.
During the quarter, Retail Ventures posted a solid 10.1% growth in net sales to $489.3 million, from $444.6 million in the year-ago quarter. The growth was mainly attributable to a 10.1% increase in comparable store sales.
Retail Ventures' gross profit grew 7.1% year over year to $220.8 million, but gross margin contracted 120 basis points (bps) to 45.1% primarily due to an increase in markdown activity.
Selling, general and administrative expenses, as a percentage of revenues, declined 200 bps to 35.1%, while cost of sales rose 120 bps to 54.9%. Accordingly, operating income spiked up 63.8% from the year-ago quarter to $17.2 million, and operating margin expanded 120 bps to 3.5%.
Financial Position
As of Oct. 30, 2010, the company had cash and cash equivalents of $113.9 million and shareholders' equity of $462.5 million. During the quarter, the company generated $54.1 million of cash from operations and deployed $16.9 million toward capital expenditure.
Our Take
We expect movement in estimates to be mixed as the company reported below expectations, but posted improved results as compared with the previous year. The Zacks Consensus Estimates for the fourth quarter of 2010, fiscal 2010 and 2011 are 22 cents, $1.55 and $1.19, respectively.
One of Retail Ventures' primary competitors, The Bon-Ton Stores Inc. (NASDAQ:BONT), posted a loss of 36 cents for the third quarter of 2010, which missed the Zacks Consensus Estimate of a loss of 22 cents. The company reported lower-than-expected results due to weak topline results.
Retail Ventures is a holding company and operated 313 shoe stores across 39 states in the U.S. as of Oct. 30, 2010, under its wholly-owned subsidiary DSW Inc. (NYSE:DSW). DSW also supplies shoes, under supply arrangements, to 351 locations for other non-related retailers in the U.S and operates the website DSW.com.