Becton Dickinson (NYSE:BDX) is the world's largest manufacturer and distributor of medical surgical products, such as needles, syringes, and sharps-disposal units. The company also manufactures diagnostic instruments and reagents, as well as flow cytometry and cell imaging systems. International revenue accounts for 55% of the company's business.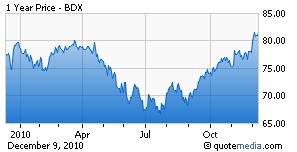 I added BDX to my investment ideas list following a screening of "medical instrument and equipment" companies. Over the last month, BDX has been trading between $74 and $78.
Please refer to my stock review explained post if you have questions on what I look for in this analysis. Click on this Surfmark if you want to see the source data for this stock review and follow the analysis step by step.
1- Business Performance Risk (+) and intrinsic stock returns (=)
Status

FCF / Sales

FCF / Sales reached 17% over the last twelve months, at the high end of historical performance between 10% and 17% over the last 10 years.

ROE

Return on equity stood at 24% over the last 12 months, in line with the 5 year average of 23%;

ROA

LTM at 14% slightly better than the 5 year average of 13%. Historically ROA has been as low as 8% for a few years.

ROIC

ROIC was also in line with historical performance at 18%. Looking before 2004, ROIC was lower but still acceptable, between 11% and 13%.

Revenue Growth

Growth has been overall very consistent with averages over 3, 5 and 10 years between 7 and 8%. Growth has been challenging in 2009 with a flat year, but seems to now be recovering with TTM revenues 5% ahead of 1009 revenues.

Cash distribution to shareholders

Dividend: BDX pays a 1.9% dividend yield, on a payout ratio of 25-30%.

Stock repurchases: Over the last 5 years, the company has bought back about 8% of its outstanding shares.
BDX seems to be a very robust business, with high free cash flow generation, high ROE and ROIC. While I would have preferred to see ROA consistently above 9-10%, the other metrics give me great confidence in the company's results. Growth has been extremely consistent at around 7% and seems to be going back to similar levels after a flat 2009.
In terms of intrinsic stock returns, an investor could receive the following:
- 1.9% dividend yield, using ~30% of earnings
- Growth of ~6%, using 25% of earnings (based on 24% ROE)
- ~3% share buybacks, based on the 45% of earnings left and a current earnings yield of 6.5%
This gives us an acceptable potential intrinsic stock return of 11%.
2- Balance Sheet Risk (+)
| | |
| --- | --- |
| | Status |
| LT Debt / Equity | Debt / Equity is currently at 0.3x, in line with previous year and well below my personal threshold. |
| Current Ratio | 2.7x; if anything that would be a bit high. |
Strong balance sheet with little debt and liquidity risks.
3- Valuation Risk (=)
| | |
| --- | --- |
| | Status |
| Cash Return | 7%, |
| Price to earnings ratio | BDX's P/E is currently in line with the S&P (15.3x vs 15.1x) and below its average over the last 5 years of 20.1x. |
While BDX's valuation is currently lower than historical levels, it is just in line with the market, which may not provide much margin of safety to an investor.
Conclusion
BDX seems to be an extremely profitable and stable business – exactly the kind I like. It also has promising intrinsic stock returns and a strong balance sheet. The only question for me is whether the current valuation leaves enough room for a margin of safety on the stock. I would be more comfortable with BDX trading between $70 and $73 as an entry point…which has happed in the recent past. I will perform a more in-depth stock analysis of BDX to get a better view of the volatility, level of margin of safety required and valuation.
Have you looked at BDX recently? What was your conclusion?
Disclosure: I am long BDX.