Introduction:
Asset allocation is a popular investment strategy for many investors. Asset allocation approaches can range from simple, complicated, to a custom tailored portfolio for a specific investor's age, goals, etc. Portioning investments between different asset classes that behave differently (uncorrelated) in various market cycles and scenarios, is the essence of diversification and ultimately reduces risk and minimize draw downs.
Taken to an active extreme level, a tactical asset allocation strategy using momentum from a large pool of asset classes may be a lucrative exercise to investigate, Results and data in this article were made using the tools at porfoliovisualizer.com. The momentum strategy described below uses non leveraged funds only - resulted in a healthy seven year back tested annual growth rate of 17% from 2007 to 2013.
The Portfolio:
All the ETFs chosen are familiar and established names with excellent liquidity.
One mutual fund was selected because there was no index based commodity ETFs that predated 2007. The thirteen funds for the different asset classes chosen for this strategy included six equity funds, two real estate funds, four bond funds, one broad based commodity mutual fund, and one gold fund. The different asset class "buckets" chosen can be considered to be a reasonable broad swath of popular investment choices available - and are represented in this strategy. Note that one could have a strategy pool containing as little as three or four uncorrelated funds, or dozens. The positive results of momentum are persistent.
ETFs and Funds Used in the Backtest:
(NYSEARCA:SPY) SPDR S&P 500 ETF
(NYSEARCA:MDY) SPDR S&P MidCap 400 ETF
(NASDAQ:QQQ) PowerShares QQQ Trust ETF
(NYSEARCA:IWM) iShares Russell 2000 ETF
(NYSEARCA:EEM) iShares MSCI Emerging Index Fund ETF
(NYSEARCA:EFA) iShares MSCI EAFE Index Fund ETF
(NYSEARCA:IYR) iShares Dow Jones U.S. Real Estate Index Fund
(NYSEARCA:RWX) SPDR Dow Jones International Real Estate ETF
(NYSEARCA:TLT) iShares Barclays 20 Year Treasury Bond Fund
(NYSEARCA:TIP) iShares Barclays TIPS Bond Fund
(NYSEARCA:LQD) iShares iBoxx $ Investment Grade Corporate Bond Fund
(NYSEARCA:SHY) iShares Barclays 1-3 Year Treasury Bond Fund
CRSOX Credit Suisse Commodity Return Strategy Fund Common Class I
(NYSEARCA:GLD) SPDR Gold Shares ETF
Strategy:
A four month relative strength look back period for best price performance was used with the top three funds chosen each month and then each holding equally weighted.
Portfolio Growth Results: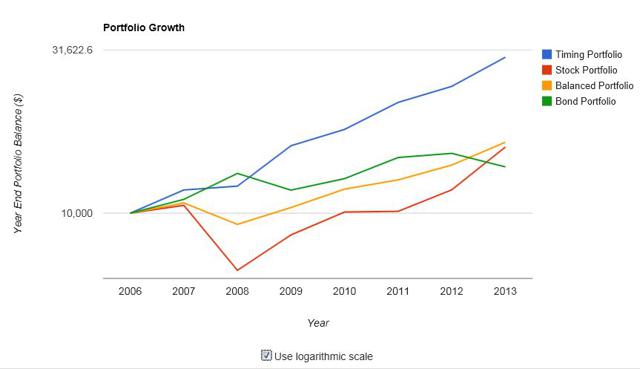 Image and statistics from portfoliovisualizer.com
Portfolio Statistics:
| | | | | | | | | | |
| --- | --- | --- | --- | --- | --- | --- | --- | --- | --- |
| Portfolio | Initial Balance | Final Balance | CAGR | Std.Dev | Best Year | Worst Year | Max. Drawdown | Sharpe Ratio | Stock Market Correlation |
| Timing Portfolio | $10,000 | $30,010 | 17.00% | 9.62% | 32.96% | 2.75% | -14.56% | 1.70 | 0.74 |
| Stock Portfolio | $10,000 | $15,937 | 6.88% | 23.66% | 35.18% | -36.74% | -50.39% | 0.36 | 1.00 |
| Balanced Portfolio | $10,000 | $16,488 | 7.41% | 10.33% | 17.47% | -14.01% | -25.68% | 0.67 | 0.97 |
| Bond Portfolio | $10,000 | $13,859 | 4.77% | 11.91% | 20.10% | -11.12% | -11.12% | 0.37 | -0.87 |
Summary, Conclusions, and Caveats:
The momentum strategy handedly beat the market and other simple buy and hold portfolios listed above - with less drawdown, smaller standard deviation and a very high Sharpe Ratio of 1.70. Note that trading costs were not figured in results. More results available here.
Why does momentum work? Barron's recently pointed out that there is no real consensus among the many theories posited.
"The behavioral models typically explain momentum as either an under reaction or delayed overreaction phenomenon (it is of course possible that both occur, making it harder to empirically sort things out). In the case of under reaction, the idea is that information travels slowly into prices for a variety of reasons."
"In the case of overreaction, investors may chase returns, providing a feedback mechanism that drives prices even higher."
The four month look back with holding three asset classes seems to be the ideal mix for this particular momentum strategy. Holding three asset classes versus one or two will typically result in less volatility. Other look back periods, different number of holdings, and your pool of asset allocation buckets will yield different results.
One could also experiment in the years to come with new ETF varieties such as "smart beta" or even the leveraged versions of asset classes to likely get some interesting results. Note that the more exotic the ETF fund variety, the more likely it will have less liquidity and more bid ask trading slippage.
Note that these strategies could be difficult to actually implement and that past performance is no guarantee of future results. Investors who want to peer deeper into momentum investing can delve into the academic research from Moskowitz, Fama and French, Mebane Faber and many others.
Disclosure: The author is long SPY. The author wrote this article themselves, and it expresses their own opinions. The author is not receiving compensation for it (other than from Seeking Alpha). The author has no business relationship with any company whose stock is mentioned in this article.