Stratasys (NASDAQ:SSYS) reported Q2 earnings and revenue that exceeded analyst estimates. The company also raised its full-year revenue and EPS guidance to reflect the overall strength in its business and growing demand for its products. The report bring back confidence in the growth of the 3D printing industry, especially after 3D Systems' (NYSE:DDD) disappointing Q2 report last week. Stratasys should continue to outperform 3D Systems going forward, since its execution and growth deserves a premium valuation over its closest competitor.
Q2 highlights
Stratasys' Q2 revenue grew 67.3% to $178 million and $22 million ahead of analyst estimates. EPS was up 22% to $0.55 and $0.10 ahead of expectations for flat year-over-year earnings growth. Organic growth in Q2 was 35%. The growth was strong across the company's business categories: product revenue increased 70.8% to $154.1 million, services grew 49.8% to $24.4 million while MakerBot sales were up 63% over Q1 to $33.6 million and up more than 100% year-over-year. Gross margin rose 70 basis points to 59.8% while the company increased SG&A and R&D spending ahead of revenue growth which affected the bottom line.
The effects of increased investments can be seen in accelerating revenue growth and higher FY 2014 guidance. Stratasys now expects at least 25% long-term annual organic growth, up from a previous goal of at least 20%. The company guided 2014 revenue between $750 million and $770 million on organic growth above 30% and EPS in $2.25 to $2.35 range. Previous guidance was for revenue of $660 million to $680 million and EPS of $2.15 to $2.25.
Stratasys should continue to outperform 3D Systems
The Q2 report shows that the company's specific focus is paying off as opposed to broad-based and aggressive acquisition strategy of 3D Systems. I have argued in my early March article that Stratasys should outperform 3D Systems on better execution and lower valuation. The execution advantage is now even more pronounced when we compare the Q2 results of the two companies. 3D Systems' organic and overall growth has declined, while Stratasys' has actually accelerated (see table below for comparisons). The other reasons for the expected outperformance were:
- Stratasys was better at maintaining margins despite increased investments.
- Stratasys was outperforming 3D Systems on the consumer side of the business.
- The more concentrated approach puts Stratasys in a better competitive position as opposed to 3D Systems' broad-based and aggressive acquisition strategy.
- Stratasys was trading at a P/S ratio discount to 3D Systems at the time.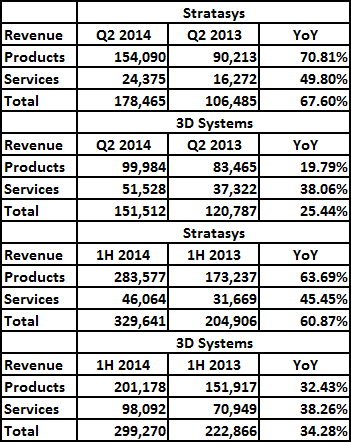 Source: Stratasys Q2 report, 3D Systems Q2 report
Stratasys is up 2% since the article was written while 3D Systems is down 24%, and all of these arguments still hold today except for the valuation discount. Although I have been positive on 3D Systems along the way, the Q2 report has prompted a change and I have lowered 3D Systems' price target to $55, which implies limited upside from the current price. I believe that Stratasys deserves a valuation premium over 3D Systems, and my price target for Stratasys is $150, based on 2014 P/S ratio of 10. This translates into approximately 30% upside from the current price.

Source: Yahoo! Finance
Conclusion
Stratasys is executing its growth strategy much better than 3D Systems, as its concentrated approach seems better than 3D Systems' aggressive acquisition strategy approach. The company has delivered an outstanding second quarter report and the strength of the business and sustained momentum make Stratasys a better investment than 3D Systems. The upside potential for Stratasys is much higher and the $150 price target implies approximately 30% upside from the current price.
Disclosure: The author has no positions in any stocks mentioned, and no plans to initiate any positions within the next 72 hours. The author wrote this article themselves, and it expresses their own opinions. The author is not receiving compensation for it (other than from Seeking Alpha). The author has no business relationship with any company whose stock is mentioned in this article.
Additional disclosure: This article reflects the author's personal opinion and should not be regarded as a buy or sell recommendation or investment advice in any way.