Capstone Therapeutics (NASDAQ:CAPS) is a company that is looking to make an entry into a billion dollar market come 2011. They have a pending Phase II data for their novel drug AVX100 for Dermal Scarring. The company issued a PR after hours on December 8th discussing that they will host an AZX100 Clinical Update Teleconference for the investing community with information from their pivotal Phase II clinical trial next Tuesday December 14th.
They are developing two novel peptide compounds for dermal scarring and pulmonary and vascular disease. AZX100 is currently being evaluated for commercially significant medical applications such as the treatment of pulmonary fibrosis, the prevention of hypertrophic and keloid scarring and intimal hyperplasia. What is unique about AZX100 is that they are a new drug class with a novel mechanism of action called Filamentous Actin Disassembly. Capstone has an exclusive worldwide license to AZX100.
The company completed interim analysis through the spring & summer on study 03, 04, and 05. They shared with their shareholders that they achieved safety, orderliness of dataset, and that their statistician encouraged the continuation of their study.
They have data due out for OL-ASCAR-04 (Keloid-Higher Doses) in the 4Q2010. They also have data out for OL-ASCAR-05 (Keloid-Lower Doses) with Final data in 4Q2010. Next week the company will let investors know of the data which will be a significant milestone for the company and could be a pathway for commercialization. The OL-ASCAR-03 data for Trocar Site Scars (Shoulder Surgery) will be out in 1Q2011.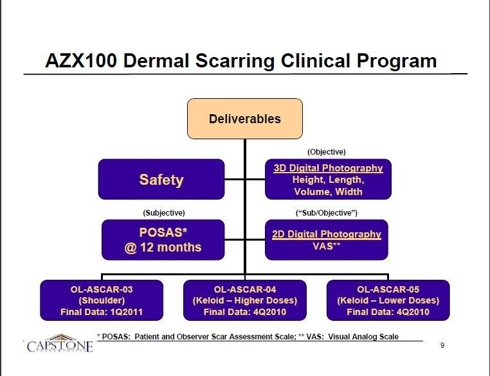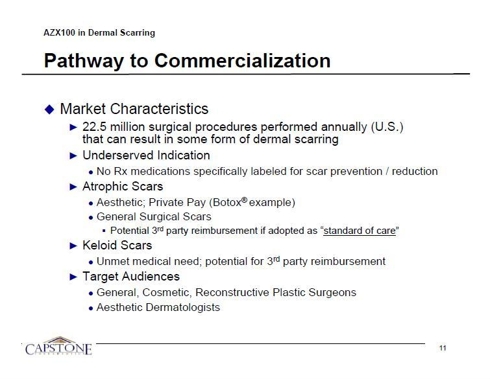 click on charts to enlarge
The market is large as there are 22.5 million surgical procedures performed annually that can result in dermal scarring. There is currently no FDA approved drug in place.
The CEO of Capstone has shared his views of the market in a recent conference call:
The potential market for AZX100 in dermal scarring could be analagous to the market to market for a drug like Botox for wrinkles which produced an estimated 1.3 billion in revenue for Allergan in 2009. AZX100 target is to serve an unmet medical needs in keloid division and general surgical scarring."
Assuming success from their Phase II clinical trial, they will seek a partner, joint development, or a license to conduct future trials.
To put the size of the market into perspective, one needs to see how a few companies with similar product lines were recently valued. Licensing Comps in Aesthetic Dermatology are big business. In June 2007, Renovo & Shire (SHPGY) had a deal where Shire payed $125 million upfront for their Dermal Scarring drug with Renovo possibly earning an additional 700 million in milestones if targets of the deal are met.
Another deal was completed in August of 2010 for 373 million with 43 million up front and a possible 330 million in milestone payments. Bayer's (OTCPK:BAYRY) Healthcare Dermatology unit bought the rights to Kythera's lead product candidate, ATX-101, which is a first-in-class drug for the reduction of localized fat under the chin.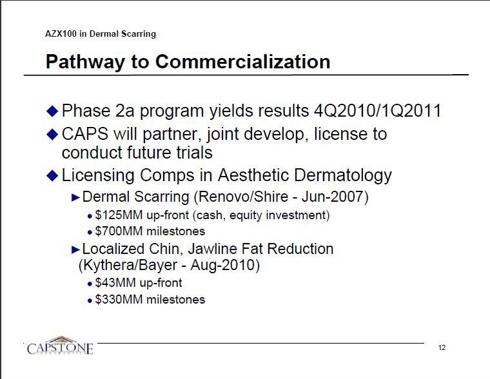 This company could possibly be one of the most undervalued & undiscovered biotech companies in the market. At about $1.15 per share, they have a market cap of around 40 million. At $2/share, their market cap is still only valued at only 80 million dollars. The company has 27 million dollars in cash and no debt. They have 40 million shares outstanding and close to 30 million in the float. Even though they fly low under the radar, they have institutional ownership of close to 30%. This stock is controlled tightly as the percentage of shares owned by large block holders is 100%. The 10 day moving avg is 50,000 shares, but on 12/9 the company traded approximately 2,410,500 shares which is was a 6,661.6 percent increase over its 65-day average volume. The shares rose $.23, or 24.0 percent, to $1.19. The company also broke its 52-wk high of $1.20 as investors started to realize the potential of this company.
If Capstone does produce positive results from their Phase II study for dermal scarring, they will be looked at as a formidable company in a highly valued biotech space.
Disclosure: I am long CAPS. My position in a stock can change at any time.