By Richard Bloch
Geoffrey Ching took a look at dot-com company valuations, presenting an interesting chart with price-to-sales information for companies with a ".com" in their name.
But how have some of these stocks performed since that "dot-com bubble" burst about ten years ago?
Let's check and see.
Since many companies from that era simply went bust, it's arguably an accomplishment that many still exist at all.
Some have been decent investments, perhaps because their business models ended up being sound, or the stocks weren't originally priced excessively.
Winners…
Here are a few of the winners, including Amazon (NASDAQ:AMZN), NetEase (NASDAQ:NTES), and Sohu (NASDAQ:SOHU):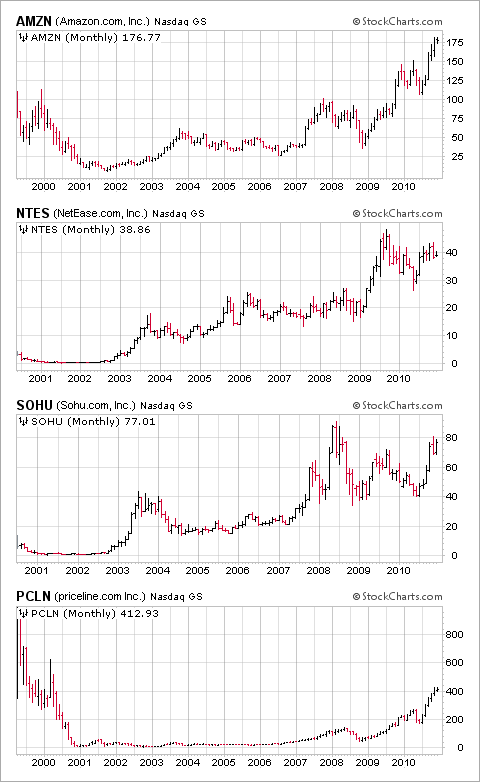 Yes, I also put Priceline (NASDAQ:PCLN) in this "winners" category. Sure, the stock has to double before it gets back to those 2000-era levels, but over the past five years or so you might have done well owning the stock.
…and losers
As I noted, these stocks deserve at least some honorable mention for still being in business, but their performance has, well, lagged: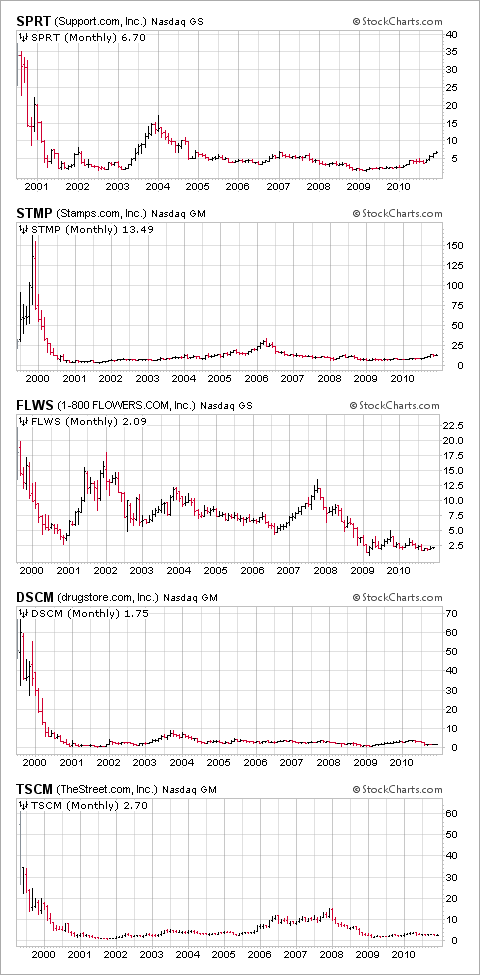 If you invested in Support.com (NASDAQ:SPRT), Stamps.com (NASDAQ:STMP), 1-800-FLOWERS (NASDAQ:FLWS), Drugstore.com (NASDAQ:DSCM), or TheStreet.com (TSCM) at their pre-bubble highs, it may be some time before you break even – if ever.
Disclosure: None