Introduction
The East Texas Eagle Ford play is found in 10 counties in southeast Texas extending from Leon County at the north end down to Fayette County. [See Figure #1]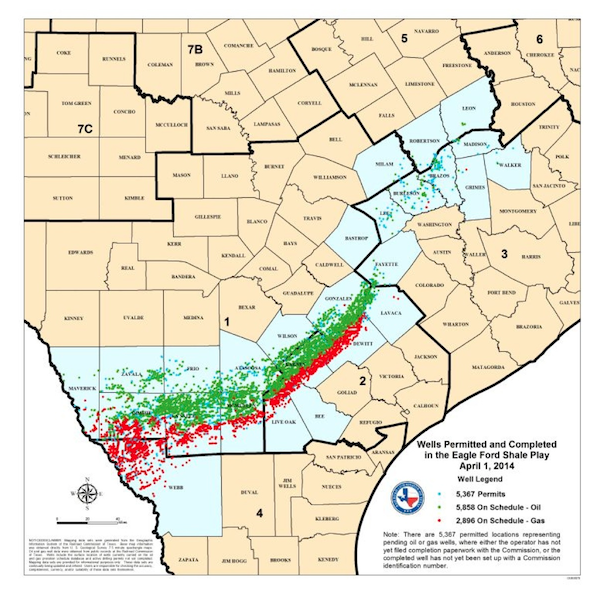 Year-to-date operator activity in the play has continued to gain momentum. So far this year 204 permits in 9 counties have been approved or are pending. This compares to 116 permits approved or were pending in all of 2013. The activity has been spread across 24 different producers: 8 public companies and 16 private companies. The most active operators (by permits) are: Apache Corporation (NYSE:APA): 47 permits (33 permits in Brazos, 14 in Burleson); Halcón Resources (NYSE:HK): 26 permits (16 in Brazos, 9 in Burleson, 1 in Robertson); Clayton Williams (NASDAQ:CWEI): 23 permits (14 permits in Burleson, 6 in Lee, 3 in Robertson); Venado Oil & Gas: 36 permits (all in Lee).
For ease of further discussion, I have broken the 9 counties having permitting activity this year into 4 sections: The North End (Leon, Madison & Grimes); The Upper Middle (Brazos and Robertson); The Lower Middle (Burleson and Milam); The South End (Lee and Fayette).
I. The North End (Leon, Madison & Grimes) [5 permits]
Year to date, the "North End" of the play continues to see very modest activity with EOG Resources (NYSE:EOG) and Endeavor Energy Resources being the only active operators. EOG has been issued 4 permits (3 in Leon, 1 in Madison). EOG's area of focus appears to be centered around the Old San Antonio Road (TX-OSR) and EOG's modestly successful Sulley 1H well. [See Figure #2.] The Sully well has produced almost 60,000 boe in six months and is tracking to be a 375-400MBOE well. EOG recently spud 2 of the 3 Grove Unit wells (Grove Unit 2H & 3H) and we should be getting early production results in Q3. Endeavor Energy has applied for a vertical well permit in Grimes County targeting both the Eagle Ford and Buda. The well will be located approximately 12 miles northeast of Apache's very successful McCullough-Wineman 1H well.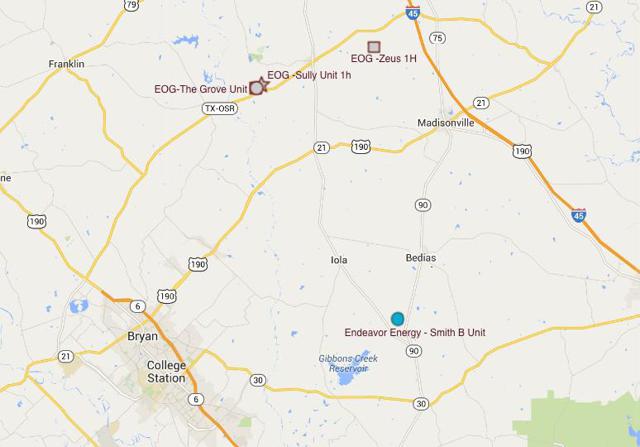 Legend: ★= Producing Well; ■ = Spudded Well; ● = Permitted Location
II. The Upper Middle (Brazos and Robertson) [80 permits]
Producers continue to be very active in Brazos and Robertson counties with a total of 80 permits approved or applied for so far this year (73 in Brazos, 7 in Robertson). This compares with 88 permits issued or applied for in all of 2013. The current producers in Brazos County are Apache Corporation, Hawkwood Energy, Halcón Resources, Laredo Energy, Lonestar Resources (OTCQX:LNREF), Ogden Resources, Petroedge Operating, Sabalo Exploration, and Marlin Energy. Four companies: Halcón, Laredo Energy, Lonestar, and Clayton Williams have or are seeking new permits in Robertson County.
Last year Halcón was, by far, the most active operator in Brazos and its activity was very focused in the middle of the county, north of Bryan and College Station. This year, Halcón has definitely shifted the bulk of its drilling to the south; and permit activity north of Bryan, Texas (along the Old San Antonio Road) is now dominated by private operators such as Hawkwood Energy and Laredo Energy [See Figure #3]. And moving down near the Burleson County line, last year it seemed that Texas Highway 21 served as an informal boundary line to the play, with operators content to stay mostly south of Highway 21. This year we are seeing more activity north of Highway 21 by the likes of Clayton Williams and Lonestar (which bought some acreage from CWEI earlier this year). [See Figure #3] In the southeastern side of the county, Laredo Energy's Texas World Speedway pad is about as far to the southeast as horizontal Eagle Ford operators have gone thus far. The Ogden Resources well is a vertical well. A prior vertical recompletion in 2006 logged the Eagle Ford as being 320' thick at this location.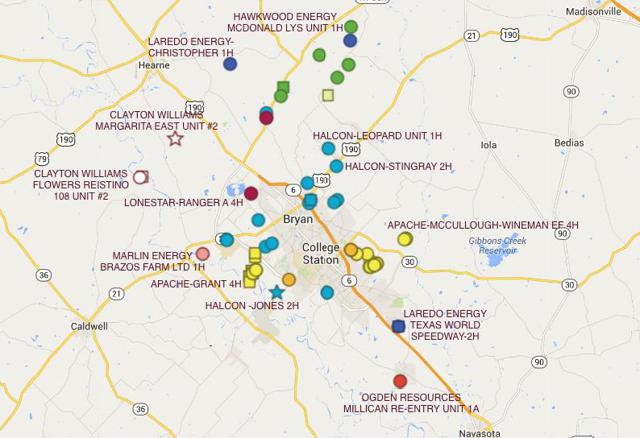 Legend: ★= Producing Well; ■ = Spudded Well; ● = Permitted Location
III. The Lower Middle (Burleson and Milam) [59 permits]
Burleson County has seen a huge increase both in drilling and in permitting this year. Last year, by this time, only nine Eagle Ford new permits had been issued or applied for. This year to date, a total of 57 permits have been issued (or are being sought), a six-fold increase! The current permit-seeking producers in Burleson are: Apache, Buffco Production, CML Exploration, Comstock Resources (NYSE:CRK), Halcón, Marlin Energy, Silver Tusk Operating, Petroedge, Petromax, and Clayton Williams .
As you can see from Figure #4 below, there is a large amount of planned activity in the middle of the county (which will prove to be the "fairway" of the entire play, I believe). But also there is some interesting activity along the northern and southern "edges" of the county. Over the next several months investors should pay attention to results from Halcón's Smokey 1H and Comstock's Mach "A" 1H & Kovar "A" 1H wells. These wells are testing the southern boundary of the volatile oil window of the play. If these wells come in strong, I could imagine a producer or two (especially Comstock-which has more acreage in that area) doing a "step-out" well even further to the southeast.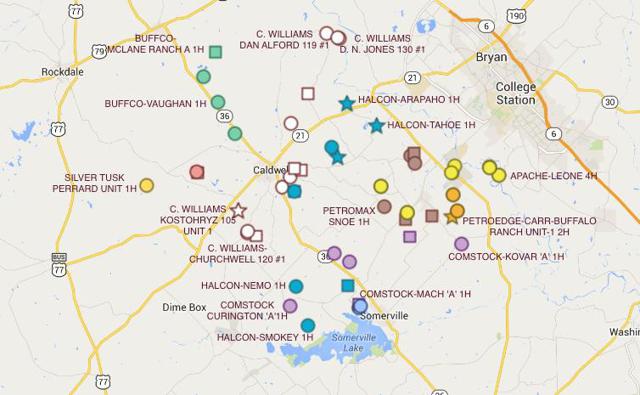 Legend: ★= Producing Well; ■ = Spudded Well; ● = Permitted Location
On the north side of Burleson County (towards Milam County), you can see in Figure #4 that more producers, like Clayton Williams , are starting to move above Highway 21 (which, as noted above, has acted like an invisible northern boundary of the play). Hopefully, Clayton Williams will spend the money necessary to get economic results from these wells. To date, CWEI's results in the play have lagged those seen by other operators (which they recognize, and intend to fix).
There are only 2 new Eagle Ford permits in Milam County, both by Buffco Production; one horizontal and one vertical. The vertical well, the most northern well shown in Figure #4, was spud on May 25, 2014. If Buffco spuds the horizontal well, you can take it as a sign that they like the results from the vertical well (which is only 5 miles away).
IV. The South End (Lee and Fayette) [43 permits]
Permitting in Lee County continues at an impressive pace. From a virtual standstill in 2012, Lee County had 13 permits approved or applied for in 2013 and 38 so far this year. Activity is dominated by a private operator, Venado Oil and Gas (36 permits this year) who, rather incredibly, has become the second most active operator in the entire East Texas Eagle Ford play. Of the permits issued this year, 9 wells are producing, 3 are awaiting completion and, 24 remain in the queue. Venado is running a 2-rig program and expects to complete 4 wells per month.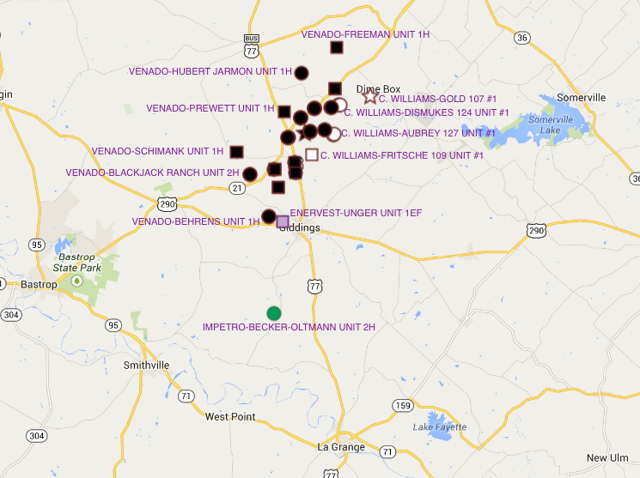 Legend: ★= Producing Well; ■ = Spudded Well; ● = Permitted Location
Venado Oil & Gas, LLC was formed in January, 2011 by former senior management of Pioneer Natural Resources and San Isidro Development; and it has received $275 million in funding from well-known private equity oil & gas investors EnCap Investments, L.P. and Riverstone Holdings LLC. Venado claims it is seeing its initial wells tracking at 400MBOE type curve. If those results hold up, then it would be good news for operators such as Clayton Williams and Enervest, both of whom have large acreage positions in the county.
As depicted in Figure #5, Clayton Williams is an offset operator to some of Venado's newly permitted wells. This year CWEI has spud one new well (Fritsche 109 Unit #1) and has 4 lined up in queue for later this year (LCT 125 Unit #1, Aubrey 127 Unit #1, Aubrey 127 Unit #2, and Dismukes 124 Unit #1. It is worth noting that during CWEI's 2Q Earnings Conference Call, Vice President of Engineering Ron Gasser specifically noted that in Lee County they are seeing offset operators (i.e. Venado) having success with longer laterals and twice the amount of sand (than CWEI uses) and that "will be the first thing that we try... the longer lateral with double the sand".
The Enervest well (Unger Unit 1EF) was spud on May 25, 2014 and should have been completed by now. An update of this well will probably be made when EV Energy Partners (NASDAQ:EVEP) has its 2Q Earnings Conference Call on August 11th. EVEP has a 14% interest in the well.
Turning back to Figure #5, it is fairly striking to note the almost complete lack of East Texas Eagle Ford activity between Giddings in Lee County and La Grange in Fayette County. Indeed, only one intrepid producer, Impetro Operating, has any plans to target the Eagle Ford in this area. What is interesting about Impetro's well, however, is that it is a horizontal recompletion of an old Clayton Williams Austin Chalk vertical well from the late 1980s. That vertical well logged the Eagle Ford as being 100' thick at that location. Whether or not 100' is sufficient for economic recovery remains to be seen. Recall that the Eagle Ford is over 320 feet thick in Brazos County, for example.
To further illustrate the potential "thickness issue" in Lee and Fayette counties, I have plotted, in Figure #6, the thickness of the Eagle Ford at various locations around La Grange (northern Fayette County) as was logged in various Austin Chalk vertical wells (which went as deep as the Buda - a rare occurrence). It is admittedly a small sample, but as you can see, the thickness varies quite a bit between 44' and 100' over a relatively short distance (approx. 20 miles).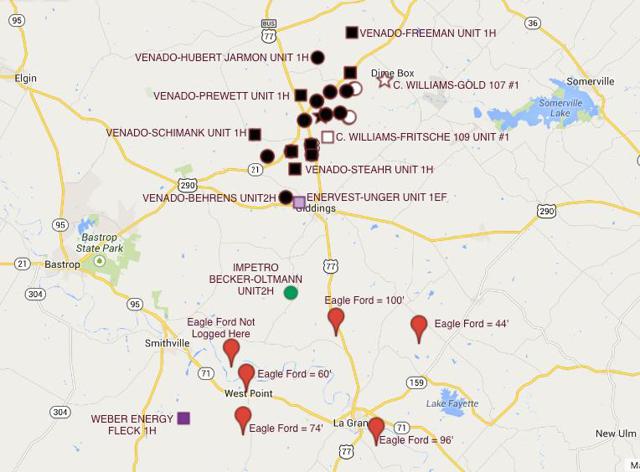 Variability of the thickness of the formation could be a major factor why operators have shied away from this part of the play. One hundred feet or less could also be too thin to be economic. In any event, it will be interesting to see what Impetro finds, especially since we know exactly how thick the Eagle Ford is at that well.
How about further south in Fayette County towards Interstate 10? To date, I have not found any vertical wells that far south which have logged the formation tops of both the Eagle Ford and the Buda, so I have no data to share at this point. However, as most readers probably know, southern Fayette County also marks the northern edge of the West Texas Eagle Ford play.
Figure #7 shows 2014 permitting activity by the two operators most active in that area: Oak Valley Resources and Sanchez Energy (NYSE:SN).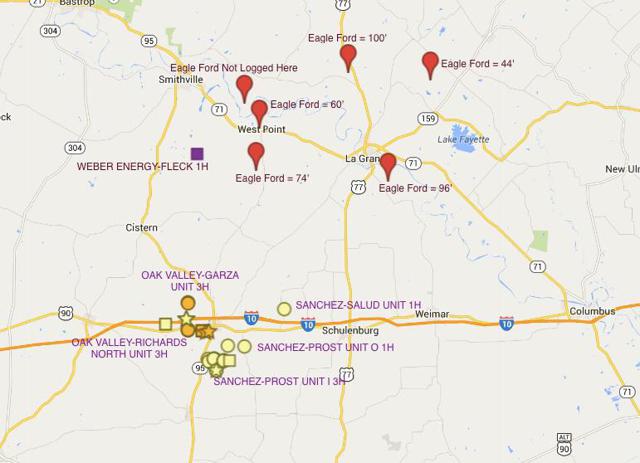 As you see in Figure #7, there is a dearth of West Texas Eagle Ford activity north of Interstate 10 or east of Flatonia, Texas. Why? Well, unlike northern Fayette County I do not think formation thickness or variability is the issue. Rather, I think the lack of activity is driven by the influence of the San Marcos Arch on this part of the formation.
As shown in Figure #8, the San Marcos Arch is a geological structure which (on today's maps) roughly follows the San Marcos and Guadalupe river valleys from Hays County southeasterly to Lavaca County. Without getting too technical the Arch was instrumental in determining how the Eagle Ford was "laid down" in that area.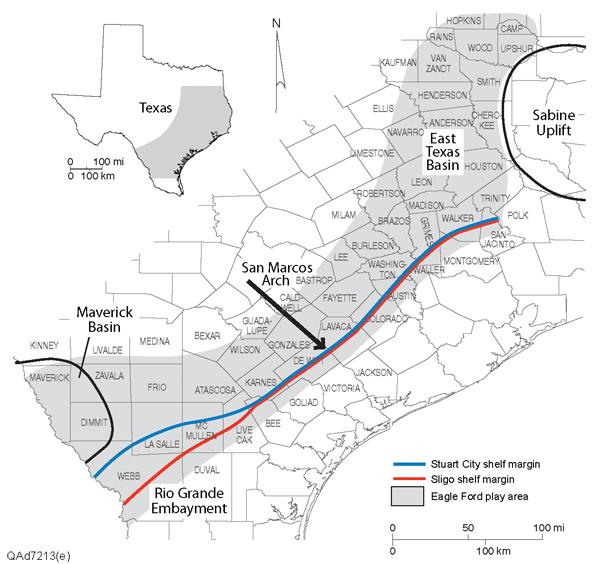 Figure #9 is an illustration of the effect of the San Marcos Arch on the West Texas Eagle Ford.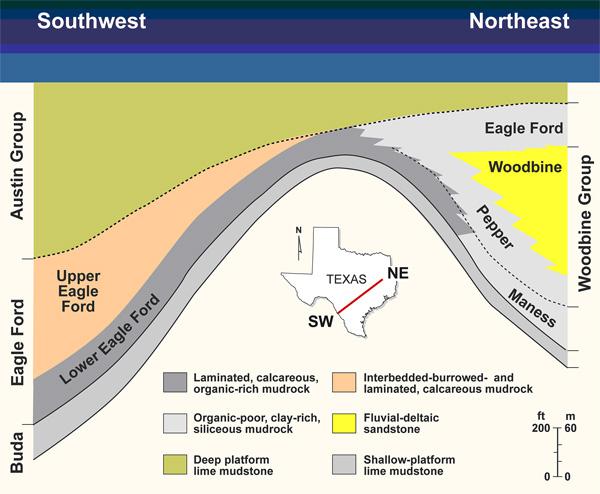 As depicted in the illustration, the Upper Eagle Ford thins and pinches out at the top of the Arch, whereas the Lower Eagle Ford dips down rather dramatically north of the top of the Arch. While the Lower Eagle Ford does not disappear, it stands to reason that as the depth increases the formation gets gassier and may even be "cooked out" the further north you go. That may explain the lack of activity between Flatonia (southern Fayette) and La Grange (northern Fayette). The play may be too gassy or too deep to be economic at this time.
One final sidenote on Fayette County activity. In May, private operator Oak Valley Resources was "purchased" by Earthstone Energy (NASDAQ:ESTE) for 9.1 million shares of Earthstone common stock. Post-close Oak Valley shareholders will own 84% of the company. What is intriguing about the deal is that it was orchestrated by Frank Lodzinski, the CEO of Oak Valley, who was glowingly described last year in Oil and Gas Investor Magazine as "a serial entrepreneur who builds and sells E&P companies; sometimes he "rescues" troubled assets, forms a company around them, then sells." Prior to forming Oak Valley he ran GeoResources, Inc. which he sold in 2012 to Floyd Wilson's Halcón Resources for $1 billion. So it would appear that this Earthstone deal is Lodzinski's latest vehicle to take his private company public, grow assets and sell them. Lodzinski has indicated that he intends to acquire additional acreage and, to that end, I would like to point out that the acreage block just to the north of Oak Valley's acreage is owned by Argent Energy Trust (OTC:ANGYF), a micro-cap Canadian E&P company which, in my opinion, is no position to develop that acreage on its own.
Disclosure: The author is long APA, HK, CRK, EVEP, SN. The author wrote this article themselves, and it expresses their own opinions. The author is not receiving compensation for it (other than from Seeking Alpha). The author has no business relationship with any company whose stock is mentioned in this article.