It has been some time since I have opined on Synta Pharmaceuticals (SNTA). Since my last piece on Seeking Alpha covering this company, which was published on December 30, 2013, I have completed my PhD in epidemiology. As such, it felt it prudent to pick up writing about the biotech and healthcare sectors now that I have returned to Seeking Alpha. I previously made the call that Synta Pharmaceuticals was one of my top picks for 2014, specifically among biotechs working on cancer therapies. To my surprise, there has not been a single focus article on this stock since my last focus article. This is surprising, given that the average analyst price target is still over three times the current share price of the stock. That said, my opinion in December was based on the fact that the company may be sitting on a formulation which if effective, could generate millions, if not billions in revenue and of course result in the stock moving orders of magnitude higher from its then price of around $4.85 per share. Since that time, the stock is down into 2014, losing 17% in value since I made the last call (figure 1). There are several reasons for the selloff, most of which, in my opinion, are a direct result of troubles at the company.
Figure 1. Synta Pharmaceuticals' Share Price, Year-To-Date, 2014.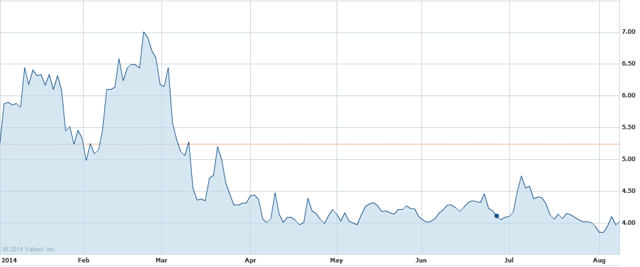 The bad news
It is important to note that the call had been correct, up until the beginning of March 2014. In fact, Synta had eclipsed $7.00, or had gained 44 percent since the call in December. Using that same benchmark of $7.00, the stock has shaved 42 percent from those levels and currently trades at $4.05. So what happened? The selloff first began after the surprising resignation of CEO Safi Bachall, who was also co-founder of the company. For a biotech that has a drug in stage 3 clinical trials, this caused great anxiety on the Street and shares started tanking immediately. About two weeks later when shares began rebounding, Stifel downgraded the company to a sell. This downgrade was not based on the potential of Synta's leading drug candidate ganetespib, but was done because of concern with delayed data readouts, necessary changes in clinical trial designs, as well as leadership changes.
This downgrade triggered a selloff that sent shares down two full points in the month of March. Ouch. Roth Capital stated in response to the near 35% decline in less than a month that the weakness was overdone. I concurred at the time, given the anticipated release of data that was pending. More on that in a moment. Despite some positive news, and in some cases strong positive news, the stock has languished in a trading range for the last three months. The stock started to move higher in July, rising about 15 percent, only to be shot down when Fed Chair Janet Yellen crushed biotech and social media stocks when she opined that they were overvalued.
Why I believe in ganetespib's potential
So there you have it, this is essentially the story of why the stock has declined. I felt it prudent to take you through that story so you can understand why I have recently doubled my position, albeit a small one, when Synta dropped below $4.00 last week. After reviewing the epidemiological data, I firmly believe that ganetespib is one of the most promising therapies under study to date among all of the companies that I follow. Recall that ganetespib belongs to a class of drugs known as heat shock protein 90 (Hsp90) inhibitors. Hsp90 plays a role in the maturation of client proteins, which help cells grow, divide, and survive. Compared to healthy cells, cancer cells are more dependent on elevated levels of Hsp90 to proliferate. As such, inhibiting the production of Hsp90 could stop certain types of cancer. An illustration is provided in figure 2. The drug has been tested in nearly 1,000 patients in nearly 30 trials. Treatment with ganetespib has been shown to reduce some aggressive features of tumors, such as the ability to induce the growth of new blood vessels, the ability to spread to other organs in the body, and to resist attack by traditional therapies, such as chemotherapy. For more on the action of this drug please visit this recent piece.
Figure 2. Molecular Action of Heat Shock Protein 90 Inhibitors.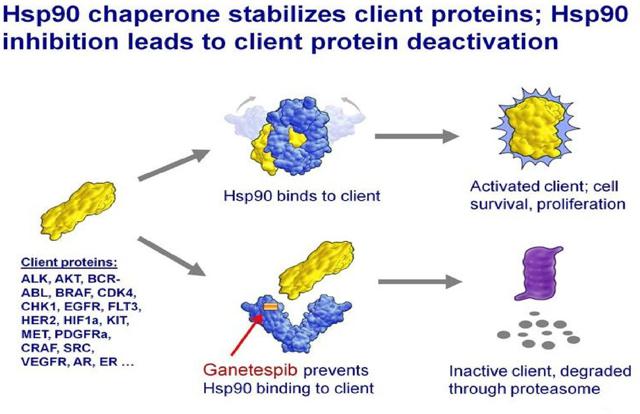 But is the recent data actually worth investing your money in? The answer, in my opinion, is yes. While in this game there are never any guarantees, Synta's data has repeatedly been good to strong. As it has not been covered elsewhere, let me discuss the recent data highlights from the company since my last piece so that you can better understand my bullish thesis.
Recent data releases and important developments you need to know about
Synta recently announced the initiation of three multicenter, randomized trials supported by the Leukemia & Lymphoma Research Fund and Cancer Research UK, evaluating ganetespib in combination with chemotherapy in first-line treatment of patients with acute myeloid lymphoma and high risk myelodysplatic syndrome. These trials are conducted under the guidance and oversight of the UK National Cancer Institute Haematological Oncology Study Group with investigators in Denmark, France, New Zealand, and the United Kingdom and under the sponsorship of Cardiff University, UK.
So why pursue this trial? Well, preclinical results from Synta and its collaborators have shown that ganetespib inhibits a number of cancer-promoting factors believed to contribute to the proliferation of leukemic cells and renders them more vulnerable to treatment with chemotherapy. The company also announced the launch of GANNET53, a European randomized trial evaluating the combination of ganetespib and paclitaxel vs. paclitaxel alone in over 200 patients with metastatic, predominantly p53 mutant, platinum-resistant ovarian cancer. One of the three trials has now advanced to stage three, and data collection is underway. Further, it is important to note that the data leading to this advancement was seen as very positive by JMP Securities.
Another promising trial was announced in March. Both Synta and the QuantumLeap Healthcare Collaborative will test ganetespib, in the I-SPY 2 TRIAL (this stands for the investigation of serial studies to predict your therapeutic response with imaging and molecular analysis 2). So what is going on in this trial? I am actually excited about this one. I-SPY 2 is a standing phase 2 randomized, controlled, multicenter trial for women with newly diagnosed, locally advanced stage 2 breast cancer or beyond that will test whether adding ganetespib to standard chemotherapy is better than standard chemotherapy alone. This is a common approach in phase 2 trials, but what is interesting is the methodologies being employed. The trial will use an adaptive trial design to match experimental therapies with patients. In this approach, biomarkers from individual patients' tumors are used to screen which treatments seem like they would be most effective in specific patient subgroups. Regimens that have a high Bayesian predictive probability of showing superiority compared to standard therapy in a 300 patient phase 3 confirmatory trial in at least one of 10 predefined groupings can be promoted up from the I-SPY 2 trial. It is being designed so that once 60 patients are assigned to a regimen, if it is effective it can be promoted. This efficacy cutoff is high and the rapid turnaround time employed with this technique will allow the clinical trialists to identify the right drug for the right patient effectively and efficiently.
ENCHANT-1
Synta also announced positive results in March on the ENCHANT-1 trial. According to its study design, Synta was evaluating ganetespib over 12 weeks as a single-agent therapy and looking at both efficacy as well as predictive biomarkers across three trial cohorts, including HER2-positive patients, and triple-negative breast cancer patients, or TNBC. For more on this trial design and earlier data please refer to my article from December 2013 (link provided in opening paragraph). The results demonstrated that six of seven patients that were evaluable in the HER2-positive cohort at week three achieved a metabolic response while 18 of 31 in the TNBC arm achieved a metabolic response. For those who were evaluable at week six, four had an objective response and two with stable disease in the HER2-positive cohort and two had an objective response, 11 achieved stable disease, and 13 progressed in the TNBC cohort. Synta also pointed out that one patient in the HER2-positive intent-to-treat group has achieved a complete objective response and has remained on ganetespib for more than 10 months.
GALAXY-1
Synta in May announced final results from the GALAXY-1 trial, a global, randomized, multi-center study designed to identify the patients with advanced non-small cell lung cancer (NSCLC) with adenocarcinoma histology. The data was epidemiologically strong. GALAXY-1 was designed to identify patient populations that are most responsive to treatment with the combination of ganetespib and docetaxel. Co-primary endpoints of the study were progression free survival (NYSE:PFS) in patients with elevated LDH (eLDH) and PFS in patients with mutant KRAS (mKRAS). Key secondary endpoints were overall survival (OS) and PFS in adenocarcinoma patients. Pre-specified stratification factor analysis has shown that the chemosensitive patient population (defined as patients diagnosed with advanced NSCLC more than 6 months prior to study entry) derived the most benefit with combination treatment. This chemosensitive population was selected for the ongoing Phase 3 GALAXY-2 trial. Key efficacy results are presented in table 1.
Table 1. Efficacy Results of Ganetespib Versus Docetaxel in The GALAXY-1 Trial
Hazard Ratio

Ganetespib plus Docetaxel vs. Docetaxel alone

eLDH

N=87

mKRAS

N=89

Chemosensitive*

N=177

Adenocarcinoma

N=253

Overall Survival

Unadjusted

0.88

p=0.300

1.18

p=0.755

0.71

p=0.023

0.87

p=0.150

Adjusted

0.75

p=0.118

1.23

p=0.204

0.69

p=0.019

0.84

p=0.114

Progression Free Survival

Unadjusted

1.06

p=0.595

0.93

p=0.387

0.75

p=0.040

0.85

p=0.112

Adjusted

0.88

p=0.295

1.11

p=0.338

0.74

p=0.042

0.82

p=0.078
* Population selected for Phase 3 GALAXY-2 trial
P-values are 1-sided
Hazard ratios were calculated using Cox proportional hazards model
Unadjusted: univariate analysis
Adjusted: pre-specified analysis adjusting for multiple prognostic variables such as gender, smoking status, LDH, ECOG performance status, interval since diagnosis of advanced disease, age, total baseline target lesion size, and geographic region
As you can clearly see in table 1, both the crude (unadjusted) and adjusted hazard ratios (with Cox Proportional Hazards regression modelling) demonstrated the protective effect of the combination therapies. Results were statistically significant for those labelled chemosensitive and approached significance for those with adenocarcinoma. The hazard ratio of 0.69 for overall survival means that those in the treatment arm were 31% less likely to "have the hazard of death" (because hazard ratios compare so-called hazards, or the instantaneous risk of having the outcome event during the study). Those in the combination group also fared better for progression free survival. What is more, the drug has had few reported adverse events of concern. The most common adverse events were neutropenia (46% vs. 45%), diarrhea (50% vs. 17%) and fatigue (35% vs. 24%), for the combination therapy (N=123) vs. docetaxel alone (N=126), respectively. The only concerning side effect was one case of visual impairment which was mild and transient. Further there were no statistically significant differences for the safety profile of patients in the chemosensitive population being evaluated in phase 3 versus the adenocarcinoma population.
Other important developments
This data should impress any serious biotech investor. While I have certainly seen stronger data in past trials from other companies (none of which are studying Hsp90 inhibitors) it is quite clear that the GALAXY-1 data was excellent, the ENCHANT-1 is promising, and the newer trials underway have huge potential. To me, the stock should be trading higher than it was this time last year, but it is important to remember that most developmental biotechs' share prices have been decimated since the spring time. You must keep that in mind. The whole sector is on the rebound. Aside from the positive data, what other developments should we keep an eye on?
Cash
I think the biggest issue besides data quality to be concerned with is cash. During most quarterly conference calls and reports I am always on the lookout for the cash burn rate. Actual earnings really do not mean much to me, unless the company already has some drugs on the market. So how is the company doing on cash? Well, Synta should have enough cash to last half-way into 2015. Synta raised an aggregate of approximately $56.6 million in net proceeds last quarter the sale of its common stock under its at-the-market issuance sales agreements with MLV & Co. and in a large offering to Bruce Kovner, who is a huge believer in Synta. In this offering, the company raised $5 million in a private stock offering. As you know, Synta does not yet have revenues, so it of course did not recognize any in the second quarters of 2014 and 2013.
In the most recent quarter, research and development expenses were $18.8 million compared to $17.9 million for the same period in 2013. General and administrative expenses were $2.9 million for the second quarter in 2014, compared to $4.2 million for the same period in 2013. Although losses do not really matter, I will point out that Synta reported a net loss of $22.3 million, or $0.24 per basic and diluted share, in the second quarter of 2014, compared to a net loss of $22.8 million, or $0.33 per basic and diluted share, for the same period in 2013. As of June 30, 2014, the company had $112.1 million in cash, cash equivalents and marketable securities, compared to $91.5 million in cash, cash equivalents and marketable securities as of December 31, 2013. Given this cash hoard, current trial activities, and projected burn rates, I believe that Synta has funding to last halfway into 2015, if not longer.
A new leader
Synta has also replaced Safi Bachall with an innovative leader with demonstrated success. On September 2, 2014, Anne Whitaker will take the reins at Synta. Anne Whitaker could be just what the company needs. She has more than 20 years of experience in the pharmaceutical industry, principally at GlaxoSmithKline (NYSE:GSK) and Sanofi (NYSE:SNY) including, most recently, the role of President, North America Pharmaceuticals, at Sanofi. Her time with GSK and SNY have prepared her for this leading role. However, GSK and SNY are both huge companies with endless resources compared to Synta, which has no revenues and no products on the market. It will be a challenge, but her success in these big names should make for an interesting leader. As President, North America Pharmaceuticals, at Sanofi, she oversaw all pharmaceutical and consumer healthcare operations within the region. She also served as a member of Sanofi's Global Leadership Team, Global Commercial Operations Committee and U.S. Regional Management Committee. To be honest, I was surprised the stock did not move higher after this name was announced. However, I think the stock is in a good position for accumulation.
Short squeeze?
I would be remiss if I did not state that Synta has always been a short target. If shares start to move substantially higher then a squeeze is inevitable. Data on what qualifies as a squeeze is debatable, but generally any time more than 20% of the float is sold short, a meaningful squeeze can occur. At the time of this writing, 12.3 million shares are sold short, or 22.2% of the float. Mini-squeezes often occur in this name, and it is not uncommon to see shares rise 10% or more per day. This sets up nicely to trade around a core position.
Conclusion
I plan to cover a number of biotechs in the coming weeks, but Synta remains my favorite developmental stage name. Ganetespib could be a blockbuster and the data is very favorable. More trials for other conditions are underway, a new leader has taken the reins and the company has sufficient cash. While these types of stocks are tough to value, I firmly believe that Synta is extremely undervalued given the potential of the drug it has in its pipeline. In my estimation, Synta should be priced around $10 per share, but should most certainly be over $5.00 a share, which represents a 25% gain from current levels. The science is sound, and the business side is improving. I look forward to looking at some of these trials more in depth in the coming months.
Disclosure: The author is long SNTA. The author wrote this article themselves, and it expresses their own opinions. The author is not receiving compensation for it (other than from Seeking Alpha). The author has no business relationship with any company whose stock is mentioned in this article.