The energy sector of the market is on fire. Oil recently broke through resistance at $88 a barrel and, despite a retracement to that level on Wednesday, looks poised to go higher in 2010.
A weak dollar combined with upward revisions to global growth and a seemingly successful quantitative easing program (for the time being, at least) all lend credence to those calling for higher energy prices.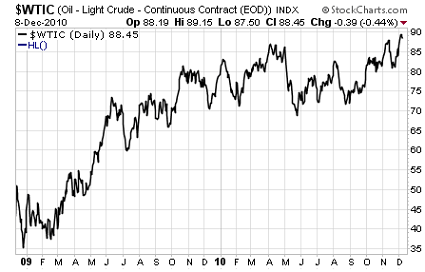 There are plenty of oil and gas companies out there that small-cap investors should consider buying. But with more rapid growth expected in developing nations, I'd recommend taking a look at coal-related investments as well.
Coal is cheap, dirty, and hated. That combination, while not necessarily great cocktail party fodder, typically makes for a great investment. The reality is that this commodity is a shoulder energy source for many developing countries that don't yet have the infrastructure to distribute alternative energy sources (and that also happen to be a more expensive net of tax credits) like wind and solar, as well as more traditional sources like oil and natural gas.
One way to gain broad exposure to coal is through Market Vectors Coal ETF (NYSEARCA:KOL), an option that has returned 17.2% for investors so far in 2010, and 40% since the end of August.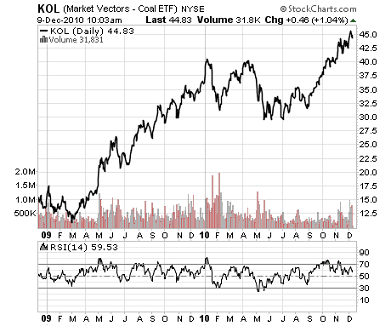 A very wise man once said: "The 19th century belonged to England, the 20th century belonged to the U.S., and the 21st century belongs to China. Invest accordingly." That man was Warren Buffett, one of the most well-known, well respected, and most successful investors in the world.
During the middle of the global financial crisis, China's GDP growth slowed to 6.2 percent. It has since returned to previous levels, near 10% GDP growth. I wish U.S. GDP could hit 6 percent. You have to go back to the 1980s to see the U.S. with that rate of growth.
According to the International Energy Agency (EIA), last year China passed the United States and became the world's largest energy consumer. The IEA says China consumed about 2.3 billion tons of oil equivalent (btoe) in 2009, while the U.S. consumed 2.2 billion tons, about 4% less.
This "changing of the guard" was not the least bit surprising to those of us who have been monitoring China's growth. The EIA's chart below shows Asia's increasing coal consumption over the coming 25 years, relative to that of the rest of the world and North America.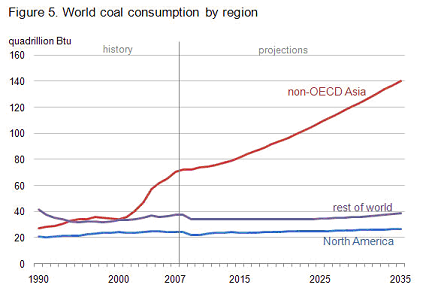 As Asia (meaning mainly China) continues to export more and more goods, producers are using more inputs. Naturally, energy is one of the largest of these. Contributing to the growth of energy consumption is the fact that China's middle class, which according to the Euromonitor International will reach 700 million by 2020, is using more energy as it purchases cars, homes, and other consumer products.
Fatih Birol, chief economist at IEA, said this change in global energy consumption marks "a new age in the history of energy." Avoid the transition at your own profit-peril. You should have some exposure to the trend, and coal mining companies are one of the best ideas.
In the EIA's 2010 International Energy Outlook, the agency projected that coal use would continue to be the second-most popular choice for the foreseeable future, through 2035.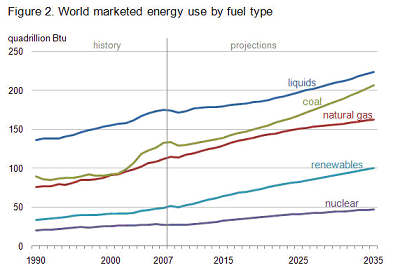 Investors should at the very least have some exposure to coal for the simple fact that it is one of the largest contributors to global energy output.
Coal is in many ways the antithesis of clean energy, but don't let that fact alone deter you from investing in it. It is plentiful and cheap. Consider coal to be a "subsidy" to alternatives -- phasing alternatives into the energy mix while continuing to use coal keeps the entire energy supply within bounds of what is economically feasible.
The United States only developed so quickly and got to where it is today by using coal and other energy sources that were easily accessible. China and other developing nations represent the country we used to be, in terms of energy needs.
The fact remains that coal is the top energy source driving the global economy. Adding coal exposure to your portfolio is the best way to gain exposure to growing energy consumption. Doing so means you're invested in what is proven to work; that's an approach that would make Warren Buffett proud.
Disclosure: None