Just about a month ago I wrote a piece about BlackBerry (BBRY) and endorsed, once again, my bullish thesis of the smartphone manufacturer in light of the announced partnership between Apple (NASDAQ:AAPL) and IBM (NYSE:IBM) in enterprise solutions.
In this previous article I argued that the collaboration between Apple and IBM to push into the enterprise mobility segment is largely overrated and blown out of proportion by investors. To see this, one has to look no further than to BlackBerry's stock price when the partnership between the two tech giants was announced: The stock was down about 12% that day alone, which speaks volumes about the negativity investors were reading into the news.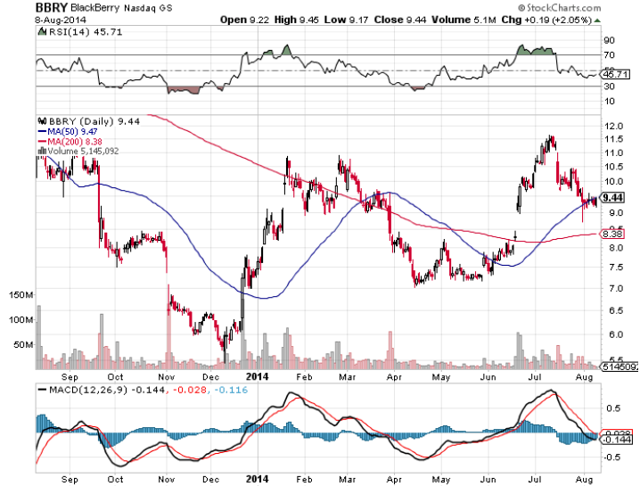 BlackBerry's shares sold off sharply under heavy volume and I argued at the time that investors should ruthlessly take advantage of the sell-off.
I have also mentioned the attractiveness of a short-term trading opportunity at the $10 level as the sell-off was largely driven by fearful investors who didn't really weigh the pros and cons of the Apple and IBM partnership and its impact on BlackBerry.
A little perspective please
The announcement of the enterprise partnership had all the ingredients a good story must have to scare insecure investors: Two tech giants, one of which is "almighty Apple," are going to finally push BlackBerry off the cliff, a company so badly beaten it just waited for the final dagger thrust. Yawn!
Just because Apple has a strong consumer franchise doesn't mean the company will be able to effortlessly swoop in and take over BlackBerry's enterprise market share. BlackBerry is a leader in enterprise mobility and the Apple/IBM initiative is not going to change this status quo.
Chen also confronted investor anxiety over the partnership agreement in an interview on CNBC (interview here) and generally welcomed competition in an expanding enterprise market. His reaction certainly didn't sound as if the Apple/IBM partnership was perceived as an existential threat.
Now that BlackBerry's stock appears to have bottomed out, I'm more confident than ever that the smartphone maker has great potential to surprise to the upside as expectations are still relatively low and investors are largely not yet convinced a turnaround can be successful.
Significant margin of safety
Sometimes investors really get carried away with their dislike for a company and perceptions in the stock market often are false. Just consider that BlackBerry reported $3.1 billion in cash and investments on its balance sheet at the end of the first quarter of fiscal 2015.
This translates into about $5 per share in pure cash and investment value. In other words: BlackBerry's cash and investments alone account for approximately 53% of BlackBerry's market capitalization: The company remains dirt cheap.
BlackBerry also returned to GAAP profitability (something many investors were skeptical about) and generated approximately $200 million in free cash flow.
All of these items highlight BlackBerry's comical undervaluation and a massive margin of safety for investors.
Conclusion
A turnaround is going to be a bumpy drive. As much as I'm convinced Chen is the right guy for the restructuring and stabilizing of BlackBerry's revenue base, there will be short-term setbacks, let's not fool ourselves.
Those setbacks, which could either come in the form of a weaker sales performance of the Z3 in its Asian launch markets or in the form of lower operating margins in the quarters ahead, are likely to be ruthlessly exploited by bears drumming up support for their case.
However, given the progress BlackBerry has already made since Chen took over, I believe the smartphone company has meaningfully altered its growth trajectory and positive surprises in terms of revenue growth and a sooner-than-expected return to cash flow profitability could indeed be accomplished in the near term.

Disclosure: The author is long BBRY, AAPL. The author wrote this article themselves, and it expresses their own opinions. The author is not receiving compensation for it (other than from Seeking Alpha). The author has no business relationship with any company whose stock is mentioned in this article.