According to a recent regulatory filing by JPMorgan (NYSE:JPM), the bank's loss in litigation costs over and above its legal reserves has risen dramatically. As of the end of June, it is now $4.6 billion.
Although JPMorgan, like most other banks, is reluctant to talk about how much it has set aside for legal expenses, investors have asked for these numbers to be disclosed as a way of helping them decide whether the bank's legal expenses are going up or down. They compare the cost of legal expanses figures with the bank's earlier forecasts.
Strict Regulatory Environment after the Financial Crisis
JPMorgan, like many of the country's mega-banks, has faced a strict regulatory environment in recent years. The financial crisis that occurred in 2007-2008, often considered the worst financial meltdown since the notorious Great Depression, alerted government regulatory agencies associated with fiscal matters about the need for more vigilance when it came to observing banking practices.
As a consequence of numerous investigations into the causes that led up to the financial crisis, JPMorgan was found guilty on numerous counts, and has had to pay billions of dollars in penalties.
The bank has been involved in flagrant legal violations - ranging from manipulating interest and currency rates, to contributing to the problem created by toxic mortgages.
Still Immersed in Legal Woes
JPMorgan, the largest bank in the United States by assets, has yet to clear all its legal woes, and besides facing the wrath of regulators and federal investigators, it has also been besieged by a plethora of class action suits.
However, the bank's Security Exchange Commission (SEC) filings on Monday did not include new cases or major updates to current cases. According to the filings for the quarter that ended in June, the bank's legal expenses have dropped since the quarter this time last year. On June 30, 2013, the bank incurred $678 million in legal expenses; but, by contrast, on June 30, 2014, the bank only incurred $669 million in litigation costs.
Cooperating with Regulators
The filings stated that the bank was cooperating with regulators on the illegal manipulation of interest rates and currency markets that occurred in 2007 and 2008.
The Securities and Exchange Commission, the Commodities Future Trading Commission, and the US Department of Justice have been conducting an industry-wide investigation into the variety of bank-related violations and financial abuses that led up to the financial crisis.
Sued By Municipalities Over Mortgage Fiasco
Besides answering to these federal agencies, the bank is also embroiled in litigation from three municipalities who are suing for alleged abuse of the Fair Housing Act and Equal Credit Opportunity Act. These municipalities are seeking compensation for the loss of tax revenue due to the bank's foreclosures. They are also seeking damage for the spike in their costs related to blighted neighborhoods.
Trustees Accepting Majority of Proposals
Trustees who represented the investors in the bank's $4.5 billion settlement over securities backed by mortgages accepted in whole or in part JPMorgan's proposal for most of their trusts. Out of 330 securities, they accepted 310. They rebuffed the settlement for 6 trusts under pending litigation, and have a 60-day extension to get investors' feedback on whether or not they should accept another 14 trusts.
For JPM Investors: Consider Alternatives
A significant increase in reserves for legal expenses potentially takes away from what JPM can pay out to its shareholders.
While JPM dividends have been increasing, they are still not back to their pre-financial crisis levels.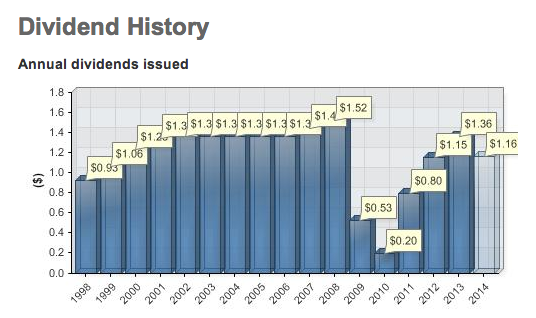 (Source: JPMorgan Chase)
In Q2 2014, JPM saw an 8% decline in earnings, slowed down by decrease mortgage lending, among other factors.
Rival Goldman Sachs (NYSE:GS), in contrast, grew by 5%, deciding to maintain its central trading business, despite a tough environment.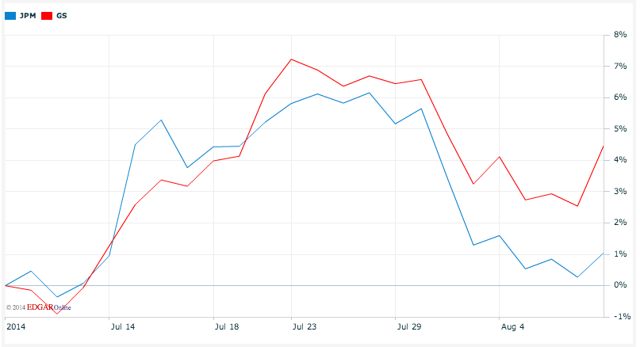 (Nasdaq.com)
We suggest investors consider GS, or Morgan Stanley (NYSE:MS), which has posted consistently strong results and is generally free of the massive settlements facing the broader industry, over JPM, moving forward in 2014.
We invite readers wishing to join the discussion on JPMorgan and mega-bank rivals to click the +Follow button above the title of this article, and those looking for the latest updates to click +Get real-time alerts.
Disclosure: The author has no positions in any stocks mentioned, and no plans to initiate any positions within the next 72 hours. The author wrote this article themselves, and it expresses their own opinions. The author is not receiving compensation for it (other than from Seeking Alpha). The author has no business relationship with any company whose stock is mentioned in this article.