Regular readers of our blog and clients of our Bespoke Premium service are undoubtedly familiar with our seasonal analysis of markets and individual sectors. While there are always some who roll their eyes at this type of approach, we believe it should be one of many inputs in the investment process of investors.
That being said, even the most widely used approaches to investing don't always work, and in the case of seasonal patterns, this year's award for not following the script is long-term Treasuries.
The chart below shows a composite chart of the US long bond future's performance in 2010 (blue line) and compares that to the average return going back to 1980 (gray line), as well as the prior five years (red line).
As shown, the pattern in 2010 is practically the complete opposite of what we typically see throughout the year. While treasuries have traditionally been weak from the late Spring to late Summer periods, this year they saw huge rally.
Then, after peaking in August, treasuries have given up a lot of their gains during a period where they have traditionally rallied. With the declines since September, the yield on the 10-Year US Treasury is now on pace to rise for the fourth consecutive month, which is something that has only occurred two other times in the last ten years!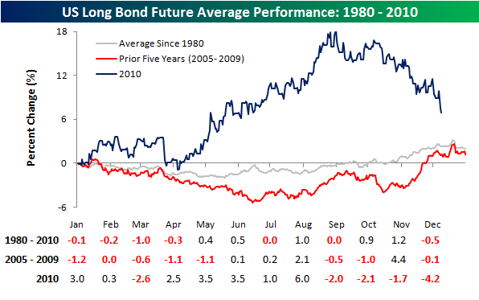 (Click to enlarge)
Disclosure: No positions