Shares in Darden Restaurants (NYSE:DRI) are down 13.17% year to date and are now trading at $47.21, just slightly above the 52 week low of $43.56. The company reported disappointing 4th quarter results, which sent shares tumbling. This has caused the dividend yield to reach 4.66%, which is very high considering the industry average dividend yield stands at 2.0%.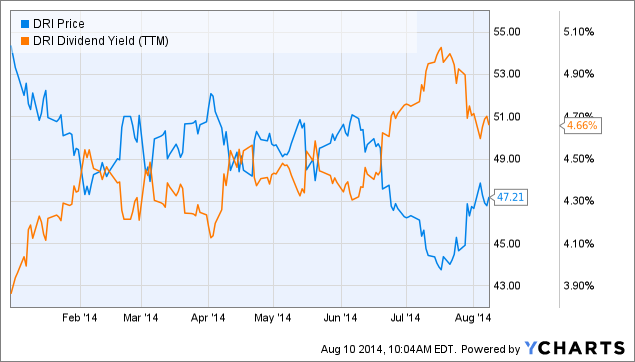 DRI data by YCharts
The company has recently sold Red Lobster for a price of $2.1 billion, $1 billion of which will be used to reduce Darden Restaurants' long-term debt. Darden's long-term debt stands at $2.48 billion and will be reduced by approximately 40% as a result. Furthermore, the company has announced it will be using part of the proceeds of the Red Lobster sale to reduce the number of outstanding shares. DRI will buy back $500 million worth of its own stock, which is equal to 8% of the current $6.25 billion market cap.
Diluted earnings per share in the most recent fiscal year were $2.15, which is a lot lower than the $3.12 the company reported one year earlier. Analysts are forecasting earnings per share to reach $2.25 in the current fiscal year, with a further increase to $2.49 expected in fiscal year 2016. This means DRI is trading at 19.0 times expected earnings for next year and 21.0 times this year's expected EPS. This is a pretty high valuation considering the forward P/Es competitors are trading at. For example, you can get DineEquity (NYSE:DIN) at 18.1 times expected earnings for the current fiscal year, while Denny's Corporation (NASDAQ:DENN) is currently trading at a forward P/E of 18.9. Revenues for the current fiscal year are expected to reach $6.69 billion, which puts Darden's forward P/S ratio at 0.93, well above its 5-year average of 0.8.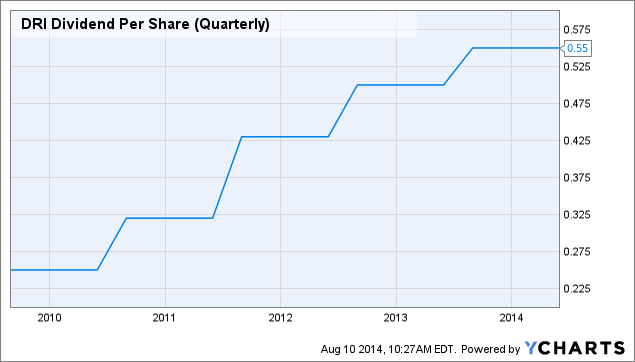 DRI Dividend Per Share (Quarterly) data by YCharts
Considering EPS estimates I wouldn't expect to see Darden's dividend grow too much, if at all, for the current and next fiscal year. However, at a yield of 4.66%, investors will get paid a very decent amount for their patience. In its most recent quarterly report, the company stated it expects to continue paying a $0.55 quarterly dividend. If analyst expectations for EPS are correct, this will give DRI a payout ratio of 97.8%, which will decrease to 88.4% assuming the dividend remains at the same level.
Conclusion:
The sale of Red Lobster gives Darden Restaurants an opportunity to pay off a large portion of its long-term debt. Furthermore, the company will be spending $0.5 billion on share repurchases, which should boost EPS growth. At 21 times expected earnings , shares in DRI are far from cheap, and although the 4.66% dividend looks very appealing, the high payout ratio will likely prevent the company from raising it until EPS grows significantly. Darden's price to sales ratio is well above historical averages. A return to the 5-year average P/S ratio would require a drop in market cap of $900 million, which would put shares at a price of $40.45. I won't be buying DRI at this time but a drop to $40 or lower would in my opinion be a good reason to buy.
Disclosure: The author has no positions in any stocks mentioned, and no plans to initiate any positions within the next 72 hours. The author wrote this article themselves, and it expresses their own opinions. The author is not receiving compensation for it (other than from Seeking Alpha). The author has no business relationship with any company whose stock is mentioned in this article.