By Brad Zigler
You draw enough charts and eventually you start pondering about their revelations in the small hours of a morning. This morning, I marveled at the hamstringing of the U.S. Federal Reserve Board when I updated my Fed Operations Indicator chart.
Fed Operation Indicator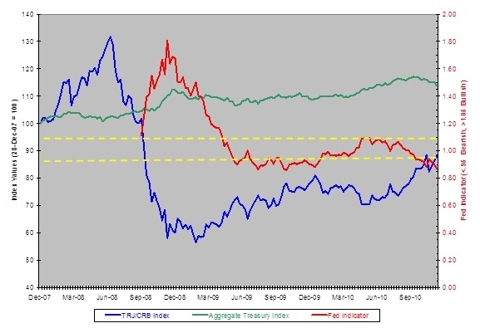 (Click to enlarge)
The indicator's downward momentum (the red line on the chart above) is worrisome. You can see it's dipped below the band scribed by the yellow dashed lines. That band essentially describes the Fed's usual maneuvering room. Smallish open market operations (buying and selling relatively modest amounts of Treasury and agency securities through primary dealers) -- akin to alternatively tapping the economy's brakes and accelerator -- are typically all that's needed to keep liquidity on an even keel. That is, keep the indicator between the dashed lines.
Breakouts below the band are usually bearish for equity investors and bullish for commodity buyers. They represent periods when commodity prices -- the blue line tracking the TR/J CRB Index -- rise faster than bond prices. Bonds are depicted by the chart's green line.
In times like this, the Fed would normally tap the economic brakes by withdrawing liquidity -- selling paper to primary dealers to mop up cash. These are anything but normal times, however. For one thing, all that liquidity isn't really circulating in the banking system. It's gone into reserves as gun-shy financial institutions have bolstered their balance sheets but still aren't making loans at their former pace.
The lack of money velocity is reflected in our Monetary Inflation Index. On a year-over-year basis (tracking the last 365 days), the daily indicator is negative (see the subhead above). Monetary inflation measures the dollar's global purchasing power reflected through the gold and foreign exchange markets.
U.S. Monetary Inflation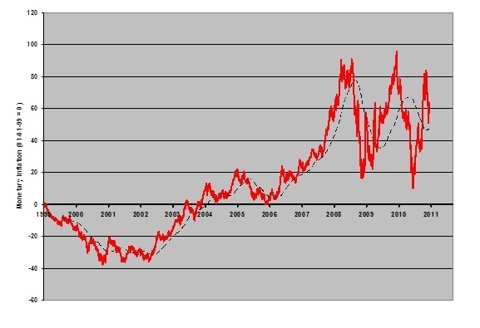 (Click to enlarge)
In large part, it's the lending logjam that's prompted the Fed to implement QE2, to dislodge that bolus of liquidity and get it to pass through the economy. The central bank is trying to prime the pump but, up 'til now, nobody has really been all that thirsty. The demand for loans hadn't yet been kicked up.
That's the Fed's dilemma. It's got its hand on the supply spigot, but it can't kick-start demand. That's in the hands of the legislative and executive branches. The next few weeks will tell us if the Congress and the president can work together to get demand off the ground.
I'm not holding my breath.
Disclosure: No positions