In the world of Triple Net REIT investing there are more and more real estate products making their way to the shelf. A few days ago I wrote an article on REIT conversions explaining that the growing number of transactions was likely due to stronger historical returns compared with other investments. My argument was centered on the notion that a "REIT has to subject itself to capital market discipline" and that means that "REITs can't hold on to their cash, they have to get their capital from the capital markets rather than from retained earnings".
While the word "REIT" may look enticing to a C-Corp CFO, the actual transition to a REIT is a much more challenging proposition. As I explained:
While conversions have garnered a lot of headlines over the past two years, there have been only about a dozen of them. There are more than 200 publicly-traded REITs, and the majority of them have come from IPOs of companies that were privately held.
Yesterday I wrote an article on Triple Net REITs and while the sector is growing at a record pace, the industry is ripe for consolidation. As I ponder the broad base of "free-standing" REITs today I can envision some likely M&A opportunities: American Realty Capital Properties (ARCP) buying Spirit Realty Capital (NYSE:SRC); Realty Income (NYSE:O) buying Chambers Street (NYSE:CSG); or maybe W.P. Carey (NYSE:WPC) buying Lexington Realty (NYSE:LXP). I could also imagine a deal with National Retail Properties (NYSE:NNN) and Agree Realty (NYSE:ADC).
There are a considerable number of combinations that could prove interesting and even a larger pool of deal flow when you consider the private REIT space: Broadstone Net Lease, STORE Capital, Angelo Gordon, Four Springs Capital, Griffin Capital, and Cole Capital.
However, one "stand-alone" REIT that truly "stands alone" is EPR Properties (NYSE:EPR). This Missouri-based REIT has model differentiated by its focus on non-commodity investment segments. In other words, the value proposition for this Net Lease REIT is that it invests in properties in select categories which require unique industry knowledge.
Unlike Windstream (NASDAQ:WIN) who has proposed to convert to a REIT by entering into long-term telephone line leases, EPR Properties has a uniquely-positioned business model that requires knowledge as its competitive advantage.
EPR Properties: A Different Net Lease Focus
EPR Properties - formerly known as Entertainment Properties Trust- went public in November 1997 and is a ~$4.91 billion REIT (based on Total Capitalization) based in Kansas City. With gross assets of around $3.53 billion (as of Q2-14), EPR is the largest owner of entertainment-related real estate, with a large concentration in the theater industry, comprising 68% of its total portfolio (based on income), as well as charter school properties (14.7%), ski hills (8.3%), entertainment retail centers (14.4%), and a growing list of related business lines.

EPR is a specialty REIT that invests in properties in select categories which require unique industry knowledge, while offering the potential for stable and attractive returns. As of the latest quarter, EPR owns over 223 properties with over 250 tenants in 38 States, DC, and Canada. The portfolio generates approximately $343.6 million in annualized NOI. Here is a snapshot of the portfolio: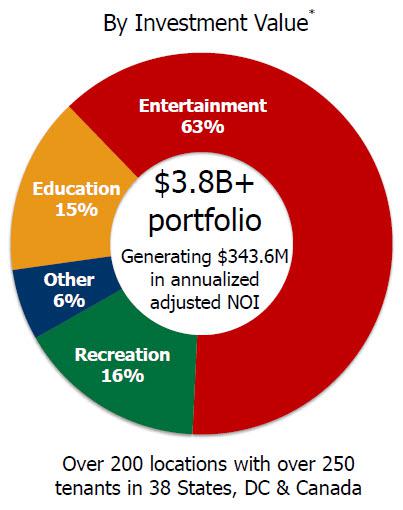 As noted above, EPR does not contend directly with most Triple Net REITs and as a result, the company has been able to source new investments with less competition. As illustrated by the snapshot below, EPR has been able to increase investment pace across all primary segments.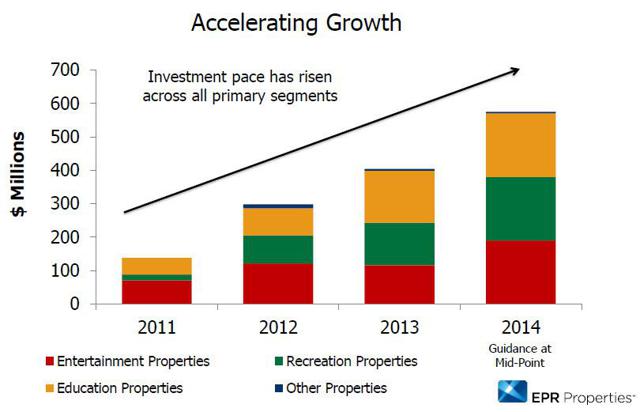 A few years back EPR changed the name of the REIT to reflect the company's growing transition into other asset classes beyond entertainment (aka., theaters), specifically education (aka., charter schools) and recreation (aka., differentiated retail). At one point, EPR had significant concentration with AMC Entertainment (NYSE:AMC), however, EPR has diversified into other sectors and categories.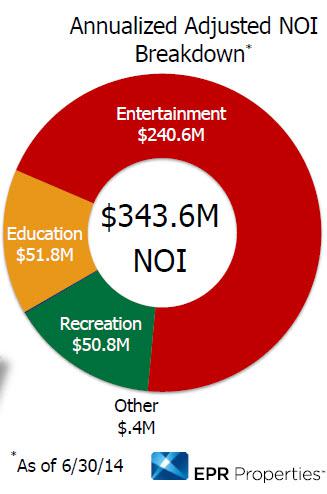 Here is a snapshot of EPR's portfolio details (Note: The occupancy stats are on the far right side of the chart):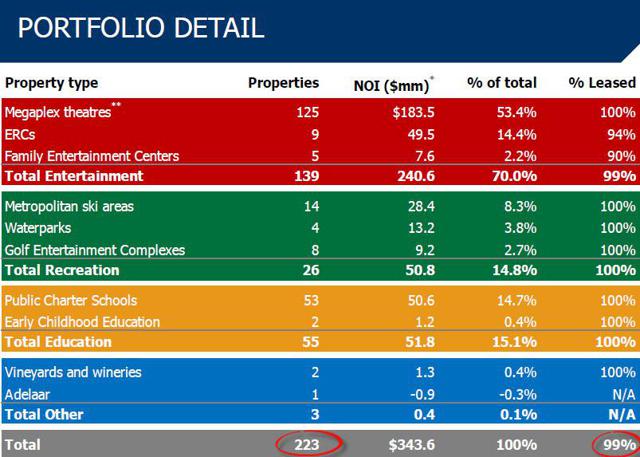 Anchored by Entertainment
Although EPR changes its name (removing the word "entertainment") the portfolio remains strongly associated with the entertainment industry. As of the latest quarter EPR owns 133 theatres, 125 of which are megaplex-type. These signature theaters represent a majority of EPR's revenues and the REIT's focused income strategy provides investors with considerable growth opportunities. As a landlord for AMC Entertainment, Cinemark Holdings (NYSE:CNK), and Rave Cinemas, EPR has targeted its core income strategy around leasing facilities to specialized sector specific chains.
As evidence of EPR's income strength, 2013 box office receipts were up by 10% over 2012. The growth in this evolutionary sector is distinguished by adaption to customer experiences, technology, and content transformation. In addition, new food and beverage concepts enable operators to capture a diverse customer segment.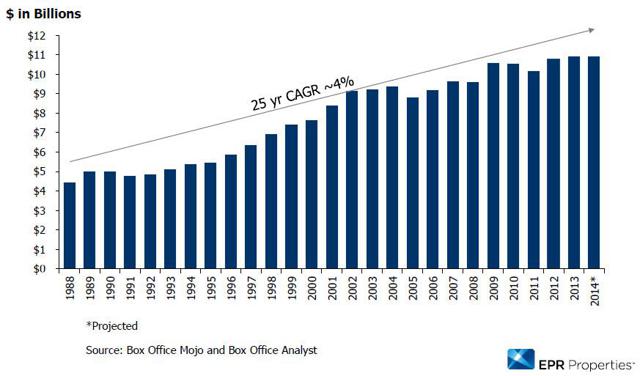 With enhanced content presentation in virtually every EPR facility, customers are attracted to alternative content that increases ticket sales, including utilization of sports, concerts and special events revenue. EPR's entertainment category represents around 69% of the REIT's investment value.
EPR also owns nine Entertainment Retail Centers (or ECRs) that offer dining, shopping, live entertainment, fitness, ice skating, and other unique entertainment experiences. Currently EPR has around 14.4% invested in these nine sites.
EPR owns five Family Entertainment Centers (or FECs) that include tenants such as Pinstripes, Latitude Live, and Latitude Lanes. EPR has around 2.2% (based on revenue) invested in these five sites.
A Slice of Recreation
EPR has around 14.8% (based on revenue) invested in recreational properties. That consists of 14 metropolitan ski parks that represent around 6% of revenue. EPR has a well-balanced portfolio of ski parks that mitigates weather risks.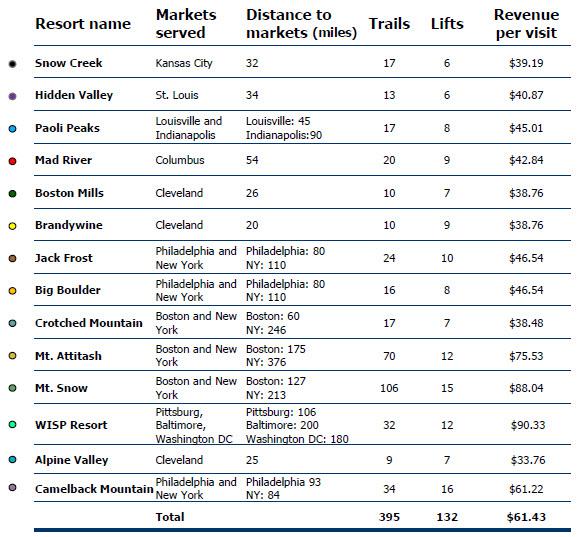 Here's a snapshot of the sites: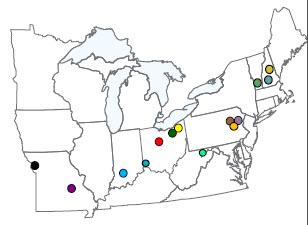 Other recreational assets include four waterparks. Since its inception in 1977 the category has seen average attendance growth of 3% to 5% per year. EPR's primary waterpark tenant is Schlitterbahn Waterparks, which owns two of the top 10 US waterparks based on attendance.
Also, EPR owns eight golf entertainment complexes. I was going to visit the TopGolf location in Scottsdale a few days ago but I didn't have time. I plan to travel back soon and I'll make sure I write a blog on the experience. TopGolf contributed $1.2 million in percentage of EPR's rent in 2013.
A Slice of Education
Education appears to be the fastest growing category for EPR. Currently the REIT owns 53 charter schools that generate around 14.7% of overall revenue. In 2013 public charter school growth (enrollment) increased 13% to over 2.5 million students. EPR is at the front of the growth curve as the charter school sector has considerable scale to deliver upwards of $2 billion in build-to-suit opportunities.
In addition, EPR has tapped into the early childhood education sector. The company currently owns two such facilities that generate less than 1% of revenue.
A Slice of Gaming
In a previous article I reported that EPR owned a large part and investment in Catskills, New York for a proposed casino anchored project. The failed development and subsequent lawsuit had previously weighed on the stock price. The land deal became unglued with a failed bank party however this deal is now back on track and it appears the new project - Adelaar - could produce healthy returns.
The Adelaar project is a gaming anchored development and the total investment value could top $1 billion. It's unlikely now as to how much EPR will invest into the improvements; however, the outcome should be better than the litigation and non-income producing alternatives offered over the last few years.
EPR's Latest Earnings
In the second quarter EPR recorded record quarterly revenue of $92 million, 11% ahead of the same time last year. The company also reported Funds from Operations (or FFO) as adjusted of $52 million, 12% ahead of the prior year.
EPR's investment outlays for the second quarter of the year totaled approximately $250 million and year-to-date around $320 million of investments. With the transaction volume achieved through the end of the quarter and with the depth of opportunities and negotiations to date, EPR has also expanded investment guidance for the year from $550 million to $600 million.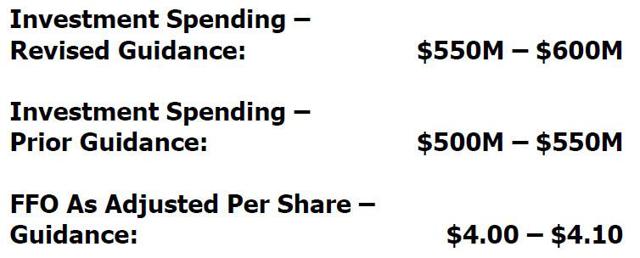 EPR's FFO per share was $0.94 in the second quarter compared to $0.85 in the prior year. FFO as adjusted was $0.97 per share for the quarter versus $0.98 in the prior year and for the six months ending June 30th EPR announced the following results: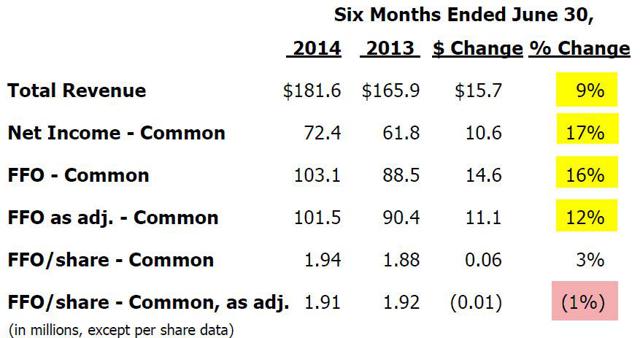 EPR has maintained a strong track record of occupancy performance: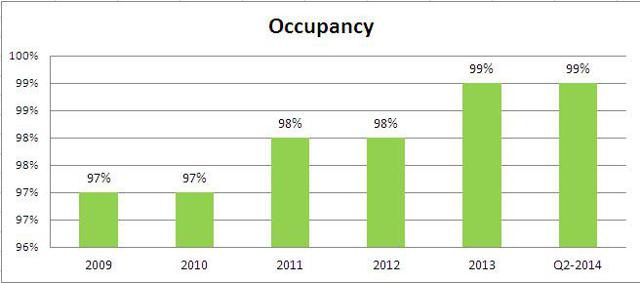 Here a snapshot of the company's more recent earnings results: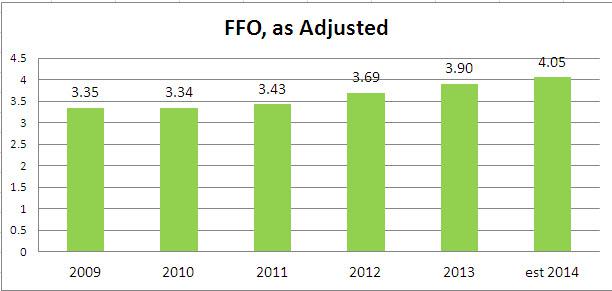 When examining the fundamentals of EPR we discover a specialized REIT with a history of consistent FFO growth. Although the company did experience an operating hiccup as a result of the great recession, the company has resumed its upward FFO growth since 2010.
But perhaps most importantly, EPR appears to be very reasonably valued based on traditional measurements of valuation regarding a REIT. These valuation metrics include fair value relative to its income (the pinkish purplish line on the graph), and its intrinsic value based on Funds From Operations (FFO- the orange line marked with an F).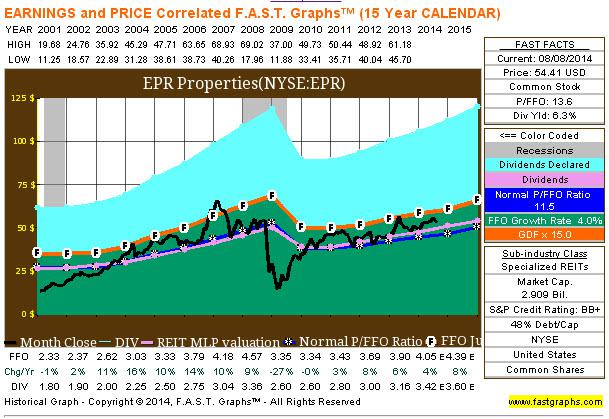 As evidenced by the snapshot below, EPR was able to claw back all of the lost dividend (CUT) since the Great Recession and is now forging a path of steady and increasing paychecks for investors.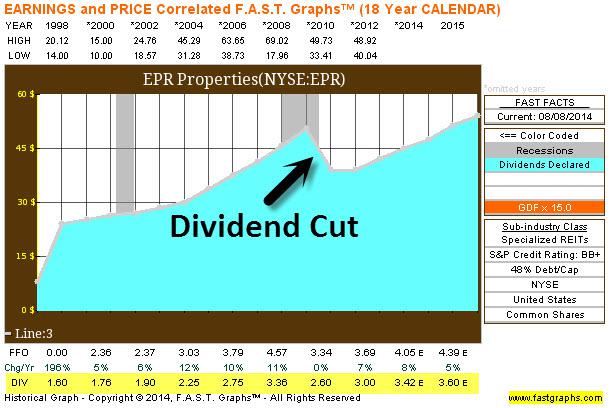 EPR's Balance Sheet
EPR's coverage ratios are strong with fixed charge coverage at 2.8x, debt service coverage at 3.1x and interest coverage at 3.6x.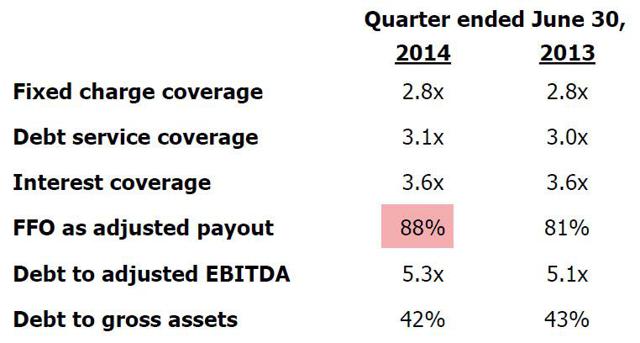 EPR's debt to adjusted EBITDA was 5.3x for the second quarter annualized and its debt to gross assets ratio was 42% at June 30th. As you can tell by these metrics, EPR's balance sheet is in a great position to fund expected growth.
At quarter end, EPR had total outstanding debt of $1.7 billion. All, but about $139 million of this debt is either fixed rate debt or debt that has been fixed through interest rate swaps with a blending coupon of approximately 5.4%.
EPR has reduced its reliance on secured debt considerably: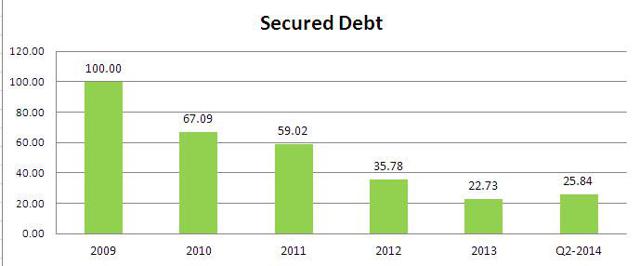 Here's how EPR's secured debt level compares with the peer group:

Here's how EPR's total debt to total capitalization compares with the peer group:

EPR had $79 million outstanding at quarter end on the line of credit there was $13.6 million of cash on hand. Also EPR is in excellent shape with respect to debt maturities. As of June 30th, the company had no scheduled balloon maturities in 2014 and less than $100 million of such maturities in each over the next two years thereafter.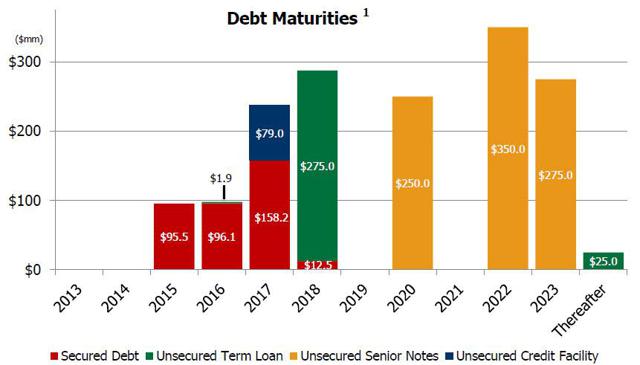 Also S&P recently raised both EPR's corporate and unsecured debt credit ratings. Importantly by rating its unsecured debt BBB-, S&P joins Moody's and Fitch in assigning investment grade ratings to such debt.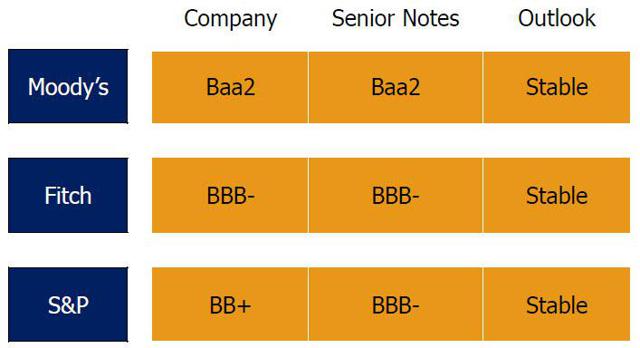 Now Let's Analyze Peer Performance
Here's how EPR compares with the peer group in terms of market capitalization:

Here's how EPR compares with the peer group in terms of dividend yield:

As noted above, EPR has maintained a steady and growing track record of post-recession dividend growth: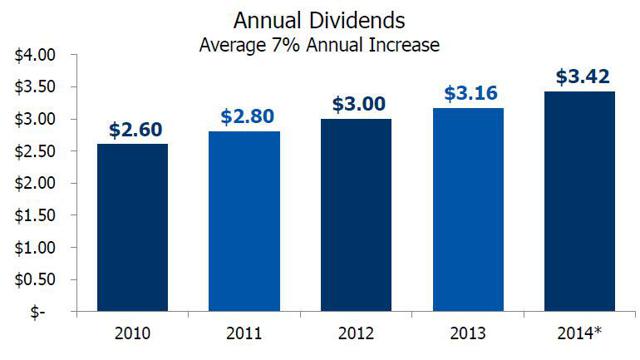 Here's how EPR compares with several peers relative to 3-year dividend growth: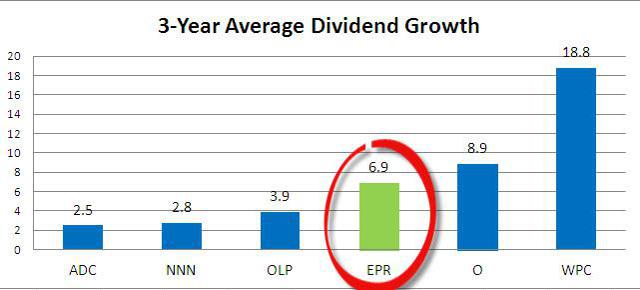 Here's how EPR compares with several peers relative to 2-year dividend growth: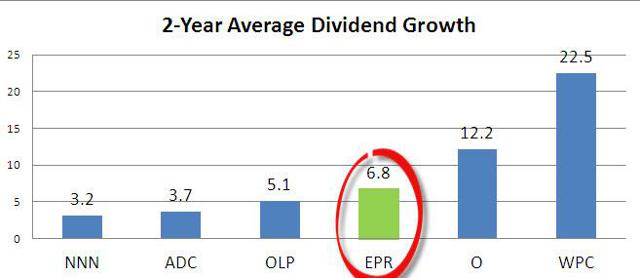 Here's how EPR compares with several peers relative to 1-year dividend growth: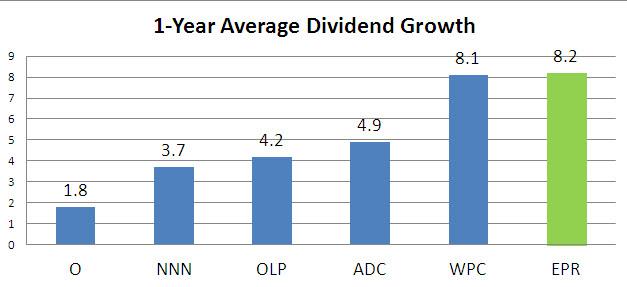 EPR's payout ratio of 84.44% compares favorably to the Net Lease peer group (median peer payout ratio is 81.6%):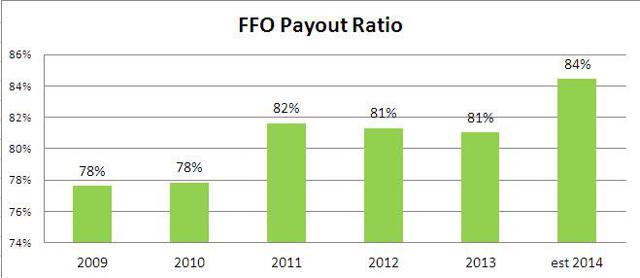 EPR has a Price to Funds from Operations (or P/FFO) multiple of 13.5x, also trading an attractive level compared to the peer group:

The 6.29% dividend yield represents an extremely attractive opportunity for yield-hungry investors in today's low interest rate environment. If you assume that the consensus estimates from leading analysts for future growth is correct, then EPR may provide the opportunity for significant above average future total returns.
Additionally, the high current dividend yield relative to the general low level of current interest rates pays you handsomely to wait for the upside to manifest (it is difficult to overlook EPR shares yielding 6.29% with 10-year Treasuries hovering under 2%).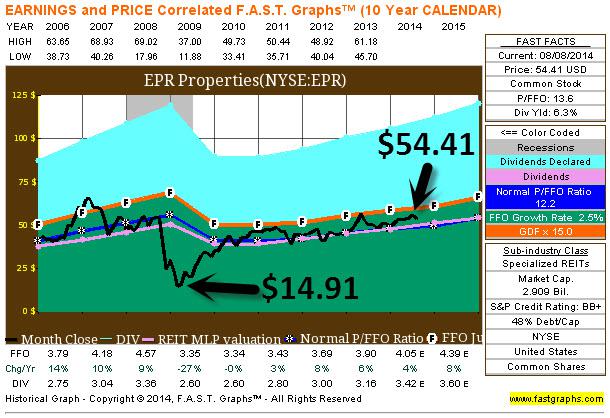 However, considering the non-investment grade composition of EPR's rental income I'm going to maintain a more defensive mindset. That is, I would like to see a "margin of safety" where I can get rewarded for the risk of the underlying dividend generators. That means I would like to own EPR shares when the dividend yield is 6.75%.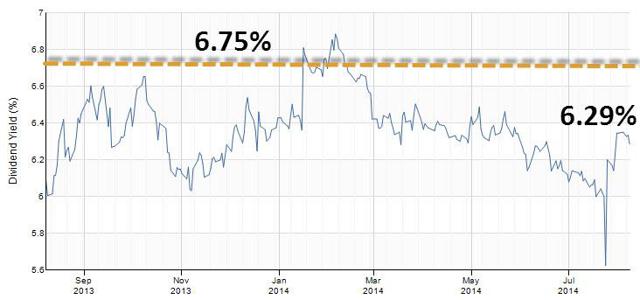 That translates into a $50.00 BUY price for me. The last time we saw that price was in February 2014.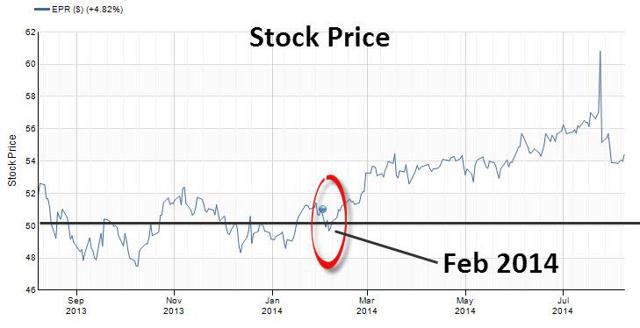 It's that simple: I like EPR's uniquely-positioned net lease platform and it's clear that the management team has done an outstanding job recovering from the dividend cut a few years ago.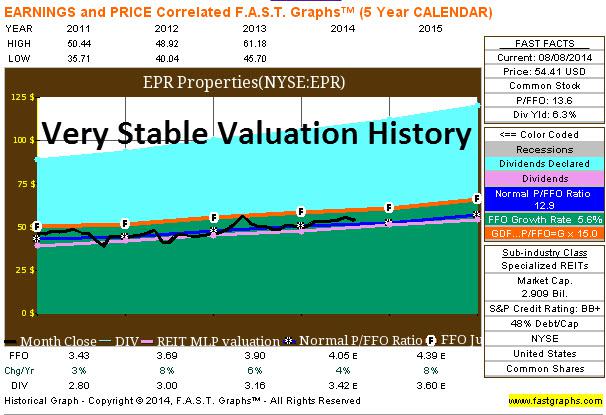 As an investor in EPR you are befitting from the "core of competence" within the ranks of the experienced management team and the deal flow associated with the long-standing relationships. I have EPR on the radar and as soon as Mr. Market provides me the opportunity, I'll be soaking up the dividends!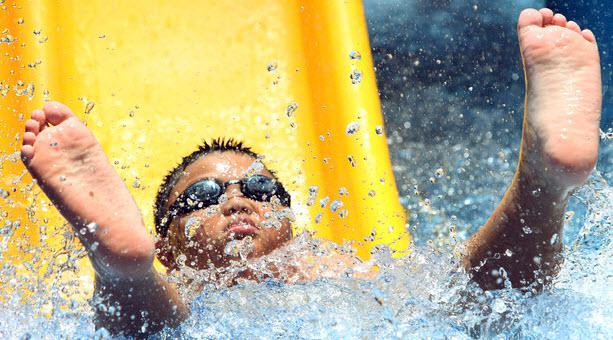 For more information on REIT investing, check out my monthly newsletter HERE.
Source: SNL Financial, FAST Graphs, and EPR Investor Presentation.
Other REITs mentioned: (NYSE:GPT), (NYSE:GTY), (NYSE:OLP), and (NYSE:GOV).
Disclaimer: This article is intended to provide information to interested parties. As I have no knowledge of individual investor circumstances, goals, and/or portfolio concentration or diversification, readers are expected to complete their own due diligence before purchasing any stocks mentioned or recommended.
Disclosure: The author is long O, DLR, VTR, HTA, STAG, UMH, CSG, GPT, ARCP, ROIC, HCN, OHI, LXP, KIM, WPC, DOC, UDF, EXR. The author wrote this article themselves, and it expresses their own opinions. The author is not receiving compensation for it (other than from Seeking Alpha). The author has no business relationship with any company whose stock is mentioned in this article.