LeapFrog (NYSE:LF) announced disappointing results with sales declining 43% YoY due to high discounting driven by excess retail inventory. In my last article on Leapfrog, I wrote that the company was a buy at the then price, but the stock has been trailing the S&P 500 ever since and is now down 18% since my call, against a gain of 3% in the SPY. Clearly, my optimism has not been borne out by the results to date, so it is time to investigate whether the thesis still holds out and if LF is still an attractive buy.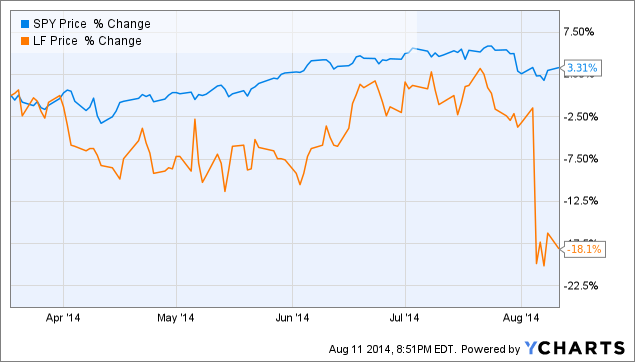 Business Performance
LF reported $47M in net sales for the quarter, down 43% YoY due to tough comparables, a challenging retail environment and heavy competitive pressures in its segment. Net sales of its multimedia learning platforms and content (tablets, learning systems, reading systems, content and accessories) declined 55% YoY, while sales of learning toys declined 9%. Gross margin was only 18.8% for the quarter, down 18.4ppt for the year driven by heavy discounting to clear inventory. Gross profit was $9M, a decline of 71% YoY, and operating expenses were $35M, flat to last year. This resulted in a net loss of $16M, down from a loss of $3M last year.
Cash and cash equivalents were at $199M, which is $2.85/share or 46% of the market capitalization. This indicates that the market is skeptical about its potential to earn profits in the future.
Product Outlook
The current quarter was a fallow one for LF, as it was trying to clear inventory for old product lines to make way for new products. It recently announced the launch of the Leapband, the first wearable activity tracker targeted at children, which retails for $40. This is much less expensive than trackers targeted at adults (for instance, the Fitbit sells in a range of $100-$130). However, I expect the Leapband to have a marginal impact at best to the company's financial results.
More interesting is the planned launch of the LeapTV, a video game console targeted at children in the $99 price range. There is a gap in the market in that traditional consoles such as the PlayStation 4 and the Xbox offer little content to children below the age of 10, however, it is an open question whether they can really offer a more enriching learning experience compared to tablets.
There is also a planned refresh of the tablet line in summer. Leapfrog is the market leader in children's tablets, but the viability of this market as a standalone segment is also in question.
Potential strategic repivot
I am of the opinion that Leapfrog's strength is in its content, not in low-margin hardware. I believe the company would do well to invest its resources in building content where it has a true market strength, rather than in building hardware where the very market segment in which it operates is potentially unviable (a significant portion of tablets used by kids tend to be "hand me downs" from older siblings or parents).
Summary
Leapfrog is in excellent financial shape, with $199M in cash and no debt. However, the real question is if its new products will land positively in the market and help it regain share and profitability. If it does not change its strategy and continues to focus on landing content on top of first party hardware, I see a lot more risk and lumpiness ahead for the company. On the other hand, if it refocuses itself as a high-value content provider on third-party platforms while phasing out first-party over the long term, it has the opportunity to truly differentiate itself as the leading provider of children's content across the widest possible customer base.
I end by concluding that Leapfrog's shares are not a buy in the current environment, as market acceptance of its new product lines are far from a given. The company is small enough and has a good enough market position to be an attractive acquisition target, which is why I am not selling right now. However, I am not adding either.
Disclosure: The author is long LF. The author wrote this article themselves, and it expresses their own opinions. The author is not receiving compensation for it (other than from Seeking Alpha). The author has no business relationship with any company whose stock is mentioned in this article.
Additional disclosure: I am short LF $7.5 calls.