Fortress Investment Group (NYSE:FIG), an alternative asset manager, is involved in several lines of business. The company is about to pay investors a particularly high special dividend, something that fixed income operations might support again in the future. Better immediate detail can be allocated to the company's hedge funds, particularly non-credit, because of new information.
Fortress Hedge Funds
Per Fortress' second quarter earnings press release, the average management fee rate of liquid hedge funds is 1.8%. It is 2% for credit hedge funds. The standard rates that hedge funds are known to charge is 2% plus 20% of profits (Renaissance Technologies has obtained higher fees, though).
There is contention that hedge funds are considered a lower risk asset class that is likely to enjoy inflows over the next two years. On the other hand, macro funds, a Fortress staple, are reportedly not as popular. The launching of the company's new $995 million Worldwide Transportation and Infrastructure Fund (FTAI), managed by Wesley Edens, may be timely. Regardless, top managers are likely to be in the highest demand.
Fortress incentive income is down, from $133 million to $22 million, since June of 2013. A key positive should ultimately be performance. Throughout 2013, and evidently 2012, Michael E. Novogratz oversaw the highest rated hedge fund according to Insider Monkey (whose data has not been verified); and Adam Levinson's Asia Macro Fund has recently been recognized. Investors in macro funds, seeking to capitalize on broad economic themes around the planet, obtain their services at apparently competitive prices. The resultant inflow of money, $523 million during the quarter and another $84 after to Liquid Hedge Funds, is not surprising. Further, Fortress funds' $7.9 billion in Assets Under Management ("AUM") is up 2% QoQ and 22%, from $6,461 to $7,867, YoY.
Second-quarter results recently disclosed by Fortress show that lowered incentive fees have brought down Distributable Earnings ("DE") from $64 to $6 million YoY. Further, it is not obvious how loyal clients may be if underperformance becomes continuous. Fortress Macro Funds now oversee close to $3.4 billion after ending 2013 with close to $3.9 billion AUM (a co-CIO has recently been hired, perhaps even implying an issue). Contrastingly and not surprisingly, Fortress Asia macro funds, overseen by Levinson, have gone from $1.9 billion to $3.1 billion AUM over the same time.
The table below, reproduced from the 2Q Earnings press release, shows that it has been a rough 2014 in terms of performance:

Per its Form 10-Q, certain funds have "High water marks" that prevent them from earning incentive income until their results surpass a previously set threshold. A Form 8-K filed with the SEC on Friday, the ex-dividend date, shows some improvement during the month that ended in July. The stock probably should not decline as a result of the most recent filing according to analysts at Keefe, Bruyette and Woods (Outperform rating and $8.50 target). The firm points out that the 8-K filing only provides information pertaining to $13.4 billion of $64.3 billion AUM.
Here is a portion of their report showing credit hedge funds' performance. The first column on the left specifies AUM. The next four columns are yearly, figures from 2010 to 2013. The next twelve columns show monthly data, beginning August 2013 and through July 2014 (1.2% in the top row is under July 2014).

Revenues and Yearly Change:
A chart showing reported revenues attributed to sources with data from one year ago and their corresponding YoY change follows. "Incentive income: affiliates," the third column from the left, is the most substantial difference that may be attributed to a 20.5% "Total" improvement; though the only decline has occurred under "Incentive income: non-affiliates (Source: 2Q Press Release)."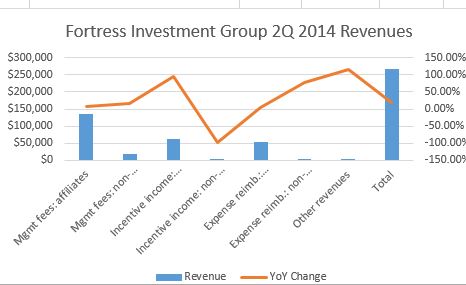 Dividend
Fortress's Board of Directors declared a second quarter 2014 cash dividend of $0.26, its largest ever. It comprises a base quarterly cash payment of $0.08 and a special cash dividend of $0.18. The dividend is payable on August 15, 2014 to class A owners of record as of the close of business on August 12, 2014.
For those concerned with taxes, just over $0.18 is a return of capital, just over $0.04 is a non-US long term capital gain, and just under $0.04 is US portfolio interest income. Filing returns is probably going to require special paperwork. Perhaps more importantly, an investment in a publicly-traded partnership probably is not advisable in a tax advantaged account (Please do not confuse or substitute this commentary for professional tax advice).
Paying $0.08 quarterly, the yield before special dividends is currently 4.38%. Add in the new $0.18 and the percentage goes to 6.84%. Future top off distributions sound likely. An increase above $0.08 quarterly in Q1 2015 would be another consideration.
Many instruments, including junk bonds, have lower payouts. For example, the SPDR Barclays Capital High Yield Bond ETF (NYSEARCA:JNK) pays 5.85% per year at its price of $40.69 per share.
Though the corporation has no rating with Standard & Poor's, Fortress's financial condition is not concerning. Per its Form 10-Q, shareholder's equity has increased from $1.61 to $1.63 billion since January. Further, the company has access to a $2.3 billion pile of money that is referred to as uncalled capital and the main worry is that management might not able to identify worthwhile places to deploy it.
The yield through distribution payments of Fortress units is nice, and should be competitive with the other firms'. Here is CEO Randy Nardone's commentary contained in the prepared remarks of Fortress' 2Q 2014 Conference Call:
We will continue to make regular quarterly dividends based on net management fees. We also expect to make quarterly top-up distributions, primarily funded by balance sheet realizations as you saw today. And at year-end, our quarterly distribution will also take into account net incentive income. In the aggregate, we expect to distribute substantially all of our DE in any given year.
However, the yield may also be a crucial support of the share price unless operations give indication of leading status. Without the income orientation, it seems the unit price might move lower. It does sound like the company's fixed income business, Logan Circle Capital Partners, should support payments through generating DE in the future (Source: 2Q Transcript).
YCharts
There are other publicly-traded alternative asset management firms. Several are listed in my previous article. From among them, only Blackstone (NYSE:BX) has outperformed FIG according to YCharts, without consideration of dividends. Blackstone investors are also enjoying a Q2 distribution of $0.55 per unit (1.67% vs. FIG's 3.56% in one quarter).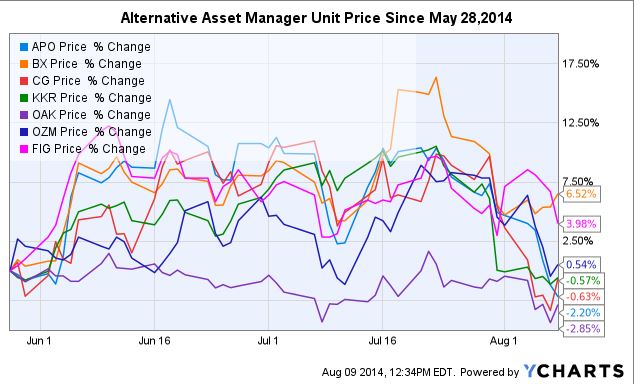 In terms of price to earnings ratios, which are accessible to most everyone, Fortress is the bargain from the group: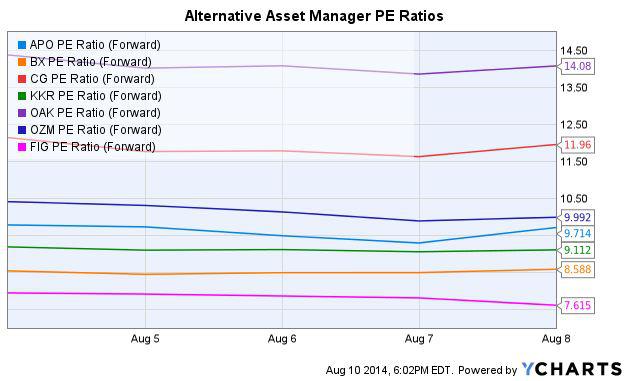 Conclusion
Fortress is involved in several different lines of business, including hedge funds, that manage assets. Some of its talent has been recognized, which should help continuously. The company pays regular dividends out of fees and is able to add to them through DE. The yield should substantially support its units' pricing as investors are remunerated well while awaiting any excitement.
The unit price is also shown to be comparably low in light of estimated future earnings.
If fund results improve, or macro bets become popular, additional money should flow in.
Disclosure: The author is long FIG. The author wrote this article themselves, and it expresses their own opinions. The author is not receiving compensation for it (other than from Seeking Alpha). The author has no business relationship with any company whose stock is mentioned in this article.