Analysts have welcomed the surprise resignation of Pfizer (NYSE:PFE) CEO Jeffrey Kindler earlier this week. But some remain skeptical that his replacement by insider Ian C. Read will be enough to instigate the degree of change they think is needed to revive the underperforming stock. Pfizer faces a number of significant patent expirations, including blockbuster heart drug Lipitor next year. Nevertheless, most analysts reiterated a positive outlook for the pharma giant's share price.
Of 13 analysts tracked by Alacra Pulse, 11 have a positive rating and 2 are neutral. The price targets have a mean of $21.90 and a median of $21, though they range from a high of $30 by Hilliard Lyons' Stephen O'Neil to a low of $17 from Citigroup's Jack Boris. Pfizer closed Wednesday at $16.72.
Current 12-month price targets of selected sell-side and independent analysts. Click image to enlarge.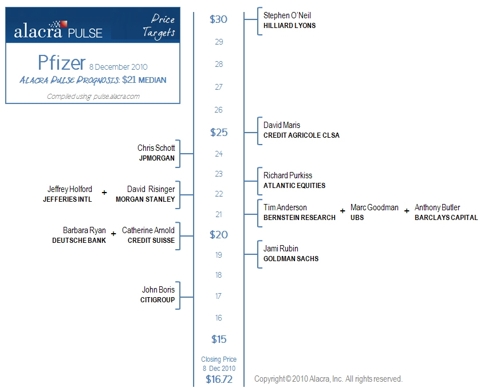 Goldman Sachs analyst Jami Rubin, who has a $19 price target on the stock, said she had "long argued that Pfizer should be more aggressive in achieving greater efficiencies in both its $28.5-billion operating expenses base as well as its massive balance sheet and portfolio of various businesses, some of which should be divested."
"We are delighted to see the board taking action as Pfizer's share price continues to underperform amid a flurry of questions about strategic direction," Rubin wrote in a research note.
And the switch could spur activity for the company, according to JPMorgan analyst Chris Schott, such as share repurchases or dividend increases. He has a price target of $24 on shares.
"While a CEO transition in the midst of a major merger integration will likely create added uncertainty with the story, the key question, in our view, remains on the changes this transition will bring to the Pfizer story," Schott said in a research note.
Jefferies & Co. analyst Jeffrey Holford called Read, who has worked at the company for more than 30 years, "a safe pair of hands," for the company. Holford has the stock at $22 and a Buy rating.
"People are hopeful there will be some more aggressive restructuring that takes place within Pfizer," said Edward Jones' Linda Bannister.
Miller Tabak & Co.'s Les Funtleyder advocates for a change of direction, especially with regard to research and development. "The knock on Kindler was he was not a pharmaceuticals guy… That (criticism) certainly wouldn't work for Read, but Read has been there in management roles for a long time, so can he really change direction?"
Barclays Capital's C. Anthony Butler also questioned the company's future under Read's leadership in terms of a balance between acquisitions and in-house development. "It remains unclear to us if he will be able to accelerate research and development productivity for the company outside of an inorganic approach."
Kindler may have been criticized for failing to buy smaller companies, but a recent tally shows Pfizer has, so far, this year been the biggest industry dealmaker, at least when it comes to individual products, according to Life Science Analytics.
The management change raises more concerns over Pfizer's corporate governance. Audit Integrity has ranked Pfizer "Very Aggressive" in seven of the last ten rated quarters with an aAccounting and Governance Risk (AGR) score of 1 on a scale of 100 since December 2009.
The Financial Times reports that Martin Shkreli, head of MSMB Capital Management, a hedge fund with a small holding in Pfizer, has written to several large investors this week arguing the case that an outsider be appointed as Chairman "to energise and change the culture of irresponsibility that permeates Pfizer".
"Pfizer's board of directors has been largely composed of the same value destroyers for more than a decade," he said.
[Sources: Alacra Pulse, NJ.com, Reuters, Pharmalot, Financial Times.]