An Enormous Market
According to the Department of Education's National Center for Educational Statistics:
"In 2011-12, total revenues, in current dollars, at degree-granting post-secondary institutions were $317 billion at public institutions, $162 billion at private nonprofit institutions, and $27 billion at private for-profit institutions."
This is a huge market and was growing up until very recently.
The Business Model
At private, for profit educational institutions student tuition and fees make up 89% of an organization's revenue. Although smaller by total revenue, for profit educational institutions need to be more targeted and efficient in order to remain competitive with the multitude of other education options available in the market. In addition, since most students rely on some sort of debt financing to fund their educational endeavors, the acceptance of government grant and loan programs is critical to profitability. Companies in this industry need to abide by the Higher Education Act in order to remain accredited. Accreditation affords an institution the ability to offer federal financial aid under Title IV of the Act, the Pell Grant, and the G.I. Bill.
Regulatory Scrutiny
The dramatic increase in student debt has prompted the department of education to more closely focus on a for-profit education provider's outcomes measured by its post graduation/certification student income to debt payment ratio. Marketing activities of such institutions have also come under scrutiny by the Federal Trade Commission, which recently released stricter guidelines targeted at for-profit colleges that feature vocational programs.
Delayed Financial Reports
ITT Education Services Inc. (NYSE:ESI) has postponed issuing its 2013 10-K and first quarter 10-Q due to questions revolving around the accounting for third party private loans. The delay in filing financial statements may force the Department of Education to limit access to student loans for its students until it is able to do so.
ESI is awaiting guidance on how to account for the loans from the Securities and Exchange Commission. The accounting for the loans came into question based on a lawsuit filed by the Consumer Financial Protection Bureau in February that accused the company of predatory lending practices. The company refutes the claims alleged in the lawsuit and is seeking to have it dismissed.
A Squashed Deal
Delayed financial reporting is not the only problem ESI is facing. In an effort to increase liquidity, ESI had agreed to a sales-lease-back for 24 of its properties to College Portfolio Buyer LLC (CPB). On August 4th, the company announced that the deal had fallen apart after it refused CPB's request to extend the due diligence period from July 31st to September 15th. The deal's estimated value is $119.1 million.
Another agreement could be reached, but since ESI was prevented from entering into financial agreements with other potential partners during the due diligence period, it is more likely that new buyers will come forward and the time-frame will be extended.
Chief Executive Resigns
The failure to close a deal on top of additional regulatory scrutiny had ESI shares dropping over 30% to a 14 year low on Monday.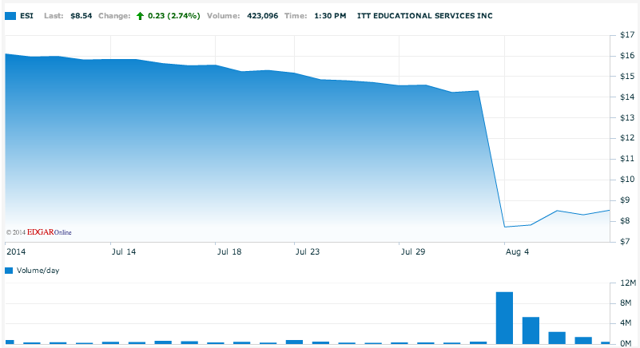 (Nasdaq.com)
The stock is down over 50% from the beginning of the year.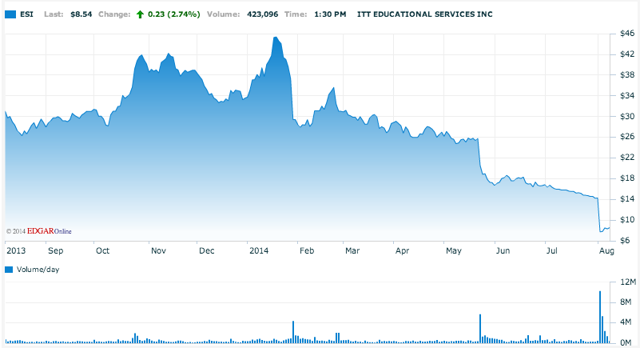 (Nasdaq.com)
Under pressure related to recent events, Kevin Modany, the company's current CEO, announced that he plans to resign as CEO in six months and immediately resigned as the company's director and chairman. John Dean, a current member of the board was appointed executive chairman until a successor can be found.
For Investors: Get Your Schooling Elsewhere
Given the barrage of increasingly negative news on ESI recently and historically, along with poor and missing results, and a declining market performance, we suggest investors take profits in ESI now-before things get worse.
While ESI may be outperforming major rival Corinthian Colleges (NASDAQ:COCO) YTD (see below), both are still lagging the S&P benchmark significantly.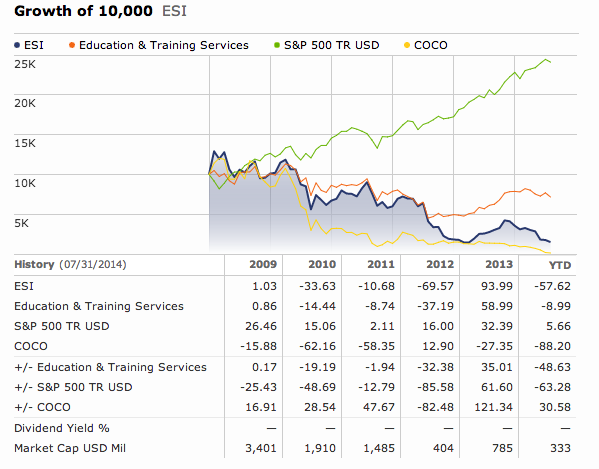 With a current P/E ratio of 3.5, and with a relative P/E vs. SPX of .1855, ESI still retains one of the highest short interests on the market (~47.61%).
Many, including us, are obviously doubtful ESI will succeed.
We invite readers wishing to join the discussion on ESI and the for-profit education sector to click the +FOLLOW button above the title of this article-- and those looking for the latest developments to click +Get real-time alerts.
Disclosure: The author has no positions in any stocks mentioned, and no plans to initiate any positions within the next 72 hours. The author wrote this article themselves, and it expresses their own opinions. The author is not receiving compensation for it (other than from Seeking Alpha). The author has no business relationship with any company whose stock is mentioned in this article.