In a recent article, Richard Russell, 86-year-old writer of the Dow Theory Letters, focused on dividend yield as a valuation yardstick. I thought it appropriate to share some of his views with you.
In order for readers to follow Mr Russell's discussion, I include a chart of the S&P 500's dividend yield going back to 1871. He refers to the Dow but I unfortunately do not have a long-term chart of the Dow's dividend yield and therefore use the S&P 500's dividend yield to illustrate the trend.
Click to enlarge: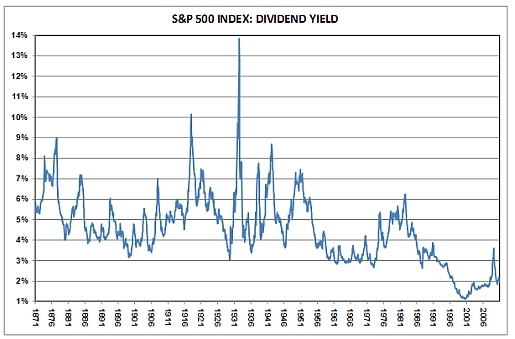 Source: Plexus Asset Management.
Over to the R man:
Today we hear a lot about dividend yields and stock income. I'm looking at a table of the Dow covering the years 1896 to 2008. The table lists the Dow's price around each year's close, plus book value, earnings for the Dow, price/earnings, dividends and dividend yield.

In the 'old days' (this was a few years after the Depression) we thought in terms of basic value. Real value was when a stock was selling at ten times earnings and providing a dividend yield of around 6% or better. And, believe me, there were plenty of such values for sale.

Glancing over my stock tables, during the bottom of the Great Depression (1932) the yield on the Dow was juicy, but investors at the time were either frightened or bearish, and only the bravest were in there picking up bargains. In 1931, one year before the extreme low, the Dividend yield on the Dow was 10.7.8%. In 1932, with the Dow at 41.22, the dividend yield was 7.71%. In 1933 it was 5.40%.

The Dow recovered dramatically after 1932 (a new bull market had started), and by 1936 the dividend yield on the Dow had shrunk to 3.92%. In 1937 the 1932-37 bull market hit its high, only to be followed by a long, tortuous bear market that hit bottom in June 1949. At the 1949 bear market low, the Dow dividend yield rose to 6.49%, and stocks were again on the bargain table.

A new bull market started in June 1949, and by 1959 the Dow yield had shrunk to 3.05%. A long and convoluted bear market followed, and by 1981 the Dow dividend yield had risen to 6.42%.

The rest of the story is modern history. A great bull market started from 1980-82 and as stock rose, the dividend yield on the Dow shrank. By 1994 the Dow dividend yield dropped below 3% to 2.65%. In 1998 the Dow dividend yield dropped below 2% to 1.72%. In 1999 the Dow dividend yield was at a dangerous 1.47%.

The Dow then corrected sharply into 2003, and then rallied to a peak in 2007, at which time the dividend yield was still at a low 2.25%.

From the 2009 low, the Dow rallied again, and as I write the dividend yield on the Dow is 2.56%. I go along with Charles Dow's 'rule' − a dividend yield under 3.5% is risky if not dangerous.

Based on history and based on the current dividend yield, stocks are not now priced to produce profits over coming years."