Unpredictable is probably the best way to describe how the market is going to react to news, and I mean any news, that comes from the major banks operating in Puerto Rico. Though, to be fair, when it comes to the announcements made by Popular (NASDAQ:BPOP) last month, the good consistently came with a dose of bad.
And, on top of this, the message sent out last quarter has to make investors wonder what management is thinking. Not too long ago the plan was to strengthen U.S. operations in an attempt to distance itself from Puerto Rico, but now the bank is selling out of every office that isn't on the island or located in New York.
The winds of confusion are spinning pretty fast, but the potential reward is starting to outgrow the risks involved.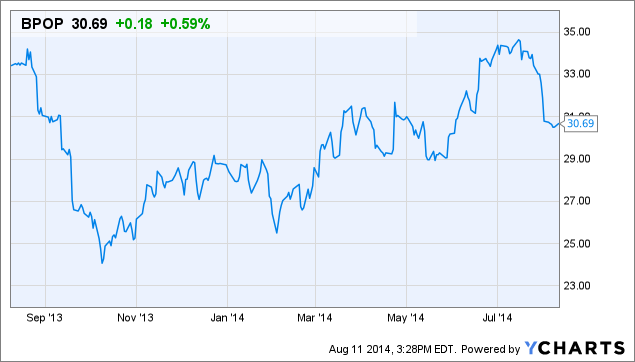 Where are we at?
I've been weeding through the banks that are still dealing with TARP Preferred shares in hopes of getting in before they move on any sort of payoff news, and I still think this is a good strategy, but BPOP is one of the exceptions to the rule. After announcing one of the largest buybacks this year ($935 million), the bank's shares have dropped 12.67% from their 52-week high of $34.95.
This was supposed to be good news and exactly what investors have been waiting for, but the timing got mixed up with talk of an Argentinean default, a very uncomplementary event that reminded everyone of Puerto Rico's debt concerns. And that's not even factoring in the bank's new plan to concentrate and focus its efforts on the island by divesting operations in California, Illinois and Central Florida. Last year it looked like OFG Bancorp (NYSE:OFG) was going to be the lone PR bank survivor, probably the last thing anyone saw coming was a move back by BPOP.
As of now, the reorganization involves the sale of 41 branches, approximately $1.8 billion in related loan portfolios, and approximately $2.1 billion in deposits. The transaction is scheduled to close before year-end, and three different buyers are involved.
With these two major events in mind, the bank had no chance of reporting a profit last quarter, and the net loss added up to $511.3 million. Nothing to laugh at when the bank's market cap is only $3.16 billion. Expenses related to the TARP repayment came in at $414.1 million, and a goodwill write-down on the sale of the three U.S. regions meant another charge of $186.5 million. Considering the size of these two transactions, I doubt anyone even took the time to get to the part in the financials that showed a profit of $86.2 million for adjusted net-income. But, the reality is that this big wash is non-recurring. We will need to wait and see exactly what the discontinued operations add up to, but BPOP is TARP free and that is a major move towards future shareholder returns (too soon I know but the odds are now a lot higher).
Looking at the financials, the discontinued operations would have added $11.6 million to the bottom line if you adjust out their related restructuring/goodwill impairment charges. Take that away and the banks remaining 'core' earned $84.9 million pre-tax. Nothing to get excited about now but there is still a lot of healing to be done.
Nonperforming non-covered loans haven't moved below a balance of $639 million for some time now, and that's not even including an additional $139.4 million in nonperforming owned real estate, plus $171.9 million in covered but non-performing assets. Real estate sales could eventually materialize into moderate gains, but just about the only improvements from the bank's pile of problem assets was a YOY $33 million decline in charge-offs last quarter (to $46.2 million). There is still a ton of work to do here, but at least the static non-covered loan balance isn't a product of large charge-offs and an equal amount of incoming problem loans.
Moving $1.8 billion in loans from the portfolio to discontinued operations bumped up the percentage of nonperforming loans to total loans held-in-portfolio to 3.26%. A provisions charge of $61.6 million was higher than charge-offs, so the allowance balance grew, but we are still short of a full coverage ratio with allowances to nonperforming loans at 82.26%. I'd personally like to see the coverage ratio get over 100%, so I don't see provisions coming down anytime soon, but keep in mind that a 50% improvement on this line would have increased pre-tax income by 36%. A few more quarters of healing and core earnings will be up by a very large amount.
Turning to core expenses, the bank has made some very large improvements in costs tied to real estate owned. In the first half of 2013 this line had a balance of $53.5 million, significantly higher than the current YTD charge of only $9.8 million. As far as future improvements go, I doubt we will see lower than this amount in the next half of the year, so I think the next cuts are more likely to come from compensation and professional fees. Although they have been consistent, these two lines account for 60% of all YTD operating expenses when OFG, who has a similar ratio of nonperforming loans to total assets, has seen these lines move down to 40%. OFG is smaller and not crossing as many boarders, so there may be little for BPOP to improve, but the difference was large enough for me to at least point it out. And, it makes sense that these lines would be elevated considering the moves that BPOP has had to make to get into a position to 1) repurchase the TARP preferreds and 2) set up the sale of its discontinued operations.
Hidden value
Their composition of operating expenses may vary, but there is no denying the fact that OFG and BPOP are being taken to the cleaners by the accounting for their large indemnification assets. This asset is basically a receivable set up for the amount the bank expects to recover from the FDIC, which is dependent on asset quality, but accounting for it doesn't make a lot of economical sense. When the underlying assets improve, the receivable is amortized to reflect the amount of money the bank doesn't expect to collect from the FDIC. There is no loss, but this is a large charge that came in at $50 million last quarter, and $79.4 million for the first half of 2014.
Looking at the bank's adjusted earnings table below, you can see that this charge is included in the $84.9 million pre-tax number from continued operations. Take it out and you have my adjusted pre-tax earnings of $140 million. Annualized, and with the Buffett pre-tax multiple (10X), the bank would be valued at $5.6 billion, right in the middle of interesting when the current market cap is $3.16 billion.

If you're already in, buckle up and get comfortable with this charge because even with the accelerated amortization seen last quarter, the indemnification asset still has a balance of $751 million, $628 million less than the same time last year. The bank's assets are healing, but the amortization rate is based on the shorter of the remaining life of the loan pools or the indemnification asset, which is one year for commercial, construction and consumer loans, and 6 years for single-family residential mortgage loans. With that in mind, the charge will probably be elevated over the next 4-quarters before we see it even-off when we are left with the assets tied to residential mortgage loans.
Additional Risk
There is no denying that this bank doesn't have it all as far as risks are concerned. You have Puerto Rican economic concerns, a change in growth strategy, consolidation, bad assets, and unknown interest rate risks. Investor's here have to be long term and consistently monitoring their position. I personally prefer OFG, but it comes with a lot more risk from its government debt obligations. BPOP currently trades at a discount to book value ($35.84 BV compared to ~$30.71 MV), but ~$7.51 in book value comes from the deferred tax asset that I typically like to discount, if not completely remove from the equation. Have it your way, but the bank is trading around book and the real upside is in earnings that look pretty solid after adjustments.
-Note that my earlier calculation of value based on pre-tax earnings was just adjusting for the amortization of the indemnification asset. It does not include growth in the loan portfolio, possible gains from sale of OREO, lower provision charges, or improved operating efficiencies. These, of course, could go the other way but I like what I see right now and I think the odds for improvement are higher than deterioration.
Bottom Line
Have it all is probably what I should have titled this article because that is truly what you get from an investment in BPOP. I'm in OFG, but I plan to keep an eye on Popular because I think there is a lot to learn, and a lot to gain. If shares happen to fall again, this opportunity will be very hard to pass on.
Disclosure: The author is long OFG. The author wrote this article themselves, and it expresses their own opinions. The author is not receiving compensation for it (other than from Seeking Alpha). The author has no business relationship with any company whose stock is mentioned in this article.