Goodyear Tire & Rubber Company (NYSE:GT) is one of the world's biggest tire companies, employing approximately 69.000 people and manufacturing its products in 22 different countries. Shares in the company have gone up quite fast year to date, reaching a 52 week high of $28.70, before crashing down to the current level of $24.77 after the most recent quarterly report mentioned lower revenues.
Net sales for the most recent quarter were $4.66 billion, compared to $4.89 billion in the same quarter last year. However, the cost of goods dropped by $314 million, to $3.53 billion. As a result, net income grew by 13.3% to $213 million.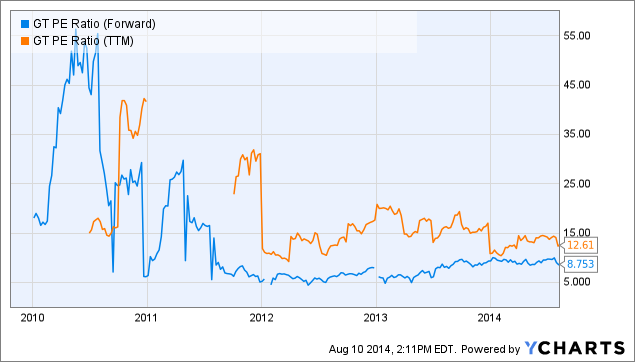 GT PE Ratio (Forward) data by YCharts
Diluted EPS in the most recent 4 quarters totaled $1.96, giving the company a trailing price to earnings ratio of 12.6 which is quite low compared to the industry average of 14.8. For the current fiscal year, analysts are expecting the company to have earnings per share of $2.85, with a further increase to $3.04 expected for next year. This puts Goodyear at a forward p/e ratio of 8.7. Goodyear's competitor Cooper Tire & Rubber (NYSE:CTB) is trading at a much higher forward p/e of 11.3.
Goodyear recently increased its dividend by 20%, to $0.06 per share. The recent drop has pushed the dividend yield up to 0.97%, which is still quite low but has plenty of room for growth, as the payout ratio was only 11.75% in the most recent 12 month period and EPS is expected to grow.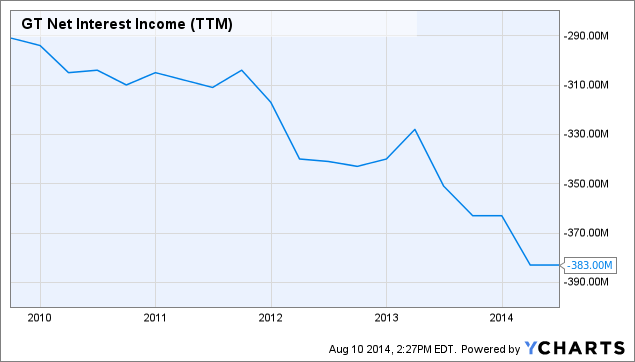 GT Net Interest Income (NYSE:TTM) data by YCharts
Interest costs have risen significantly in recent years. In the most recent 4 quarters, the company paid a total of $383 million in interest. I'd like to see the debt get smaller, rather than bigger, and hope the company will attempt to reduce this debt, which should be possible as earnings are expected to go up. Short term, the company appears to be in very good financial health, as can be seen by the current ratio of 1.60 and the quick ratio of 1.37.
On May 29th, the company announced it had expanded its share repurchase program to $450 million. It also stated it would allocate $400 million towards debt reduction. In the most recent fiscal quarter, it bought back 1.15 million shares at an average price of $26.56. I expect the recent drop in price will lead to even more buybacks, which should boost EPS.
Conclusion:
The recent drop, which was due to lower revenues, provides an opportunity to get a great company at a great price. At only 8.75 times forward earnings, the company is a lot cheaper than its competitor Cooper Tires. Despite a recent 20% dividend increase, shares in Goodyear still don't have a very high yield, at 0.97%. However, the low payout ratio and high expected earnings growth mean there's a good chance the dividend will grow at a decent pace in years to come. The high interest costs put a strain on the company's finances, but this should be less of a problem as the debt is reduced and income increases. Goodyear's stock buyback program will increase earnings per share as the number of outstanding shares goes down. I believe that, at current valuations, an investment in GT might very well provide excellent returns.
Disclaimer: I am not a registered investment advisor and do not provide specific investment advice. The information contained herein is for informational purposes only. Nothing in this article should be taken as a solicitation to purchase or sell securities. Before buying or selling any stock you should do your own research and reach your own conclusion. It is up to investors to make the correct decision after necessary research. Investing includes risks, including loss of principal.
Disclosure: The author has no positions in any stocks mentioned, and no plans to initiate any positions within the next 72 hours. The author wrote this article themselves, and it expresses their own opinions. The author is not receiving compensation for it (other than from Seeking Alpha). The author has no business relationship with any company whose stock is mentioned in this article.