After the market closed on Aug. 11, shares of Caesars Entertainment (NASDAQ:CZR) fell roughly 5% to $13.01. With the casino operator's shares trading at a hefty 51% discount from their 52-week high of $26.74, it might be tempting for investors to swoop in and grab the business' stock up. Given its results this past quarter and its long-term performance, however, this might be a costly mistake.
Caesars misses big on earnings, but just slightly on revenue
For the quarter, Caesars reported revenue of $2.19 billion. Although this represents a 3% gain compared to the $2.12 billion management reported the same quarter a year earlier, the company missed the $2.22 billion analysts had been expecting. Year-over-year, Caesars saw its revenue climb because of a 44% jump in sales from its Other category, which rose from $212.4 million to $305.3 million because of the sale of its Caesars Entertainment Operating Company, as well as other miscellaneous transactions. Excluding this, revenue at the casino company would have fallen 1%.
Earnings Overview
| | | | |
| --- | --- | --- | --- |
| | Last Year's | Forecasted | Actual |
| Revenue (billions) | $2.12 | $2.22 | $2.19 |
| Earnings per Share | -$1.69 | -$1.19 | -$3.24 |
Looking at profits, the situation was even worse. For the quarter, management reported earnings per share of -$3.24. This is nearly double the $1.69 loss reported in last year's quarter, and was far worse than the $1.19 loss analysts anticipated. Despite benefiting from higher revenue, Caesars' bottom line was hit by rising costs, mostly in the form of its property, general, administrative and other expenses shooting up from 24% of sales to 30%, and its interest expense climbing from 25.5% of sales to 29.9%.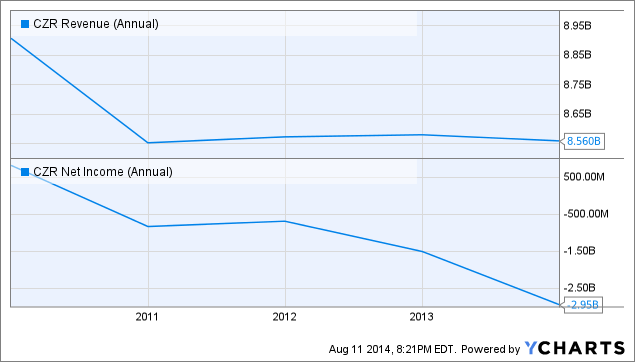 CZR Revenue (Annual) data by YCharts
Interestingly, this isn't the first quarter the business has been hit by trouble. In four of the past five years, Caesars' net income came in in the red, with its aggregate net loss during this period hitting $5.1 billion. This came even in spite of a modest 4% drop in revenue from $8.9 billion in 2009 to $8.6 billion by the end of its 2013 fiscal year. While impairment charges have played a significant role in this downturn, the biggest contributor appears to be the casino operator's heavy debt load of $24.2 billion, which, in 2013, cost the business nearly $2.3 billion in interest expense.
Takeaway
At the moment, Mr. Market isn't terribly enthusiastic about Caesars, and for good reason. The company's revenue did manage to rise, albeit not as much as market participants hoped for, but its bottom line was far worse than anticipated. Moving forward, it will be interesting to see what transpires with Caesars, but with losses widening and high debt burdening the business, investors should be very, very cautious and should conduct a significant amount of due diligence in the company before committing to themselves to purchase it.
Disclosure: The author has no positions in any stocks mentioned, and no plans to initiate any positions within the next 72 hours. The author wrote this article themselves, and it expresses their own opinions. The author is not receiving compensation for it (other than from Seeking Alpha). The author has no business relationship with any company whose stock is mentioned in this article.