Apple (NASDAQ:AAPL) is back. After a large run-up in June, the stock has paused and even dropped in the absence of news. This pause is over; in the next two-to-three months, I expect the stock will advance toward $110 driven by news and rumors. Specifically, as there is less than one month until the oft rumored iPhone (and now iWatch) announcement date, AAPL should, in fits and starts, lurch forward in anticipation of September 9. The stock will behave in the classic "buy on rumor" (sell on news is up to personal post "news" opinion) pattern.
During the price run-up, multiples should expand to more fairly reflect earnings and growth prospects. Tim Cook may even offer a "Surprise" beyond the iWatch (or is it the iTime). A catch-up in institutional ownership, currently down significantly from 2008-2012 levels, is another catalyst for price growth in the run-up to the announcement(s).
Out of the Valley of Death
Steve Jobs died in October 2011. AAPL's momentum continued, but the launch of Samsung's (OTC:SSNLF) Galaxy S3 in July 2012 created doubts about the company's dominance and infallibility for the first time in several years. AAPL stock peaked in September 2012. With the success of the S3, AAPL had, for the first time in several years, a challenger in its largest and highest profile product. During the eighteen months between October 2012 and April 2014, AAPL pundits were focused on negativity. The basic themes were, "the era of innovation is over" and "Tim Cook is no Steve Jobs". When the Galaxy S4 launched in April 2013, Apple stock had fallen by more than 40%, hitting a split-adjusted low of $55.79 on April 19 (source: Yahoo!). Samsung had the cool factor. Apple wasn't quite uncool, but the China deal lagged and new products and product innovation seemed uninspired; the lack of buzz was palpable.
A series of events at the end of 2013 began to draw focus and buzz back to Apple. The first "validation" was Carl Ichan's $17 billion Tweet; on August 13, 2013, Icahn indicated he had taken a material position in AAPL. AAPL increased $2.70/share ($17 billion in enterprise value; source: Yahoo!) following the Tweet, which basically "gave permission" to own AAPL again - this time as a "value" play. In quick succession, AAPL increased its stock buyback, launched the well-received iPhone 5S/5C, finally signed the long anticipated China Mobile (NYSE:CHL) deal, and increased its dividend. AAPL was starting to be cool again.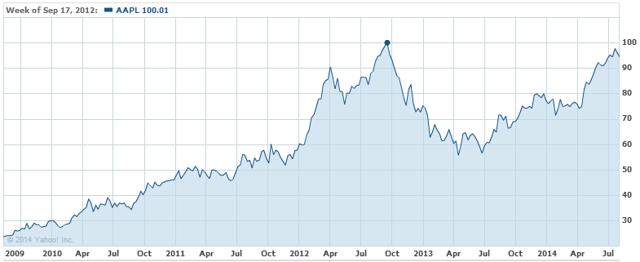 Source: Yahoo!
Cool Again
After the Q2 numbers came out, AAPL was firmly back. After a brief flirtation by consumers with Samsung's Galaxy, the only smartphone talk now is about the new iPhone 6 (rumored to be launched September 9) and how Amazon's (NASDAQ:AMZN) entries have been duds. The only smart watch being discussed is AAPL's yet-to-be-launched smart watch. As launch dates loom, expect news and rumors to propel AAPL to eclipse the highs (split adjusted) reached in September 2012 (September 19, 2012 was the peak, with AAPL closing at a split adjusted $100.30; source: Yahoo!).
I think the road ahead is really exciting for AAPL. There are minimal negative (non-macro market) catalysts in the next few months (e.g. no new Amazon or Samsung phone, etc.). There are a significant number of positive catalysts on the horizon for AAPL.
iPhone 6
Techradar.com reported the iPhone 6 is the most anticipated phone ever. MarketWatch reported September 9 will be the launch date. The new phone is tipped by thenextdigit.com to utilize the Apple A8 processor and have a "super-slim" design. It is also reported to feature sapphire glass for scratch resistance and "Quantum Dots Display" to expand battery life. In another "cool" feature, the rear panel, in pictures leaked by uSwitch.com, lights up for notifications.
MarketWatch and others confirm two screen sizes, a "traditional" 4.7 inch display and a larger (and much anticipated) 5.5 inch display. The larger screens, combined with some relevant new applications and enhanced brand inter-operability (see below), are expected to drive record sales.
iWatch or iTime (SmartWatch)
The iWatch has been anticipated for years and, after a long wait, is expected to be announced around September for sale in the fourth calendar quarter of 2014. Rumors from thenextdigit.com report the "wearable device" will be announced on September 9, alongside the iPhone. The watch may feature fitness tracking, as AAPL watcher John Gruber reported the company has been working with Kobe Bryant.
TrendForce reported analysts had projected sales of as many as 5 million units in 2014 and as many as 60 million in 2015. By comparison, Gartner reported 151 million iPhone sales in 2013. Research firm IDC projects the market for wearable devices to exceed 110 million units in 2018. Increasingly, "wearables", including fitness and other apps are being touted as "the next big thing". Expect the iPhone to be huge.
iOS
Apple's new iOS 8 operating system is the gravity that keeps the company's products revolving around the AAPL ecosystem. The new iOS is currently available to developers; the general public will have access this fall. Creating a system, where the sum is greater than the parts has historically created value for AAPL; expect a "synched" iWatch to work seamlessly with the company's other products, including HealthKit and, of course, the iPhone. Other features, as reported on techradar.com, include the ability to begin work on one product and move seamlessly to another. Finally, owners will be able to make and receive calls on a Mac.
Wild Card
AAPL is known for its surprise product launches. I would not rule out the launch of something new and exciting. An upgraded Apple TV would be a nice surprise.
Negative Wild Card
China. Rumors that AAPL products, outside of the iPhone, are banned from procurement by the government could have a moderate impact. If the wildly successful iPhone is banned by the Chinese government, the implications could be very significant, especially as the China Mobile deal (and its subsequent success) has been a catalyst of AAPL's growth.
Institutional Ownership
One of the signs of a market top in AAPL was the high level of institutional ownership extending into 2012. Funds that had no business, under their charter, owning AAPL were holders. There simply were no more buyers! Current institutional ownership as of July 31, 2014, per Nasdaq, was 64%, significantly down from the levels seen in 2008-2012. As AAPL is on the radar screen of most analysts, they will not want to be caught "out of position" at quarter end, and will not want to wait until the last minute to buy an already appreciated AAPL. Institutional buying is another catalyst for AAPL.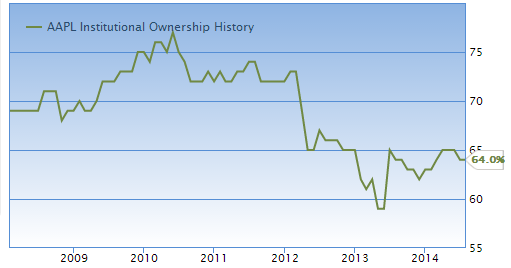 Source: gurufocus.com
In May 2014, Morgan Stanley analyst Katy Huberty noted AAPL was the only large technology firm whose institutional ownership is below its S&P 500 weighing.
Price Appreciation Thesis and Expectation
Starting in mid-August and continuing through October (up to, and including Q4 earnings), I expect to see a steady amount of positive, exciting and highly reported (and reportable) news. More importantly, AAPL will be propelled in the period between now and September 9, driven by "buy on rumor" logic.
Post-announcement (September 10 and beyond), new products should propel higher earnings forecasts, which will drive analysts to increase their price targets. Particularly compelling is the short-term product launch excitement, which historically has driven stock appreciation in anticipation of the actual launch and actual product reveal.
At the August 7, 2014 closing price of $94.48/share, AAPL trades at a modest 13.4x 2015 consensus earnings estimates of $7.03. Given 5-year growth rate projections of 12.2%, AAPL's PEG (PE/Growth) is a very modest 1.10.
I expect the combination of 1) news/rumor-driven momentum combined with 2) multiple expansion (to a quite reasonable 15x 2015 earnings) and 3) upward earnings estimate revisions (to $7.20-$7.40 in 2015) to drive AAPL to the $110 range (and I would not be surprised to see some media savvy price target of $140/share - about equal to a pre-split $1,000/share). New money from institutional investors is another reasonable expectation as they (collectively) are underweight AAPL (both as compared to its weighing in the S&P 500 and on a historical basis).
Risks to the thesis include an expansion of the current market correction, negative actions out of China (discussed above), negative reaction to the new iPhones and delays or negative reactions to the iWatch.
Summary
AAPL is cool and getting cooler. Recent price appreciation, driven by tangible performance, management actions and product anticipation has the stock poised for the next stage of growth to "fair value" of $110. The "Buy on Rumor" frenzy that is building for the iPhone and iWatch will build as investors will not want to miss out on buying "cheap" AAPL. Beyond the anticipated September 9 announcement(s), earnings forecasts should be expanded and price targets increased. Current valuation is still low at 13.4x forward and 1.1 PEG, providing significant room for appreciation due to 1) anticipation, news and rumor driven momentum, 2) multiple expansion and 3) upward revisions to earnings estimates. Expect institutional investors to provide "new money" as they scramble to increase their holdings of AAPL from an underweight position to fairly weighted or even overweight.
Disclaimer: This article only reflects the authors' opinion and should not be relied upon as the basis of a buy or sell decision. Investors should conduct their own due diligence and rely solely on their research as the basis of their buy and sell decisions.
Disclosure: The author is long AAPL. The author wrote this article themselves, and it expresses their own opinions. The author is not receiving compensation for it (other than from Seeking Alpha). The author has no business relationship with any company whose stock is mentioned in this article.