Fred Olsen Energy ASA (OTC:FOEAF), together with it subsidiaries, provides exploration and development services to the offshore oil and gas industry in Norway, the United Kingdom, Singapore, South Africa, Mozambique, and Brazil. It operates through two segments, Offshore Drilling, and Engineering and Fabrication. The company offers offshore drilling services to the offshore oil and gas industry; and engineering, fabrication, ship building, and repair services for various offshore and onshore industries.
In my six years of investing in stocks I've always known Fred Olsen as an all-time favorite of analysts and investors. The company was known for its stable business, predictable rising earnings and its rising fat dividend. However today, there seems to be something wrong as the stock lost 50% of its value on a year-over-year basis.
At the end of this article, I'll hope the reader will agree that Mister Market has punished this stock too severely and that it is an excellent buy at current price levels, not only for value investors but also for income investors.
To start this article off, I'll to set the stage and clarify why Mister Market made the stock lose half of its value in one year.
As I mentioned before, Fred Olsen was known for its stability in share price (see graph below) and its big dividends that would easily provide investors with an above-average dividend yield.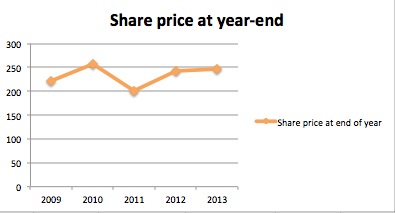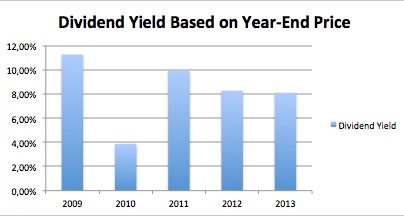 But as one can see on the graphs below, Fred Olsen wasn't going to be a business that would be able to sustain these kind of stable easy returns. Earnings and margins have been declining the past 4 years, while its share price (see previous graph) was not really bothered by this at all. In fact, the stock rose 25% during a time where earnings declined 16%.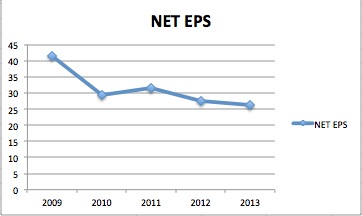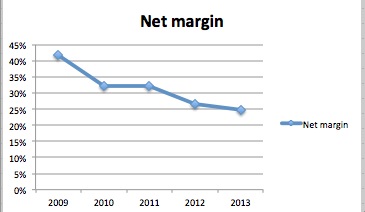 The decline in margins was also quite severe; a drop from 40% to 25% is not a slight drop anymore. The company experienced increasing competition, increasing unexpected operating costs and was operating in a poorly performing industry that was cutting costs. And while the company's net margin seemed still healthy, its edge over its competitors was quickly eroding.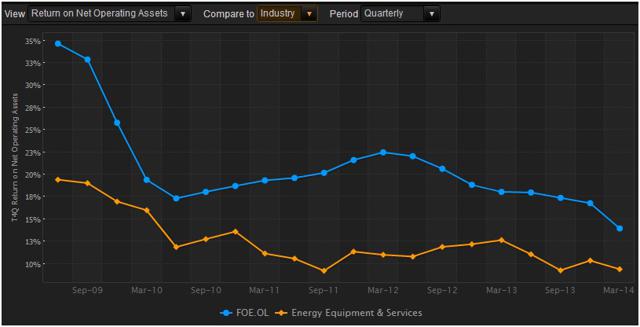 Management also clearly warned investors in their annual report of 2013 with the following statement:
"Throughout 2013 the contracting activity dropped quarter by quarter in all market segments. This development was mainly driven by the Exploration and Production companies starting to cut back on their spending plans, combined with the same companies having already secured strategic rig capacity. The most recent market fixtures is indicating some softening of rates and an acceptance of shorter term contracts. It is expected that these market conditions will continue through 2014 and possibly into 2015."
Any experienced analyst should have known by the start of 2014 that this year would probably not be a champagne year. There was an overall expectation that Fred Olsen would most likely miss earnings, but stubborn institutional Fred Olsen investors, who where only looking at the good stuff, seemed to have blind spotted the above mentioned facts.
Of course, when the 2014 figures came out and investors had no other choice than face the facts, the stock collapsed. And you know how it goes, one sell order leads to another and one stop-loss order triggers another one.

The stock even fell below its 2009 low of 159 NOK and is now quoting at a 9 year low of 138.80 NOK.
The good part is that this is now offering a great entry point for patient investors like you and me.
The fleet
Fred Olsen's fleet is its most important asset, as it is generating most of its revenue.
The offshore fleet of Fred Olsen currently consists of three ultra-deep-water/deep-water units, five mid-water semi-submersible drilling rigs, one tender support vessel and one accommodation unit. During 2014, the company delivered its new drillship the Bolette Dolphin. Anadarko is leasing it for 4 years for a rate of 488.000 USD per day.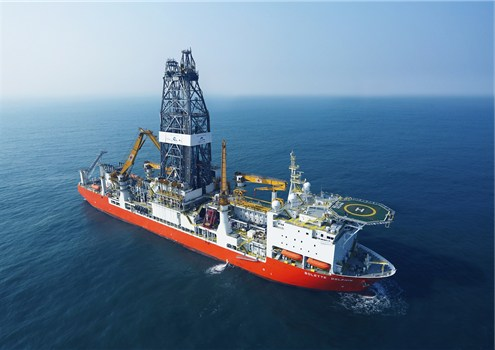 The harsh environment ultra-deep-water semi-submersible drilling rig Bollsta Dolphin, currently under construction at Hyundai Heavy Industries in Korea, is scheduled to be delivered in 3Q 2015 and will commence a five-year drilling contract with Chevron. What's important, is that Chevron will be paying a nice $560,000 USD per day to use it. And this is giving us some perspective on what to expect from future contracts.
When taking a look at the company's fleet status, it is important to notice that 2014-2015 is some kind of transition year where Fred Olsen will survey most of its fleet for maintenance and possible reparation. After that, the company is looking at certain and stable income streams from at least 7 of the 11 participants of the fleet.
So there are definitely no problems with the order book, except for the Borgny Dolphin that is currently not having a rental contract.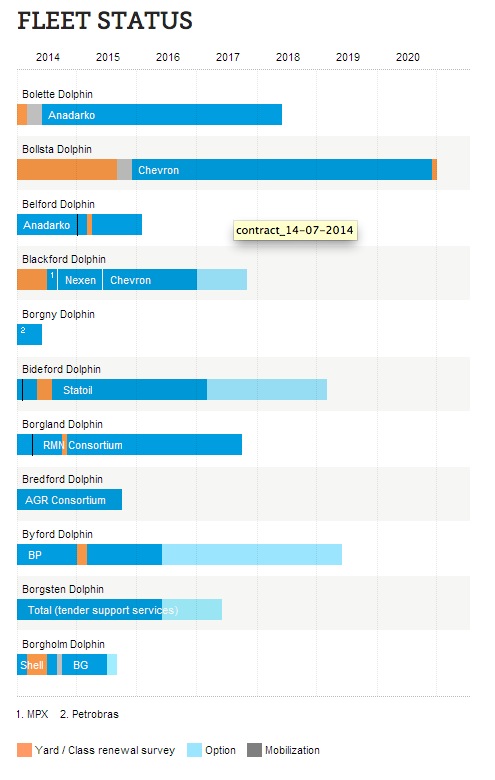 But keep in mind that Fred Olsen's safe and stable reputation is no longer applicable. As long as the harsh times of the industry continue to be present, day-rates will still vary and contract duration will continue to be shorter. And all of this causes the company to have less predictability in earnings for the long-term.
Conclusion
Management sees strong improvement in profitability for the third and fourth quarter and sees earnings of 16.3 NOK per share for full-fiscal 2014 vs. 26 NOK per share in 2013. For 2015, the consensus lies at earnings of 27.3 NOK per share, which would indicate a forwarded P/E of only 5 at current prices, which means that the stock is incredibly cheap compared to its average P/E ratio of around 7.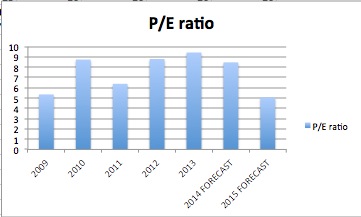 So while the company disappointed for now and investors underestimated the harsh circumstances of Fred Olsen's industry, the future seems to be better. The current share price seems to be offering a very nice first entry point, as the long-term is still looking bright for Fred Olsen's main business activity. Demand for oil and gas will continue to rise and when macro-economic circumstances improve, so will the spending of the oil and gas majors.
But the main reason why you should buy the stock now, is its oh-so wonderful valuation.
A low-forwarded P/E ratio of 5, a price to book ratio of only 1.05 (its lowest in 5 years) and a debt/equity ratio of only 0.55 make this a no-brainer despite the short-term headwinds.
I'll be getting a first position soon for an equivalent of $2,000.
Disclosure: The author has no positions in any stocks mentioned, but may initiate a long position in FOEAF over the next 72 hours. The author wrote this article themselves, and it expresses their own opinions. The author is not receiving compensation for it (other than from Seeking Alpha). The author has no business relationship with any company whose stock is mentioned in this article.
Additional disclosure: Fred Olsen is quoting on the Oslo Stock Exchange with as ticker: FOE and ISIN: NO0003089005 Average daily volume: 120,000 Market cap: 16 billion
Editor's Note: This article discusses one or more securities that do not trade on a major U.S. exchange. Please be aware of the risks associated with these stocks.